150 Russians 'behind' Euro 2016 violence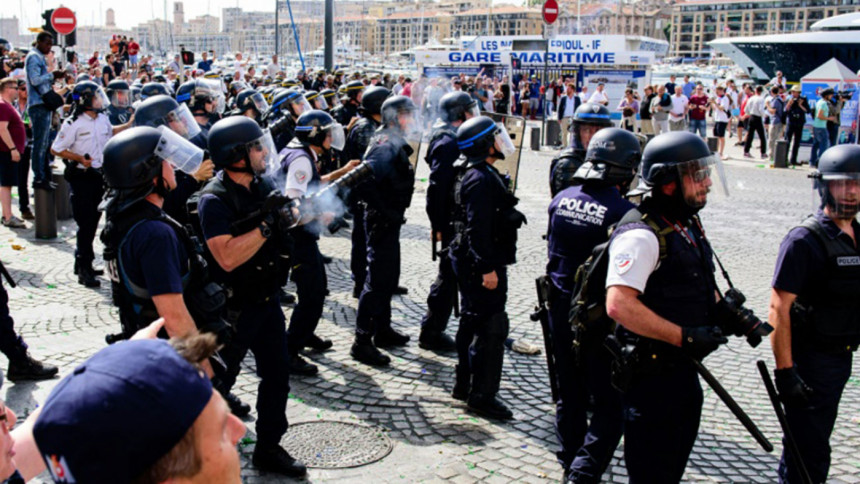 Some 150 Russians were behind much of the violence that erupted in Marseille when Russia played England in Euro 2016, French prosecutors have said.
Ten people, including six Britons, three French and an Austrian, face an immediate trial, Marseille prosecutor Brice Robin said.
But he said just two Russians had been arrested, both for a pitch invasion.
About 35 people have been injured, four seriously, following three days of clashes in the city.
Police deployed tear gas to disperse football fans on a number of occasions, and there were also clashes in the stadium on Saturday following England's 1-1 Euro 2016 draw with Russia, after Russia fans appeared to rush at England supporters.
'EXTREMELY WELL TRAINED'
Robin told a news conference: "These people [the Russians] were well prepared for ultra-rapid, ultra-violent action.
"These are extremely well trained people."
Most of the 35 people who were injured in the fighting were English, Robin said, adding that two Russian nationals were being expelled from the country.
A 50-year-old English fan is in a critical condition with severe brain injuries after being attacked by Russia supporters armed with iron bars.
A 16-year-old Briton was among those arrested and charged with throwing bottles during violence in Marseille.
Robin said British teenager was in custody and that he had personally spoken to tournament organisers Uefa to have his future tickets cancelled.
Twenty people have been arrested in connection with the violence.
The prosecutor said he did not think the Russian hooligans were "professional" but they "were extreme".
There were 12,000 Russian fans in Marseille who travelled to the city by train, he said.
Uefa has been investigating after Russia supporters appeared to rush at England fans in the stadium after their draw on Saturday.
It has threatened to ban both teams if there is further fan violence.
It also opened disciplinary proceedings against the Russian Football Union for alleged crowd disturbances, racist behaviour and the setting off of fireworks by its fans during the game on Saturday night.
The French government has urged cities hosting Euro 2016 matches to ban alcohol near venues and fan zones following the violence.
French Interior Minister Bernard Cazeneuve has described the disorder as "unacceptable".
The UK government has offered to send extra British police ahead of England's next match in Lens on Thursday.