13 Turkish soldiers killed in car bomb attack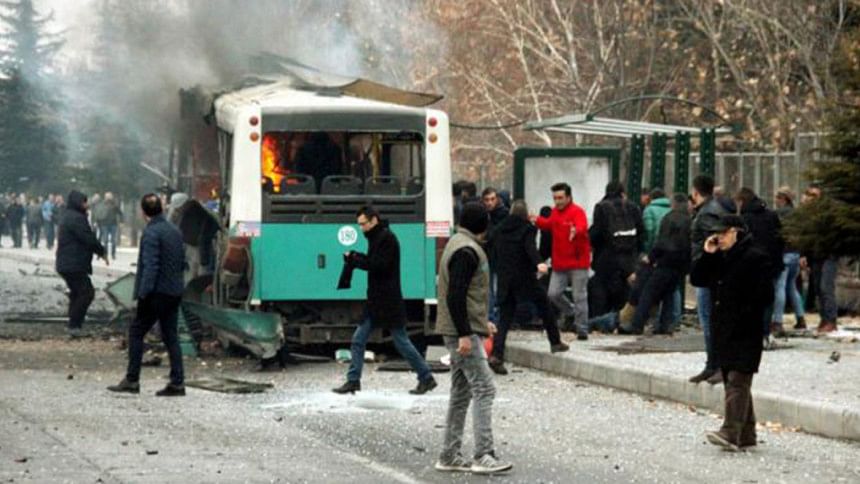 Thirteen soldiers were killed and 48 more were injured when a car bomb hit a bus transporting off-duty military personnel in the central Turkish city of Kayseri on Saturday, one week after a twin bombing targeted police in Istanbul.
The blast is likely to further anger a Turkish public frustrated by a string of deadly bombings this year, several of which have been claimed by Kurdish militants, including last week's, which killed 44 and wounded more than 150.
There was no immediate claim of responsibility, but Deputy Prime Minister Veysi Kaynak likened the attack to last Saturday's dual bombings outside the stadium of Istanbul soccer team Besiktas, later claimed by an offshoot of the militant Kurdistan Workers Party (PKK).
"The car bomb attack resembles the Besiktas attack in terms of its style," he told a group of reporters, adding the incident would not put Turkey off of its goal of fighting militancy.
The military confirmed 13 personnel were killed and 48 wounded and said civilians may also have been injured in the attack. The wounded were transported to hospital for care, it said.
The bus was stopped at a red light near the campus of Erciyes University in Kayseri when a car approached it and then detonated, broadcaster NTV said.
Kurdish militants have previously targeted buses carrying military or security forces.
Defence Minister Fikri Isik said on Twitter that Turkey would redouble its efforts to fight militancy. "We will fight these cowards with a national mobilisation," he said, without elaborating.

Turkey faces multiple security threats including spillover from the fight against Islamic State in northern Syria, where it is a member of a US-led coalition against the militant group.
It also faces regular attacks from Kurdish militants, who have been waging a three-decade insurgency for autonomy in largely Kurdish southeast Turkey.