War in numbers
Military losses
According to the latest estimates from Norway, 180,000 Russian soldiers and 100,000 Ukrainian troops have been wounded or killed in the conflict. Other Western sources estimate the war has caused 150,000 casualties on each side. In comparison, some 15,000 Soviet soldiers were killed in a whole decade of fighting in Afghanistan from 1979 to 1989. Ukrainian soldiers often use the term "cannon fodder" to describe the Russians sent to their death along the front line.
War crimes
UN investigators have accused Russia of committing war crimes on a "massive scale" in Ukraine -- bombings, executions, torture and horrific sexual violence. Around 65,000 suspected war crimes have been reported throughout the war, the European Union's justice commissioner Didier Reynders said. Kyiv alleges Moscow has forcibly deported more than 16,000 children to Russia or areas controlled by Moscow-backed separatists. Several NGOs have condemned Ukraine, meanwhile, for violating the rights of Russian prisoners of war, but on a much smaller scale. The International Criminal Court launched an investigation into war crimes and crimes against humanity last year.
Civilian losses
Kyiv said at least 20,000 Ukrainian civilians had been killed. In total, some 30,000 to 40,000 civilians have lost their lives nationwide in the conflict, Western sources say. The United Nations estimates that 21,000 civilians have been killed or wounded in the fighting, but said the real figure was likely much higher. Ukrainian authorities say at least 400 children have been killed. Landmines will also be a huge threat to civilians. Kyiv says 30 percent of Ukrainian territory has been contaminated. Experts warn demining could take decades.
1,500-km front line
The "active" front line runs north to south along 1,500 kilometres (900 miles) of territory, according to Valery Zaluzhny, the commander in chief of Ukraine's armed forces. Moscow's troops occupy almost a fifth of Ukraine, according to figures from the US-based Institute for the Study of War. But Zaluzhny said Ukrainian forces had managed to wrest back some 40 percent of territory occupied after the invasion last year.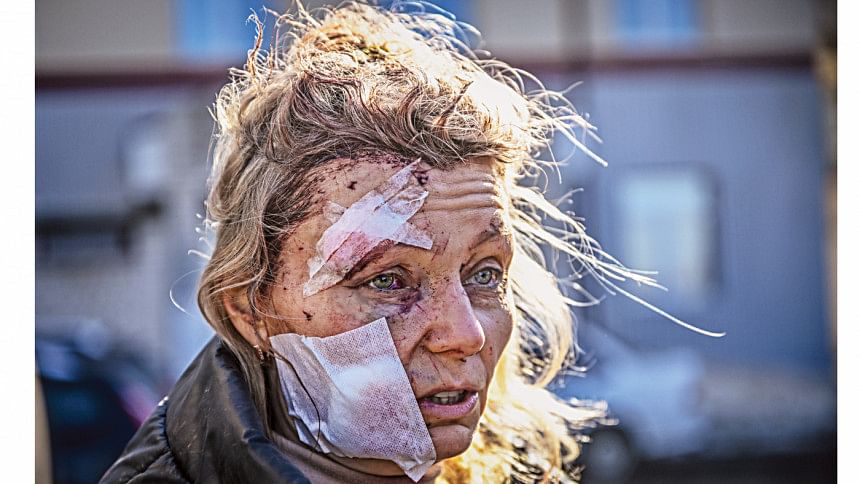 Western military aid
The West was initially reluctant to become too involved, in order to avoid any more direct confrontation between it and nuclear-armed Russia, but little by little it has acceded to most demands. By November, Kyiv's allies had pledged more than 37 billion euros ($40 billion) in military aid, according to the Kiel Institute for the World Economy. That figure does not include the latest announcements in January that the US, Canada and several European countries will send Ukraine modern battle tanks. But President Volodymyr Zelensky's request for F-16 fighter jets has so far gone unmet.
Battered economy
The World Bank in October said it expected Ukraine's economy to contract by 35 percent in 2022. The Kyiv School of Economics in January estimated it would cost $138 billion to replace all the infrastructure ravaged by war. In a country famed for its cereal and sunflower oil exports, the war has caused more than $34 billion in economic losses in the agricultural sector, it said in November. Some 3,000 schools have been affected by the fighting, the Ukrainian government said, as well as 239 cultural sites, according to the UN cultural fund. Rebuilding Ukraine following the invasion would cost an estimated $349 billion, a joint assessment by the Ukrainian government, the European Commission and the World Bank found in September.
Millions of refugees
More than eight million Ukrainians have been forced to flee Ukraine since the war broke out, the UN refugee agency said, the largest refugee crisis in Europe since World War II. Neighbouring Poland hosts the largest share of these refugees, with more than 1.5 million of them. More than five million people have been displaced inside the country. Moscow said another five million people had sought refuge in Russia.