Key stages of war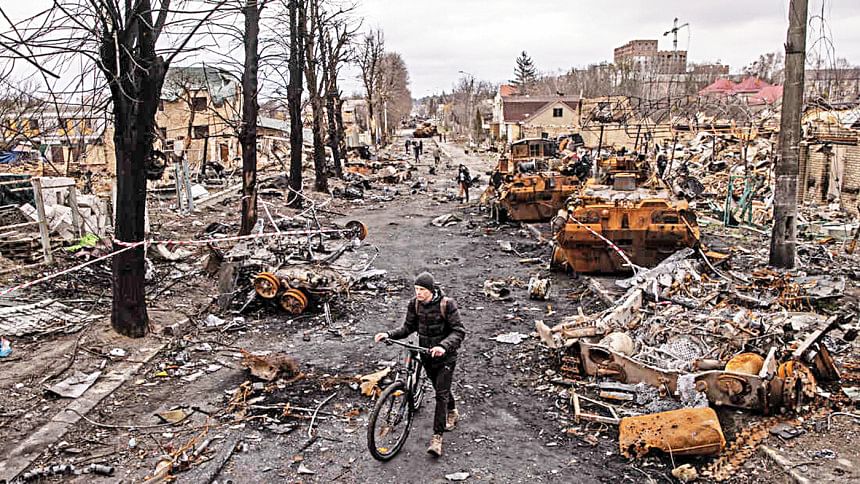 FULL-SCALE INVASION
At dawn on February 24, 2022, after repeatedly denying plans to invade Ukraine, Putin announces a "special military operation" to demilitarise and "de-Nazify" the former Soviet country. The West imposes unprecedented sanctions on Russia and progressively ramps them up. The European Union agrees to send weapons to Ukraine -- a first for the bloc -- and the United States greenlights billions of dollars in military aid. Russian forces make rapid gains on Ukraine's south coast, seizing the Black Sea port of Kherson, close to the Russian-occupied Crimea peninsula, and the port of Berdyansk on the Sea of Azov. Moscow's troops also attempt to encircle Kyiv.
HORROR IN BUCHA
A month into the fighting, having failed to break through to Kyiv, the Russian army withdraws from northern Ukraine to focus on the east and south. On April 2, AFP discovers the bodies of at least 20 civilians, some with their hands tied behind their backs, lying on a single street in the northwestern Kyiv suburb of Bucha. Over the following weeks, hundreds more bodies, many bearing signs of torture, are found in homes, cellars and shallow graves across the north. Russia is accused of widespread war crimes, which it denies.
THE BATTLE FOR MARIUPOL
On April 21, Russia claims to have taken the southeastern port city of Mariupol, which has been relentlessly bombarded since the start of the war and subjected to a brutal siege. In capturing the city, Russia aims to link up rebel-held territory in the Donbas with the occupied Crimea peninsula to the south. Around 2,000 Ukrainian fighters hold out for nearly a month in the city's sprawling Azovstal steelworks before being ordered in May by Kyiv to surrender to the Russians to save their lives. According to the Ukrainian government, 90 percent of Mariupol has been razed in the war and at least 20,000 people killed.
UKRAINE FIGHTS BACK
Over the summer, the United States and EU step up their supplies of heavy weapons to Kyiv, allowing it to stage a two-pronged fightback. In the south, Ukrainian forces launch a major offensive to retake Kherson in late August. They follow up in early September with a lightning counter-offensive around Kharkiv in the northeast, winning back hundreds of towns and villages. With his army losing ground, Putin announces a call-up of some 300,000 reservists. Days later he formally annexes four regions of Ukraine -- Donetsk, Lugansk, Kherson and Zaporizhzhia -- after staging local referendums on joining Russia that are dismissed by Kyiv and the West as a sham. On November 9, Russia's forces suffer their greatest setback in the war when they are forced to abandon Kherson.
DARKEST WINTER
In October, Russia changes tack and turns its sights to Ukraine's energy infrastructure, which it targets with repeated barrages of missile and drone strikes. The attacks leave millions without power and heat for hours at a time in the middle of winter. Zelensky repeatedly appeals to the West to send tanks. Germany, which had been wary of escalating the conflict, finally agrees to send some of its powerful Leopard tanks, opening the way for other European countries to do so as well. Biden makes a surprise visit to Kyiv days before the first anniversary of the war and reiterates Washington's "unflagging commitment" to Ukraine's defence.