Resumption of regular flights at HSIA encouraging
Aviation sector needs govt's policy support to fully recover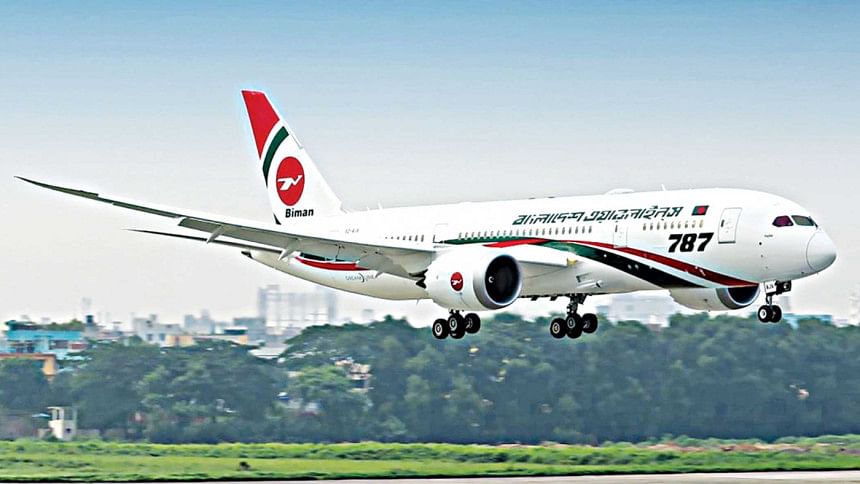 It is reassuring to learn that our aviation sector is recovering at a quick speed after the second wave of Covid-19 in the country waned and many countries lifted their travel restrictions. According to a report by this daily yesterday, flight operations and the number of passengers flying from Hazrat Shahjalal International Airport (HSIA) have almost tripled in the last three months. While only a handful of special, chartered and cargo flights took off from the HSIA during the past one and a half years of the pandemic, 80 flights are currently being operated from the airport daily. And, while the number of passengers flying from HSIA ranged between 3,500 and 4,000 three months ago, around 10,000 passengers are flying from the airport every day now.
According to the Civil Aviation Authority of Bangladesh (CAAB), almost all the domestic flights as well as all 28 foreign airlines have resumed flight operations to and from Bangladesh recently. This is particularly good news for our migrant workers who have been stuck in the country for more than a year. They can now return to their workplaces. In addition, the Bangladeshi students who have been waiting to pursue higher education abroad can now fly to their desired countries.
As our aviation sector is now on track to recover from the pandemic-induced losses, we think there are some measures that need to be taken by the airlines, the HSIA authorities, as well as the government to make the recovery process easy and efficient. For instance, the government should give policy assistance and financial support to our local airlines as they incurred huge losses during the time of restricted travel. Reportedly, the three prominent local airlines of the country suffered a revenue loss of Tk 2,250 crore during this time—among them, Biman Bangladesh Airlines alone suffered a loss of Tk 1,300 crore. Reportedly, several aircrafts bought by Biman authorities are lying idle at present, which should be fully utilised.
As for the HSIA authorities, they must do more to reduce the sufferings of inbound and outbound passengers at the airport, by upgrading their facilities up to international levels. They must ensure that our migrant workers do not have to go through unnecessary hassles as they need to get tested for Covid-19 in the airport and get results at least six hours before boarding international flights.
In addition, as the flight operations and the number of passengers flying from the airport rapidly increase, the authorities must make sure that all passengers and employees of the airport and airlines strictly follow the Covid-19 health guidelines to avoid any risk of contracting the disease.