Low-cost, life-saving ambulance service through an app!
Others should emulate Lakshmipur district administration's initiative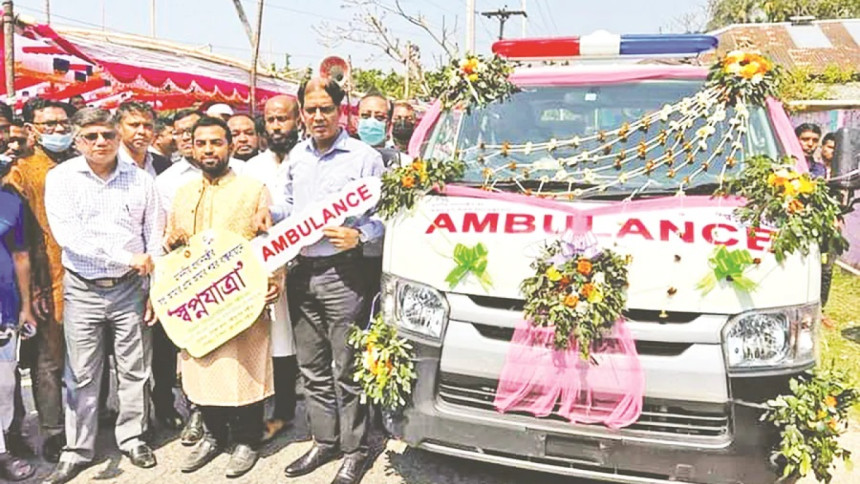 We are truly amazed to learn about an ambulance service provided by the Lakshmipur district administration that can be used through a mobile app. Reportedly, the Lakshmipur district and upazila administrations have used their own funds to buy the ambulances—currently they have 10 ambulances to cover the 58 unions of the district—and to create the app, called "Shopnojatra," which is now available on Google Play Store for the inhabitants of the district. All they have to do is download it on their Android phones and call a number given there to get the life-saving service.
Such an initiative is particularly important for a country like ours, where people are often deprived of emergency healthcare either because the upazila health complexes do not provide those services or because the health centres are miles away from the villages. In the majority of emergency cases, patients have to be taken to the district or divisional hospitals for treatment, but getting an ambulance in these remote villages is as difficult as it is costly.
But the people of Lakshmipur can now get this emergency service within 10 minutes of calling, and the cost is also low compared to other government and private ambulance services. The ambulances of Shopnojatra have taken at least 358 patients to different hospitals in the last nine months. Although the primary aim of Shopnojatra was to provide ambulance service to pregnant women and new mothers in a bid to reduce maternal and newborn deaths, any person in a medical emergency can now avail the services.
The Lakshmipur district administration has set an amazing example by taking healthcare to people's doorsteps. They have shown us that change is possible if those in charge of looking after people's well-being are willing to take the right initiatives. We hope that other district authorities will follow Lakshmipur's footsteps and take similar initiatives for the greater public good. It won't cost them too much, since an app can be developed for only Tk 50,000, and the ambulance cost can be covered with their yearly budgetary allocations.
However, the question remains as to how the poor people can buy the costly smartphones needed to download the app. There is also a solution to this: community health workers as well as those in the community who have smartphones can download the app and help those in need.
Therefore, we think, nothing should stop other districts from taking such people-friendly initiatives.