Include temporary tea workers in welfare scheme
They are worse off than the permanent workers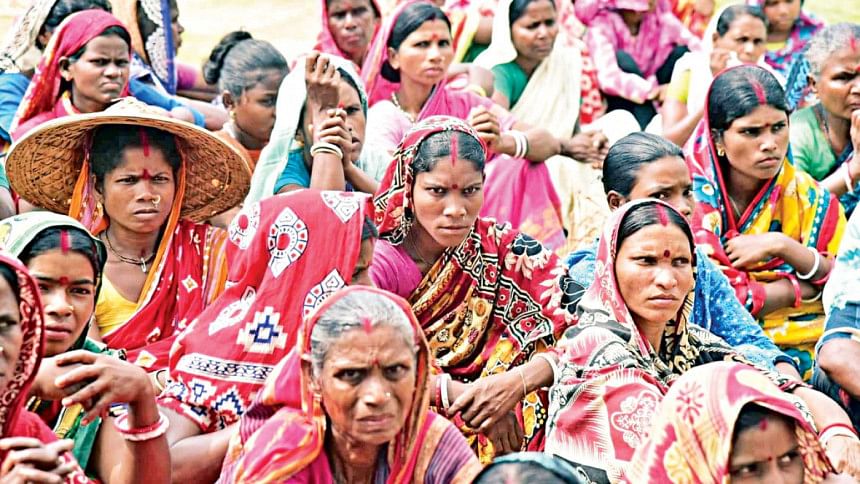 We are shocked to learn that the government's special scheme to improve the lives and livelihoods of tea workers in the country has excluded those who need support the most—the temporary tea workers. According to a report by The Daily Star, the government has started listing the beneficiaries for this special programme without taking into consideration the needs of the temporary and seasonal workers.
Reportedly, there are around one lakh permanent workers in the 166 tea gardens of the country, while the number of temporary workers is around 36,000. However, if we consider the combined number of temporary, seasonal and unemployed workers in the tea gardens, their number would be three times higher than that of the permanent workers. Leaving this vast population of tea workers out of the scheme will mean that they will slip further into poverty.
The temporary and seasonal workers have always been deprived by the authorities of the tea gardens, despite the fact that their work-hour is the same as that of the permanent workers. Although they get the same daily wage—a meagre amount of Tk120—they do not get any other benefits that permanent workers usually receive. And now, under this new government scheme, temporary workers will, once again, get nothing, while their permanent counterparts will get medical treatment, ration, homestead and provident fund benefits. This is a clear violation of the "Cha Sramikder Jibanman Unnayan Karmasuchi Bastobayan Nitimala-2013", according to which improving the living conditions of the vulnerable workers should get priority.
While all our tea workers basically live a poverty-ridden life due to the low wage and a lack of basic facilities, it is the seasonal and temporary workers who suffer the most. Their living standards deteriorated further during this pandemic as many of them lost their jobs.
Thus, while we appreciate the government's initiative to help tea workers of the country, we urge them to include the temporary and seasonal workers in their scheme, since they are more eligible for the welfare scheme because of the precarious nature of their work. The government should also make sincere attempts to find out the real number of such individuals and give them extra financial benefits, if possible. Moreover, the tea garden owners must not also remain oblivious to their workers' needs. They should address the plight of the temporary and seasonal workers and provide jobs to those who are currently unemployed.