Every child deserves to be registered at birth
Govt must fully resume birth registration in Cox's Bazar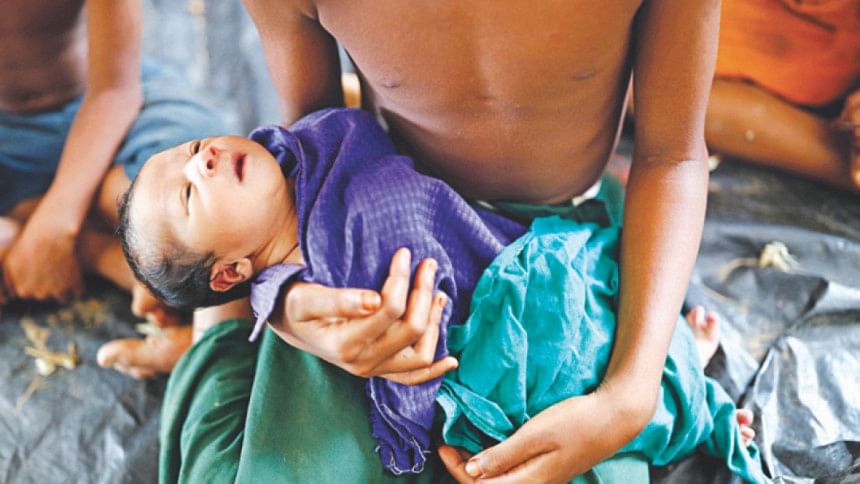 It is disheartening to know, as a recent study cited by The Daily Star found out, that citizens in Cox's Bazar district are being put through unnecessary hassles in relation to acquiring birth certificates for their babies. Apparently, since 2017, soon after the influx of Rohingya refugees, the district administration suspended birth registration in a bid "to prevent Rohingya babies and children from obtaining the primary certification required for citizenship." As a result, Bangladeshi nationals in the district have been denied the basic right of registering the births of their children for nearly four years.
While the High Court in 2019 did order the district administration to resume issuing birth certificates, only 12 of the 71 union parishads (UP) in the district so far did so. Around the same time, "the government and the UNHCR had begun the biometric registration of all Rohingya refugees, including babies born in the camps." Still, and even to this day, most citizens in the district are unable to register new births. It seems that the law also differs between unions, as the chairman of Palongkhali union of Ukhiya upazila says that locals in his union cannot get a birth certificate from another union, despite what the relevant law states.
Now that the facts are out of the way, we cannot help but wonder at the sense—or lack thereof—of the authorities in suspending birth registration in the district in the first place. We understand that the arrival of Rohingya refugees was chaotic and disorganised and that some form of control was necessary initially. We also fully agree that repatriation of the Rohingya to Myanmar should be the ultimate goal of Bangladesh. However, couldn't the refugees have been prevented from possible attempts at registering their children as Bangladeshis without stopping a vital service for the lawful citizens? Residents in the 12 UPs where birth registration has resumed are also facing various hurdles in the process. First, there is the Tk 500 fine for "late registration" even though the delay is not to be blamed on the applicants. There is also an unusually high number of documents (around 28) to be provided for registration including, curiously enough, birth certificates of the grandparents of a baby.
We would urge the government and relevant authorities to fully resume birth registration for Bangladeshi citizens in all 71 UPs of the district, and also to make the registration process as simple and hassle-free as possible. In Bangladesh, birth registration is mandatory within 45 days of a birth. It is also required to access a host of vital services. Citizens must not pay for the inability of the administration to devise an effective way to deal with the concerns surrounding illegal registration.