Counterfeit medicine
The menace continues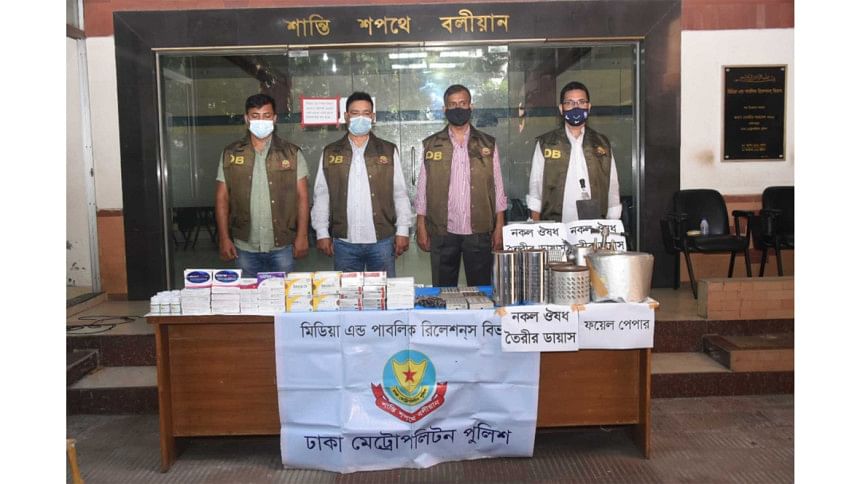 Seven persons from different parts of the city were arrested for selling spurious drugs, some of which are used in ICU and CCU units of hospitals. Using these counterfeit drugs amount to virtual murder of the patients and, as such, those indulging in them should be tried for murder. The seven arrested represent the tip of the iceberg and a far more frightening story lies behind it.
We have been reporting on fake drugs over a long time, but curiously and alarmingly, nothing much has happened. From manufacturing, storing, distributing and finally selling by pharmacies, the chain is long and the participants in this deadly business are many. The first three in this chain may not be easy to find, but they can definitely be traced if the efforts are sincere. The pharmacies, who have fixed establishment, must be held accountable and forced to play a far greater part in stopping this business than they do now. A pharmacy should be able to identify a fake medicine from a good one and hence should refuse to sell them. There appears to be an obvious nexus that the police can easily break, if they want to.
However, the biggest role needs to be played by the Directorate General of Drug Administration, the principal authority responsible for assuring safety of all drugs sold to the people. The office is headed by a director general, with several directors and a staff of 370. It also has 7 division based offices with 55 staff. The question is, how can they operate more effectively?
This institution needs to serve the public better. Reasons for failure are lack of will, proper strategy and determination to carry out its mandate. There is also the absence of monitoring by the higher authorities concerned as to how this vital institution can function better. Numerous media reports have unearthed serious instances of corruption in this field. There are alleged cases of collusion between spurious drug producers and the monitoring authorities which have mysteriously gone without investigation. There are also allegations that some life-saving drugs are deliberately withheld from the open market and sold in the black market at three or four times the price with the full knowledge of the people concerned.
The health ministry and the home ministry should jointly launch effective drives against the producers, distributors and the sellers of adulterated drugs. The concerned ministry should also investigate the activities of the relevant bodies and put a stop to this murderous trade of counterfeit medicines. It's time the Anti-Corruption Commission took a serious look into this public interest issue.