Another wake-up call amid raging floods
Urgent humanitarian aid needed in flood-hit northeast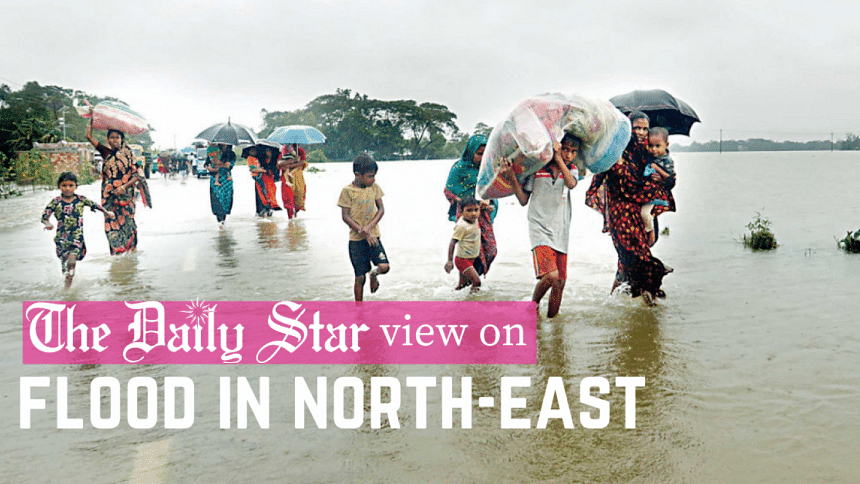 We're deeply worried about the deteriorating flood situation in the north-eastern region of Bangladesh which comes hard on the heels of a flash flood that hit it weeks ago. This time, the crisis is unfolding on a larger scale. Most of Sylhet and Sunamganj districts have reportedly gone under water. New areas are being inundated at a pace that has surprised many, with as many as 17 districts now feared to be in danger. The flood was triggered on Wednesday by heavy rains and water flowing from upstream India's Meghalaya and Assam, where record-breaking rainfall was recorded.
In Sylhet and Sunamganj, where the situation is particularly dire, more than 40 lakh people are said to have been marooned. Power connection has been cut off after all sub-stations in the districts were submerged by water. As time passes, the cry for rescue and relief is getting louder. Many flood-hit areas remain unreachable due to the high tide of water, despite efforts from Bangladesh Army and Navy which are helping with the rescue operations. The scenes of struggle and devastation emerging from these areas are disturbing, to say the least.
Experts say that a number of reasons combined to make the situation worse, including the absence of a flood protection embankment in Sunamganj, earth-filling in haor and other water bodies, deforestation in the hills, as well as mining in the upstream Indian areas. Many structures built occupying the water bodies – which traditionally served as reservoirs holding the excess water from floods – are disrupting the flow of water and preventing it from receding. This should be another wake-up call for us as flooding increasingly becomes the most common climate-related risk to Bangladesh. The question is, what measures are being taken to reduce the risk of such floods?
Right now, the priority is to rescue the stranded people and deliver relief and medicine in the most-affected areas. We're told that the situation may not improve immediately as heavy rains are expected to continue. This is bad news. The local administration should brace for a harder time and assess its preparedness. All schools and colleges on higher ground should be urgently prepared to accommodate the rising number of people requiring shelters, with sufficient provisions for food and medical aid. Power connection should be restored as soon as possible. Care should also be taken so that there is no food crisis in the districts. All state agencies in the affected areas should be geared toward the purpose of helping with the flood situation. Equally importantly, the authorities should look at the bigger picture and start devising ways to reduce, as much as possible, the risk of such floods in the future.