From the dark days of not being able to mention Bangabandhu to disseminating his ideals
How Bangabandhu family's third generation is drawing youths closer to nation's history and their grandfather's legacy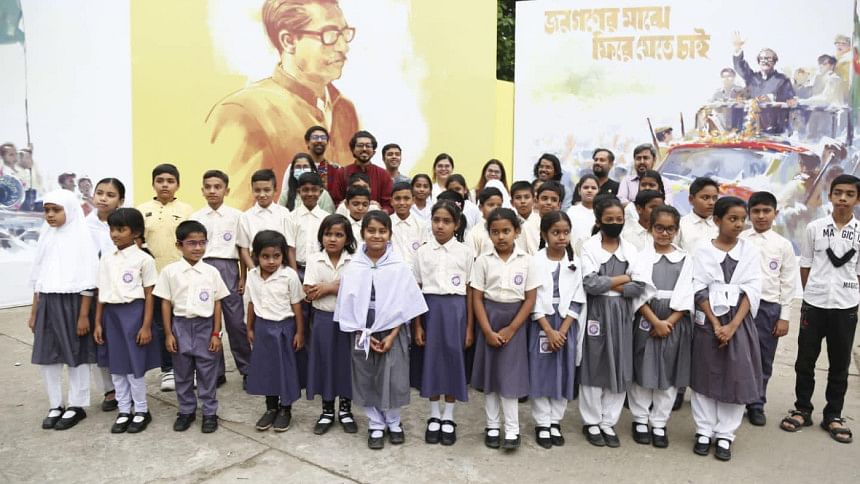 For children going to school in the late 1970s and throughout the '80s, Bangabandhu was a forbidden name, a chapter taken out by the then military rulers.
A few decades later, Bangabandhu's ideals are reverberating in national imagination again – with people from all walks of life paying tribute to the Father of the Nation who set Bangalees on the road to freedom.
Bangabandhu's birthday celebration across the country on March 17 now distinctly contrasts the years after his assassination in 1975.
On August 15, 1975, the political atmosphere of the country changed forever as a section of misguided army officers gunned down Bangabandhu and most of his family members, including his 10-year-old son Sheikh Russel. His Dhanmondi 32 residence, which was a witness to history, was left in a pool of blood, wrote renowned journalist and author Syed Badrul Ahsan.
A notorious indemnity ordinance was introduced by the successive regime, and the country's first military dictator embraced the assassins of Mujib with the rise of Jamaat-e-Islami, which included war criminals, according to researchers.
"This was the most brazen instance of state patronage for the killers of the Father of the Nation, with many of them being posted as diplomats in embassies overseas – all masterminded by military ruler Ziaur Rahman," Tarana Halim, actress, lawyer and president of Bangabandhu Sanskritik Jote, said.
A play, titled "Indemnity" – staged by Bangabandhu Sanskritik Jote – highlighted the notorious law decreed by the Moshtaque regime and formalized by the Zia military regime.
Bangabandhu's daughters, who were abroad at the time of the massacre, had to undergo an agonizing wait to be able to come back to the country whose freedom and flag bear their father's legacy.
Recalling his school days, Bangabandhu's grandson Radwan Mujib Siddiq said that when he talked about his superheroic grandfather to his friends, their faces had blank expressions as they hardly had any idea of who he was. He could not come to terms with the fact that even uttering Bangabandhu's name openly would be met with rejection at that time.
Bangabandhu's eldest grandson Sajeeb Wazed and granddaughter Saima Wazed endured the same fate.
The stifled feelings persisted over the years that Lawrence Lifschultz described as Bangladesh's "Unfinished Revolution" – marked by repeated attempts to wipe out the ideals and legacies of Sheikh Mujib amid the rise of communal forces.
As democracy was restored and the pro-liberation spirit was revived, Bangabandhu family's third generation stepped in to bring back the fearless and secular ideals of their legendary grandfather and instil the values among youngsters through never-tried-before and engaging ways, noted writer and journalist Ajoy Das Gupta observed.
To negate the damages done by the anti-liberation elements, they have undertaken several initiatives through Centre for Research and Information (CRI) to draw youths closer to the nation's history and Bangabandhu's ideals.
Among the noteworthy endeavours, graphic novel "Mujib" presents stories of a young Sheikh Mujib transitioning from an ordinary rural boy helping people in distress to a heroic leader who led his people to freedom.
The Joy Bangla Concert – a mega popular live music event – commemorates Bangabandhu's historic March 7 speech that set the tone for freedom in 1971. Another project, "Hasina: A Daughter's Tale" portrays the struggles of Bangabandhu's daughters since the assassination of their father.
Back in 1981, Bangabandhu's daughter Sheikh Hasina, who had a hard time returning to the country, had to wait for hours to get access to her own home at Dhanmondi 32 during the military regime. On Bangabandhu's birthday this year, a crowd of cheerful children gathered in the open space in front of that house for an art exhibition paying tribute to the Father of the Nation.
Eighth-grader Ratul Rahman said, "I heard from my father that they were not even allowed to utter the name of Bangabandhu in the post-1975 dark period."
"Can you imagine the man who inspired a nation to fight for freedom being gunned down along with his family? Can you visualize that moment when his ten-year-old child pleaded the killers to not kill him, but his pleas falling on deaf ears? Today, we can see the comeback of the spirit and the ideals that our independence and sovereignty are founded on," said Dr Nuzhat Chowdhury, who lost her father at the hands of Pakistan army during the Liberation War.