Novoair awards top 10 travel agencies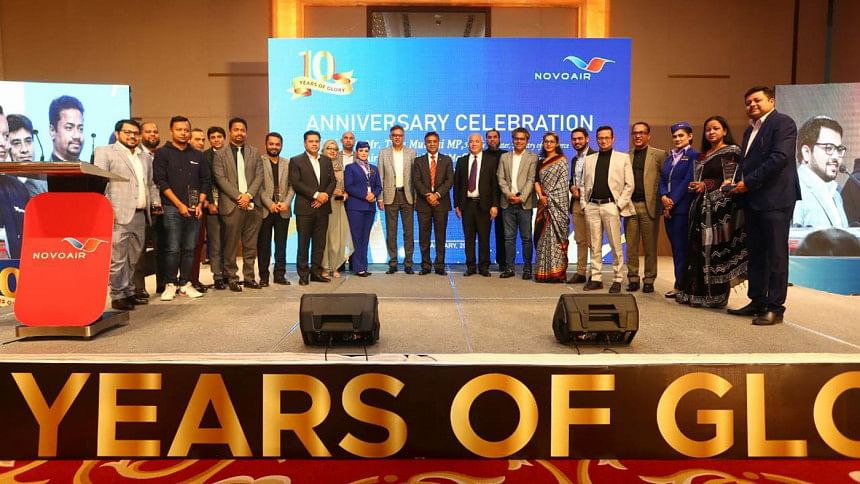 Novoair, a private air operator, has awarded top ten travel agencies in the country for their significant contribution to passenger transport.
The award was presented at a function organised on Novoair's 10th anniversary at a city hotel this evening.
The award-winning agencies are ShareTrip Limited, BeFresh Limited, Gozayaan Limited, H.I.S Travel Limited, Triplover Limited, Saimon Overseas Limited, Flight Expert, International Travel Corporation, Travel Channel and Tryotel Travels Limited.
Speaking at the programme, Commerce Minister Tipu Munshi said this private airline is making a notable contribution to expanding the country's business by ensuring safe and reliable travel.
Air Vice Marshal M Mofidur Rahman, chairman of Bangladesh Civil Aviation Authority, said Novoair operate flights with 100 percent compliance. The airline authorities always strive to ensure the safe travel of passengers.
Novoair Chairman Fayzur Rahman,said their journey began with the promise of providing a world-class service. It has never compromised the quality of passenger service. "We are constantly trying to increase the quality of service by adding new services."
Novoair is currently operating flights from Dhaka on domestic routes to Chattogram, Cox's Bazar, Sylhet, Jashore, Saidpur, and Rajshahi and international route Kolkata. Besides, the airline operates directly flights from Jashore to Cox's Bazar and Rajshahi to Cox's Bazar routes.