Jibon 'unsuited' to Cabrera's plans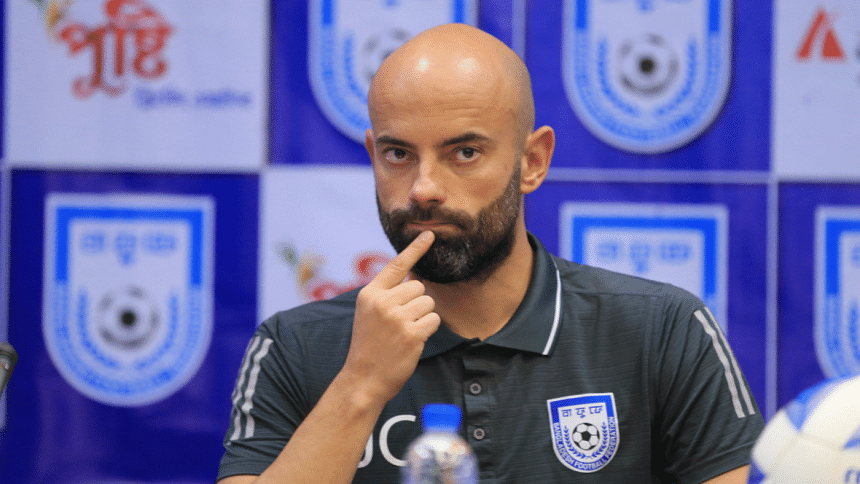 Despite a long-standing problem when it comes to scoring goals, Bangladesh coach Javier Cabrera has pinned his hopes on inexperienced strikers for the two FIFA-sanctioned friendlies next month and excluded Nabib Newaj Jibon, the country's most experienced forward.
The 37-year-old Spaniard yesterday revealed a 27-member preliminary squad for clashes against Cambodia and Nepal on September 22 and September 27 respectively.
Emon Shahriar of Mohammedan was the only fresh face while the returns of fit-again Tariq Raihan Kazi, Masuk Mia, Suman Reza, Matin Mia and Hemonta Vincent Bishwas were virtually guaranteed after they missed the Asian Cup Qualifiers due to injuries.
But Jibon's return was doubtful, especially considering he was initially dropped from the squad in June after failing to report on time for a training session ahead of the Asian Cup Qualifiers.
It seemed that despite being among the top-scoring local players with nine goals in the just concluded season, his punishment was set to continue, but Cabrera clarified that Jibon was not dropped due to disciplinary issues but because he simply did not suit the game plan.
"After several discussions with the technical staff, we know the profile of the player we want very well. We have an idea in mind. We went through the potential list of the players and made decisions reflected in this list. We feel this list is better suited to our ideas. It is simple," Cabrera replied at a press conference when asked about Jibon's exclusion.
After taking charge of Bangladesh, Cabrera has had little time to work with the booters. He brought Jibon on as a substitute in two friendlies against Maldives and Mongolia in March and that was all Cabrera needed to see from the striker who was a crucial part of the team under previous coaches.
"During the minutes I was on the field against Maldives and Mongolia, I believe I played according to the game plan. I was instructed to hold up the ball, strike goals and distribute and I think I played well," Jibon told The Daily Star when asked about what instructions Cabrera had given him in March.
"Cabrera's idea is to play with possession and attack the opponents," Jibon said. "If I am not a good ball-player, then how does a top team like Abahani played me in different positions?"
"Not being part of the squad is unexpected because I scored five goals in the league after returning from injury and I was expecting a call," Jibon said.
Since his debut for the national team in 2015, Jibon was excluded just once from the national squad during the Asian Cup Qualifiers play-off matches against Bhutan by Belgian coach Tom Saintfiet, who also dropped Jamal Bhuiyan and other players in 2016.
Asked whether Jibon did not suit his style of play, the Cabrera stated: "It's not that he doesn't match our system. But we believe the strikers we called are better suited to the ideas we want to implement."
Cabrera also informed that they had discussed several times with the technical staff and technical director Paul Smalley to set the general criteria before picking up the 27 players, who are requested to report to the team manager today with the training getting underway on Saturday at the Police ground in Uttara.