Eddie Redmayne wins best actor Oscar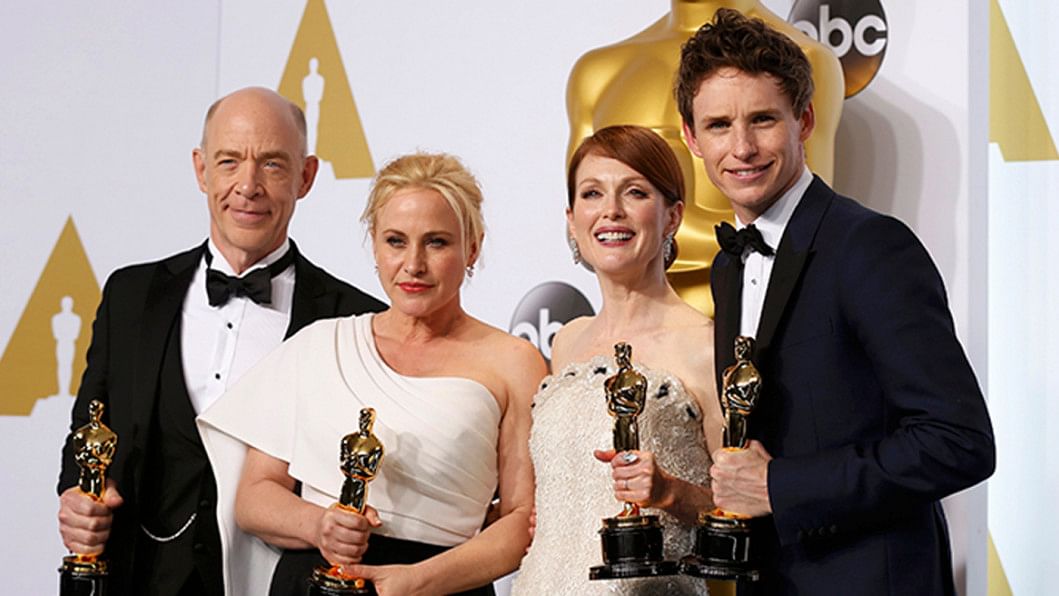 British actor Eddie Redmayne has won the best actor Oscar for The Theory of Everything, while Julianne Moore picked up best actress for Still Alice.
Redmayne thanked his "staggering partner in crime", co-star Felicity Jones, "ferocious but incredibly kind director James Marsh".
Dark comedy Birdman won best film and best director for Mexican film-maker Alejandro Gonzalez Inarrito.
It also won best cinematography and best original screenplay.
The film is about a former movie superhero actor Riggan Thomson (Michael Keaton), who hopes to revive his washed up career by putting on a Broadway play.
Richard Linklater's Boyhood won just one award from six nominations - best supporting actress - which went to Patricia Arquette.
Arquette thanked "her Boyhood family" and "every woman who gave birth".
"To every woman... we have fought for everybody else's equal rights. It's our time to have wage equality," she added, to huge applause from the audience.
JK Simmons won the best supporting actor at the Academy Awards for his role in Whiplash as a strict drumming teacher at a music conservatory.
Accepting his award, he paid tribute to his family, including his "remarkable" wife and "above average children".
It was Simmons' first Oscar nomination. He also won best supporting actor at the Baftas earlier this month.
His fellow nominees included Mark Ruffalo (Foxcatcher), Edward Norton (Birdman), Ethan Hawke (Boyhood) and Robert Duvall (The Judge).
Whiplash also won the award for best editing and best sound mixing.
The Grand Budapest Hotel picked up best costume design (Milena Canonero), as well as best hair and make-up, (British duo Frances Hannon and Mark Coulier). It also won best score and production design.
Hannon thanked actor Bill Murray for introducing her to director Wes Anderson on the set of his film Rushmore 17 years earlier.
Another British duo, Matt Kirkby and James Lucas, picked up the award for best live short action film, The Phone Call, starring Sally Hawkins and Jim Broadbent.
Dark comedy Birdman won best cinematography and best original screenplay, while Alan Turing drama The Imitation Game, starring Benedict Cumberbatch, won best adapted screenplay.
Best foreign language film went to Polish black and white family drama Ida.
John Legend and Common's track Glory, from civil rights drama Selma, won best song.
Legend said: "We live in the most incarcerated country in the world... people are marching with our song... we are with you, march on."
Emmanuel Lubezko won the best cinematography Oscar for the second year running for Birdman. Last year, he won for Gravity.
Citizenfour, which chronicles one of the biggest intelligence leaks in American history, won best documentary feature.
It shows former National Security Agency contractor, Edward Snowden, at the very moment he made his sensational revelations detailing extensive internet and phone surveillance by the US government.
Best documentary short was won by Crisis Hotline: Veterans Press 1, about the counsellors who help military veterans on a 24-hour phone helpline.
Clint Eastwood's Iraq war drama American Sniper won the award for best sound editing.
Julianne Moore, Felicity Jones and Eddie Redmayne are among those waiting to find out if they will also be going home with a statuette.
Jones and Moore are among the nominees for best actress, Redmayne is tipped to win best actor.
The 87th Academy Awards take place at Hollywood's 3,300-seat Dolby Theatre.
Host Neil Patrick Harris promised "a hint of magic" while performers at this year's ceremony included Lady Gaga, Rita Ora, Jennifer Hudson and Anna Kendrick.
He kicked off with a song which paid homage to Hollywood's film industry, accompanied by Kendrick and Jack Black.
Birdman and Wes Anderson's quirky comedy The Grand Budapest Hotel began the night with nine nominations each. The Imitation Game, with British actor Benedict Cumberbatch as WW2 codebreaking genius Alan Turing, had eight.
Clint Eastwood's true-life Iraq war tale American Sniper and Boyhood had six apiece.
The best picture prize is widely predicted to either go to dark comedy Birdman or coming of age drama Boyhood.
The directors of both films did their best on the red carpet to play down any rivalry, with Birdman's Alejandro Gonzalez Inarritu calling the supposed competition "so silly" and Linklater saying he loved Birdman.
"It's a real tribute for two films that aren't traditional stories, crazy stories," said Linklater, who filmed the coming of age movie over 12 years with the same actors.
British actor Redmayne is strongly tipped to win an Oscar for his lead role as Professor Stephen Hawking in The Theory of Everything.
As the rain poured outside the theatre, Redmayne joked: "This is entirely my fault. Sorry."
British actresses in contention alongside Felicity Jones include Keira Knightley and Rosamund Pike.
Moore is the clear favourite to win best actress for her role as a lecturer with early onset Alzheimer's in Still Alice.
But she wasn't counting her chickens.
"I have been in this business a long time," Moore said on the red carpet. "It doesn't always happen."