PM announces 4 schemes to address impact of coronavirus fallout
Declares Tk 750cr insurance for those working in frontlines; urges citizens to celebrate Noboborsho at home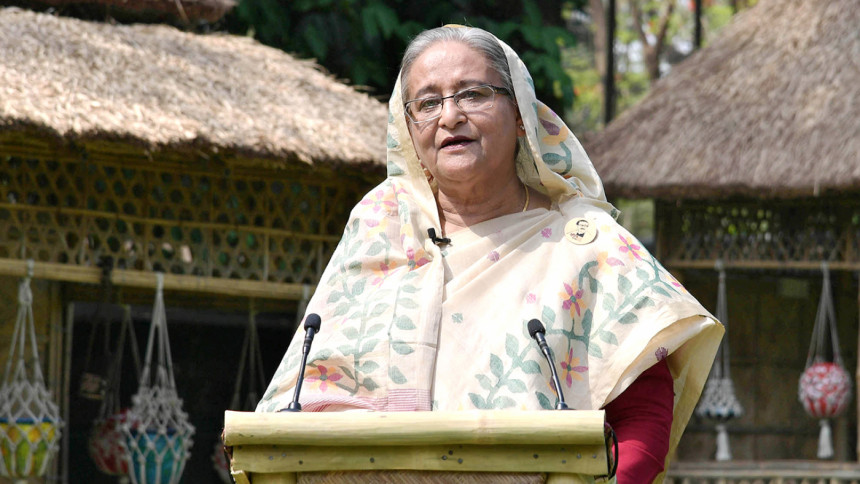 Prime Minister Sheikh Hasina today announced allocation of Tk 750 crore for insurance of doctors, nurses, health workers; field officers; members of law enforcement agencies, armed forces, BGB; and other government employees, who are risking their lives to fight the coronavirus pandemic.
PM made the announcement while addressing the nation this evening on the occasion of Pahela Baishakh, the first day of Bengali New Year, being observed tomorrow.
If any of the abovementioned is affected while on duty, they will get health insurance worth Tk 5 lakh to Tk 10 lakh as per their designation, and the rate will increase by 5 times in case of death, the premier said, adding that Tk 750 crore has been allocated for their health and life insurance.
Alongside the allocation for health and life insurance, Sheikh Hasina also assured to give special allowance to government health workers dealing with coronavirus patients directly.
"I have already asked to prepare a list of government health workers who are working directly with coronavirus patients. They will be given a special allowance. For this, Tk 100 crore has been allocated," she said.
She also thanked doctors, nurses, health workers, government officials and employees, and journalists for their effort during this difficult time.
CELEBRATE PAHELA BAISHAKH AT HOME
The prime minister urged the countrymen to celebrate the Bangla New Year with family members at home.
"We will celebrate this New Year at home," the premier said.
"Don't go out without a pressing need. Don't form crowds. Maintain hygiene. Protect yourself and family members from coronavirus infection," she urged all.
4 SCHEMES TO ADDRESS IMPACT OF POSSIBLE GLOBAL RECESSION
PM said international financial institutions are warning that the entire world is going to face economic recession due to the coronavirus pandemic.
The possible impact of the economic downturn has become a concern for the country's economy, she said.
"We have planned four key schemes to address the possible adverse effects on the economy due to the coronavirus," the PM said.
The initiatives are:
1. Increasing government expenditure: Creating scope of employment will be given priority in the case of government expenditure.
2. Formulation of financial assistance packages: The main purpose is to revive economic activity, retain workers and employees, and keep the entrepreneurial competitiveness unharmed.
3. Increasing the coverage of social safety net: The existing social safety net will be extended to meet the basic needs of people living below the poverty line, day labourers and workers in the informal sector.
4. Increasing currency flow: In order to overcome the adverse effects on the economy, flow of currency will be ensured so that inflation does not occur.
The initiatives will be implemented in three phases: the remaining three months of the current fiscal year, short-term by the next fiscal year and mid-term by the next three fiscal years, she said.