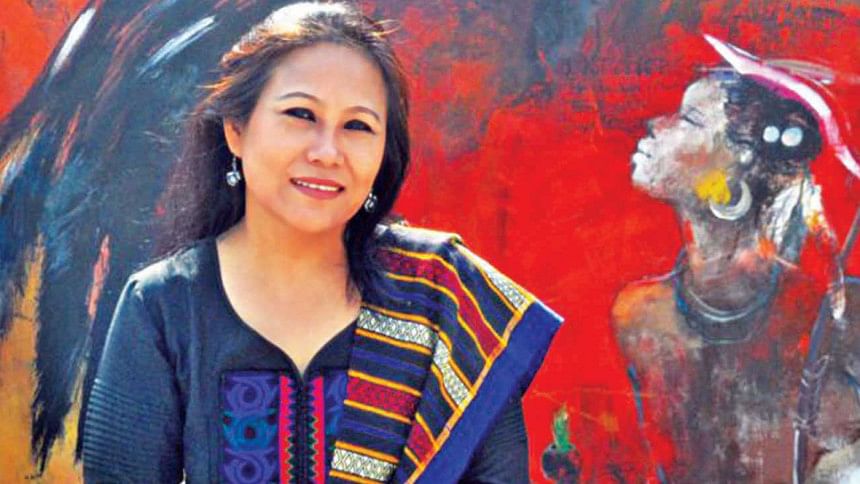 In the world of art, Kanak Chanpa Chakma needs no introduction. Being one of the most eminent painters of our time, Kanak Chanpa has created her own genre through her unique style. Her paintings mostly feature the indigenous community and their daily lives combining semi realistic and abstract in the same frame. Her work depicting the tragedy at Ramu that occurred in 2012, which advocated for the rights of the Buddhist community, were some of her most prominent thought provoking artwork.
Her paintings are admired all over the world and were exhibited in many countries such as Australia, India, United States, Germany, France etc. Her awards include Olympic Fine Arts Award, Best of the Show from Museum of Americans, Best Women Artist of the XXI century and many more. She was selected as one of Bangladesh's top ten women personalities by ANONNA.
Born in Rangamati, Kanak has grown up among a diverse group of people from different cultural and religious backgrounds. "When the Muslims celebrated Eid, or there was a Puja we never felt like this was something we were not a part of, it was our celebration too," she remembers. "When we celebrated Buddha Purnima, they all came to our houses, wore new clothes and took part in our festivities. I never felt like they were separate from us," she tells us.
"As a freelance artist, I like to do paintings regularly," she tells us,  "When painting, there is a link between my mind and my hands, and my hands and the brushes, and brushes and the canvas, and I paint whatever my mind tells me." Kanak has visited many countries in Europe, Asia etc for exhibitions, seminars and art carnivals. Her favourite among them was Montmartre in Paris where artists like Salvador Dali, Amedeo Modigliani, Claude Monet, Piet Mondrian, Pablo Picasso and Vincent van Gogh had studios or worked around the community of Montmartre.
Through her work, Kanak gives us a glimpse into the lives of the ethnic minorities in Bangladesh, especially ethnic women, telling their stories and giving us a chance to get to know more about this marginalised group.