Art
Battle Cries from Bengal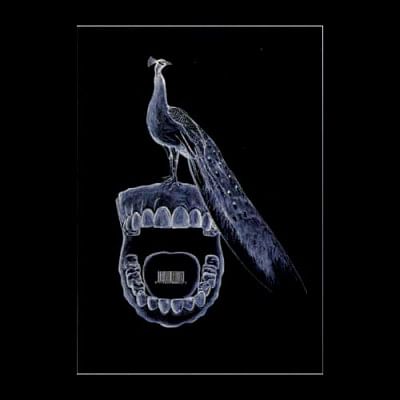 Whichever way we look, there is burning, looting and pillage today. It is natural that three young artists, even though not being there during the nine months of War of Liberation, should feel that life is an agony with war cries. They feeling haunted and chased by elements beyond themselves. The exhibition "The Paradaoxical Now" which began at The Bengal Gallery of Fine Arts on February 7 will continue till March 1. Feroz Mahmud, Aniuzzaman Sohel and Yasmin Jahan Nupur are soaked with such feelings of fear and fight. 
The elements in their work, such as those of Anisuzzaman, include items like guns, butcher knives, knives, paratroopers, army on horseback and on elephants ready for some warfare. Delineating history and myths , using symbols, shapes and tones  their work oscillate from familiar to unknown. "Some things make me anxious, some make me hopeful; some make me lose hope. I try to translate those feelings into art. I can't go out and start smashing car windshields in anger, so my anger comes out in brush stokes I guess I'm just trying to turn my destructive impulses into creative ones." In Sohel's work we find paratroopers, parts of bird, helicopters, knives to peel, Cranes and parts of Sten guns.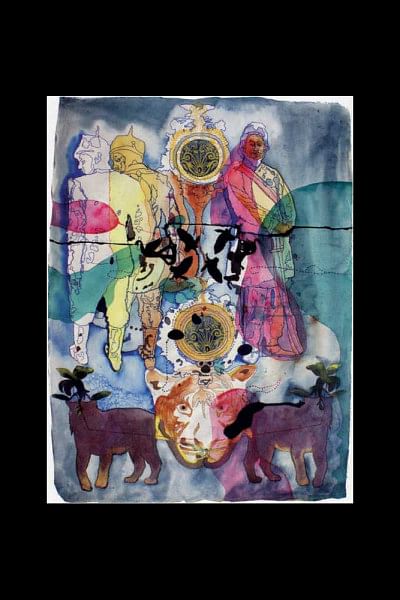 Feroze goes back into the history of Bangladesh and the Indian subcontinent, to get Mughal imagery and animal symbolism. His brown stands for soil while green for the national colour. Trained in painting and drawing these are the components of his art. In Firoze's work we find a Moghul emperor clad in his flowered 'kurta', turban and layers of jewellery, with a rose in hand. There are two swords placed sideways. The throne is in pencil. There are people fighting at the back. The emperor is on horseback, with a man leading them on-the man has a snout of a pig and he is covered with a butterfly. There are paisley at the four ends of the painting containing more paisley patterns in brown.   In front is a village scene in pale blue, with men and women carrying weights. 
Art being a language of communication Yasmine Jahan Nupur 's work is conceptual social and environmental. Her works deal with domestic abuse and underlying threads of violence." My interest in technology is in its relationship with artwork and its effect on viewers. And artists crossing paths, crossing limitatiom. I am thinking about 3D scanning, digital manipulation, sharing and the shifting relations between the physical and the digital , all in the familiar form of a sculptural installation. For me this is a very important discovery."