Recruitment marketing strategies for startups in Bangladesh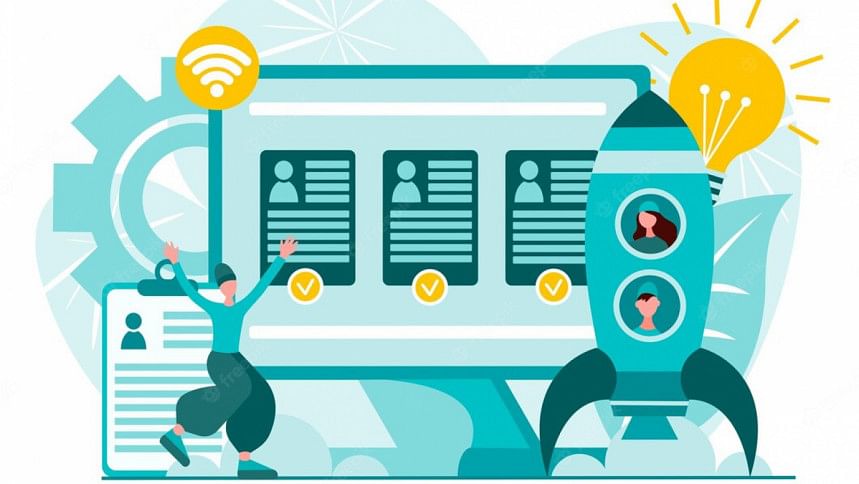 It's not raising money. It's not about sales or closing deals. It's not even about who will be the MD and who will be the Chairman. It is always about finding the perfect team.
According to CB Insights Research, failure to gather the right team is one of the major reasons why startups fail. A startup cannot run on average-performing employees or structured roles. An all-hands-on-deck team will always perform at their optimum. Therefore, having the perfect team is critical for any startup.
Most top talents in Bangladesh share a vision of joining big MNCs and building their careers on big brand names. Young talents lack the basic awareness of startup culture as well as the pros and cons of employment at startups. With this awareness gap among prospectus candidates, it gets challenging for startups to cut through the noise of big companies in this war of talents. Thus arises the need for recruitment marketing. 
Here are some recruitment marketing strategies that an aspiring startup can take into consideration to assemble the perfect team for any occasion.
Learning opportunities
The job description is one of the most direct points-of-contact where the organisation can lure potential candidates to apply. You might not be able to offer them big cheques but you can offer them knowledge and a growth-promoting environment.
When we first started with Savoir Bangladesh, we struggled extensively to hire the perfect fit. At one of our 'Take-5' sessions (where we take a tea or coffee break around the afternoon together), I was having a chat with one of the employees. She had recently finished her graduation and had been with us for about 4 months. I asked her why she chose a startup with a low salary over a larger corporation. She responded, rather obviously, that she could not have learned as much as she did here hands-on if she had chosen a larger, essentially more sustainable organisation. 
To my understanding, which may be further discussed; the obstacles we confront every day within a startup are considerably more real and are frequently encountered without a safety net. Therefore, coming up with the resolutions is much more exciting and thrilling. It's no more a case study that you are extracting lessons from - it is an experience, your experience. 
"My friends are always chasing after MNCs and the big corps and they become frustrated if they fail to get into any. I just urge them to take it easy, join a potential startup where they can learn," the young employee said. This made me realise that my target audience has a portion, who just want to learn, essentially the bright ones. So, I introduced a new section in the Job Description titled: 'Why choose us?' One by one, I started to market the value propositions, starting with the learning outcomes.
Founder story
Tell your audience who you are, how your journey was, what drives you and why they should follow your lead. A huge portion of the previous point, i.e. the learning outcomes, generally include learning directly from the founders. This is where you tell them why they should be interested to learn from you. 
To let them become a part of the organisation you created, tell them why they should become a part of your legacy. This is where you instil inspiration. Design a separate campaign to brand yourself as the founder, a leader and a true inspirer. Then, use your personal brand value to attract potential candidates to your organisation.
Much scepticism was thrown our way in our early days of recruitment. It is a common trend found among candidates - to apply blindly. When called, we heard hesitations and queries such as who we are, what we do and what is their future with us. Candidates who did not bother to ask did not bother to show up for the interviews either. Within a few days, as a part of a branding campaign, our journey with Savoir Bangladesh was featured on the biggest English daily in the country. 
'Furnishing your dreams' was shared on Savoir's LinkedIn page and brought us a large group of enthusiastic and potential candidates, who in interviews expressed excitement and the desire to work with us. Thus, we short-linked the introductory article and put it under the title 'About Us' in the JDs.
Purpose
A large number of today's youth wants to be driven by a purpose that adds value to their work. Savoir's purpose includes making the furniture industry more economically, environmentally and technologically sustainable. 
Economically sustainable projects include outsourcing production from SMEs and MSMEs. Environmentally sustainable projects include responsible sourcing, refurbishing and reducing carbon footprints on the manufacturing side. The technological projects include offering a digital platform with multiple features that help reduce time and energy-consuming actions and eco-friendly machinery to reduce production time.
Break down your organisation's missions or the problems it is solving as well as the impact it has on others. Sell the purpose of its existence to attract potential candidates who want to be a part of a better society, community or world that your organisation is striving toward. Communicate to them how you are different from others in your field. Make your projects interesting and your tasks fun to work on. Use innovative terms and create meaningful duties so that even the lowest-graded employee is contributing to a larger goal. 
84% of the job seekers prefer applying to companies with a positive and  growing reputation as an employer. Therefore, 9 out of 10 candidates apply to a job coming from a brand that is actively maintained.
The ideal strategy to recruitment marketing is an effective partnership between HR and the branding team, and therefore taking advantage of the correlation between branding and recruitment - which the aforementioned strategies are the perfect combination with.