Leaping up to set newer standards: realme turns 5
Interview with Alen Chen, CEO of realme Bangladesh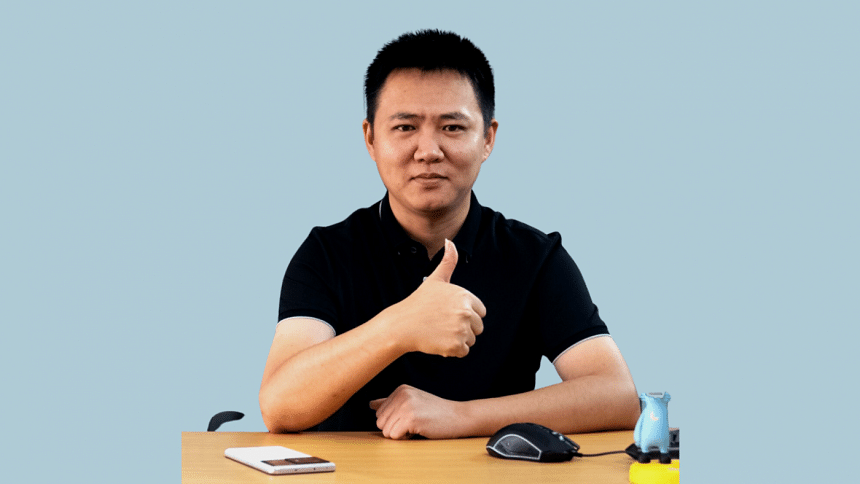 Smartphone brand realme is celebrating its 5th anniversary. Over this period, it has emerged as one of the world's fastest-growing smartphone manufacturers and is now a prominent global player. Under the motto "Leap up," the brand is dedicated to providing outstanding user experiences across various smartphone categories, driven by innovation and top-notch performance. realme has been active in Bangladesh for four years and has successfully captivated the hearts of millions of young consumers, focusing on its youth-oriented approach.
The Daily Star recently spoke to realme Bangladesh CEO, Alen Chen, who talked about realme's journey and Bangladesh's smartphone industry as a whole for the readers.
As realme enters its 6th global year and completes 4 years in Bangladesh, can you highlight its global and local initiatives and achievements? Also, what's realme's current standing in the Bangladesh market?
Five years ago, realme entered the challenging smartphone industry, focusing on delivering innovative tech and stylish design at affordable prices, particularly for the youth. This approach propelled us to become the World's Fastest Growing Smartphone Brand, achieving Top 5 status in 30 global markets. Our commitment to innovation resulted in breakthroughs like 240W Fast Charging, outstanding cameras, powerful processors, and AIoT offerings.
In our 4th year in Bangladesh, despite economic fluctuations, realme has established a strong presence. This success reflects the trust and value we've earned from our customers. Looking ahead, we'll continue our innovation journey, enriching the lives of young Bangladeshis with top-notch, accessible technology and experiences.
Can you provide more details on realme's focus on serving the youth?
realme firmly believes in the power of young minds. Hence, we want to equip them with the technology required to soar higher beyond boundaries. Owing to this philosophy, we ensure that our strategies resonate with the youth. Consequently, we focus on taking initiatives that are designed to motivate these young minds. We have been bringing innovative designs and best in-segment features. On top of that, we house and empower a young and lean team at realme, who propel the brand to greater success through newer innovations. This further motivates us to work for the youth – to empower them with the power of technology. As we move forward, we plan to continue with this philosophy.
What's your perspective on the thriving global and local smartphone industry? Can you discuss realme's strategies to succeed in the current industry and economic landscape?
The smartphone industry is thriving globally, including in Bangladesh, driven by connectivity, productivity, and entertainment needs. However, economic instability has led to a decline in smartphone shipments. Despite challenges, the dynamic nature of the industry presents opportunities for innovation and improvement.
realme is determined to stay competitive and navigate these challenges through our Leap Up approach, focusing on innovation and customer satisfaction to thrive in this evolving landscape
Can you explain the 'Spire' and 'Leap up' strategies by realme and how they fit into the brand's future plans?
Last year, we introduced the 'Spire' Strategy, and now we're advancing it with our motto "Leap Up." The Spire Strategy focuses on significant technological advancements in charging, photography, display, gaming, chipset, and industrial design through three bases: Design, Performance, and Experience. This strategy propels significant and noticeable improvements across six major technology fields, namely charging, photography, display, gaming, chipset and industrial design.
Building on this strategy for our fifth anniversary, we've adopted the "Leap Up" approach with four key pillars: faster development of leap-forward technology, targeting young users aged 18-25, creating high-quality products for superior performance, and driving innovation with the 'One More Step' R&D concept to advance the industry.
To achieve this, realme will stick to a 'simply better strategy,' prioritising top-notch hardware, software, design, price, and overall user experience for young users. We're committed to introducing new devices only if they offer a leap-forward experience. 
What are realme's plans for the next 5 years in Bangladesh?
The next five years are crucial as we strive to reach the global top five spot and empower young users through boundary-pushing innovation.
Currently, we're focusing on our C-Series devices but plan to reintroduce our full range once the situation stabilises. Our Spire Strategy, combined with the Leap Up plan, is our roadmap for the next five years to regain a strong market position. Our key focus is meeting the demands of our target audience, prioritising top-notch quality and design. Our Champion series, formerly the C-Series, has evolved to cater to this demand.
Over the next five years, we aim to climb up the global rankings, delivering an enhanced brand experience centred around the youth, marking a brand of young individuals for young individuals, striving for continuous progress and growth.