How to set up a budget greenscreen at home
Part I: Lights, camera, fabric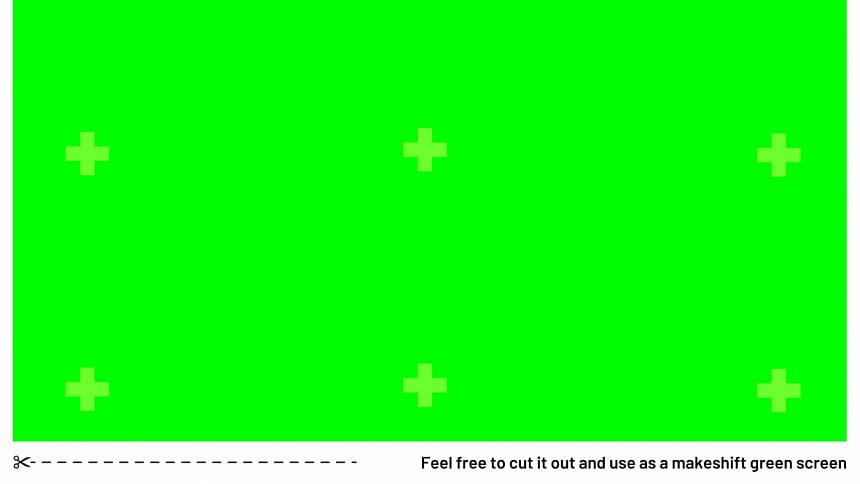 A greenscreen is an indispensable tool in filmmaking. It is a simple technique that has been around for about 100 years, and in plain words, it only means layering one image on top of another. The process of using a green screen involves removing a single colour from a shot—often green or blue—leaving the subject on a transparent background that can then be blended with any other background. 
From fun TikTok videos to quick homemade short films—the uses of a greenscreen can be endless if you are looking to tinker with some rudimentary VFX. The good news is, you can create your own greenscreen by just using fabric from a craft store. 
Here's what to keep in mind:
The screen
Any surface that contrasts with your subject and is a single, flat colour can be used. Brown "sandscreens", for instance, were used in making Dune. Although human skin tones contrast well against green and blue screens, any solid colour can be used in their place (depending on your shot).
Getting that solid colour, though, can be trickier. The shot may be messed up by clothing wrinkles and poor lighting. This is a problem if you have painted walls in your house, which frequently have textures or can reflect light in some areas. As a result, more than just the colour is what you should look for in a greenscreen. 
You can get away with using a pop-up backdrop if you only need to shoot one subject that is standing still. You will need a larger screen for scenes involving more people or in larger settings. Remember that in order to prevent casting shadows, you must maintain a minimal distance between your subject and the screen.
There are other options besides fabric, which is how most greenscreens are made. Options made of foam or spandex will resist wrinkles better than some fabrics. You can also paint rigid backdrops like cardboard or wood with a little effort. If you intend to shoot on location or somewhere else where the screen won't be against a wall, you might also want to use thick material to stop light from leaking through the back.
Even lighting across the surface is crucial. Meaning, all parts of the screen should be equally lit). But if your greenscreen is overly reflective, it may be challenging to achieve. Any bright spots on your screen will become an issue later. This is especially noticeable on glossy surfaces like painted walls. Get materials with a more matte surface to make your lighting job easier.
Stands
There are no such things as too many stands. They come in handy for hanging fabric screens and setting up lights, among other things. You can keep a variety of stands around the house as well. The best ones to choose will depend on the weight of the equipment you're using, the available space, and your financial situation.
A few of the most popular (and affordable) options are tripod stands for cameras. These can be used to mount lights, clamps, or hold up backdrops because they have 1/4-inch screw tips. However, it is better to spend a little more money on a tripod that is more durable for your camera.
Backdrop stands are more beneficial for larger screens. The photography stands are very similar to these, but they come in pairs, have longer screw tips, and have a telescoping crossbar from which fabric screens can be hung. Although they're still not very stable, these ought to work as long as you don't force your subject into the screen.
C-stands are an option that is more robust. You might only need one for your heaviest equipment if you're trying to stay within your spending limit. These stands are stabilised by three independent legs, each of which can rotate up to 120 degrees. Furthermore, they are strong enough to support a telescoping arm by themselves. For supporting the large lights that you need to illuminate your green screen, these can be incredibly helpful.
Lights
There are countless ways to light your subject and your screen. Your objectives will remain the same regardless of the type of lighting you use: light your screen evenly, prevent creating any shadows, and light it as independently of your subject as you can.
This can be difficult, but you usually need at least a couple of big, bright light sources. Smaller lights will produce hot spots on the screen where the areas closest to the light will be much brighter than the areas farther away. This is especially true when the lights are placed close to the screen. Get some large lights or diffuse some smaller ones to solve this.
Softbox photography lights come in handy in this situation. Softboxes reduce harsh shadows by spreading the light more evenly. It's convenient to have, and it's also helpful to light your greenscreen so that the key is more consistently applied to your subject. Softboxes have their own grids, which is the best part. Instead of spreading light outward, grids allow you to focus it in a specific area. When you want to light your subject and your green screen independently, this can be incredibly useful.
You can also consider LED panels. These are becoming more and more common because many of them let you change the colour temperature (or even the RGB colour) of the light, which can be useful and prevent you from having to do additional post-production work. But they can be fairly expensive.
Software
The free video editor DaVinci Resolve has numerous chroma key tools built right in—but they still are not quite as good enough. Watch out for a detailed guide on video editing software in the next issue. 
For now, setting up and lighting your greenscreen correctly the first time is the best way to save time and effort while ensuring that your shots look their best.