E-commerce industry veterans get-togethers to share insights at Bangladesh e-Commerce Summit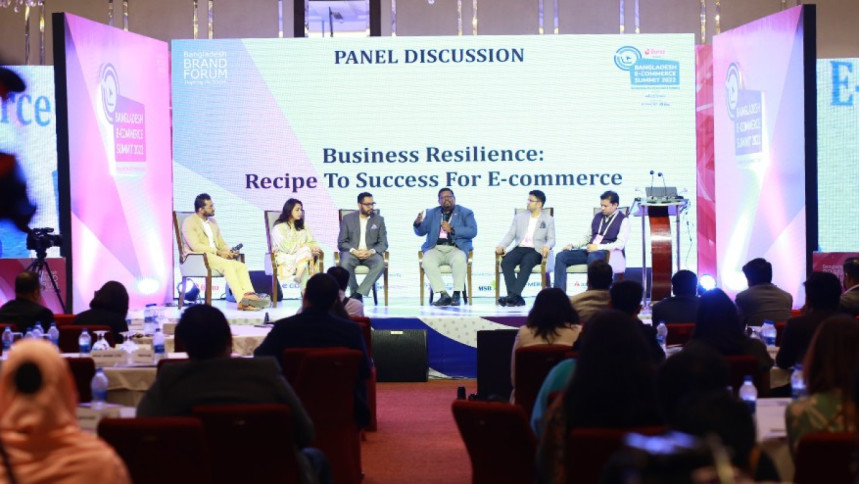 To discuss the e-commerce industry's market, trends and practices amongst its peers, Bangladesh Brand Forum organised the Bangladesh E-Commerce Summit 2022.  "Revitalising the E-Commerce Industry', the theme of the summit was chosen as the industry is embarking upon a new growth journey in the current post-pandemic era. 
The Bangladesh E-commerce summit 2022 explored the continued rise of eCommerce and how covid changed the landscape for the eCommerce industry in Bangladesh. The summit brought together a large and diverse community of change-makers Ecommerce experts and established retailers altogether and engaged with the foremost Leaders, Global Experts, retailers and brands, who shared their knowledge on the key trends in the E-commerce industry. The summit aimed to build a sustainable e-commerce ecosystem and explored what the future of retail will look like as consumers continue to embrace new ways of buying in our ever-increasing digital world. 
The summit hosted 03 Keynote Sessions, 03 Panel Discussions, 04 Insight Sessions, 02 Case Studies, 01 Fireside Chat & 01 Deep Dive Session.
Notable speakers of the event were: Fahim Mashroor, Co-founder & CEO, Bdjobs.com Ltd.; Tony Hulton, Group Director, Corporate Affairs & ESG, Daraz; Waiz Rahim, Founder & CEO, Deligram; Khondoker Tasfin Alam, Chief Operating Officer, Daraz Bangladesh; Ilmul Haque Sajib, Co-Founder, SHEBA.XYZ; Rezwanul Huq Jami, Head of eCommerce, a2i - Aspire to Innovate, Chairperson Policy Standing Committee e-Commerce Association of Bangladesh (e-CAB); Biplob G Rahul, Founder & CEO, eCourier; Ambareen Reza, Co-Founder & Managing Director, Foodpanda; Dr. Rafiuddin Ahmed, Associate Professor of Marketing, University of Dhaka & Digital Transformationist; Tanzeen Ferdous, Consultant; Razib Jahan Ferdous, Assistant General Manager and Head of E-commerce Business, Bata Bangladesh Ltd.; Zakia Zerin, Sr. Manager, Consumer eCommerce & Digital, Nestlé Bangladesh Limited; Sagnik Guha, GM, Head of Marketing & eCommerce, Apex Footwear Ltd., Apex Footwear Ltd.; Mahbubul Matin, President, Dotlines; Zeeshan Kingshuk Huq, Change-maker, CXO & Entrepreneur; Ashiqur Rahman (Rean), Chief Growth Officer, Dotlines; Shinthia Sharmin Islam, Co-Founder & CCO, Shajgoj Limited; Asikul Alam Khan, Founder & CEO, Priyoshop.com; Tajdin Hassan, Chief Marketing Officer, Daraz Bangladesh; Morin Talukder, Founder & CEO, Pickaboo.com; Rashedun Nabi, Operations Director, Next Billion PTE Limited, Startup Advisor and Mentor; Adnan Imtiaz Halim, Founder & CEO, Sheba Platform Ltd.; Shourav Islam, Founder & CEO, Farmers Market Asia; Nurul Afser, Head of Corporate Brand, PRAN-RFL Group; Imamul Islam Suprio, Chief Commercial Officer, GoZayaan; A. H. M. Hasinul Quddus (Rusho), Chief Corporate Affairs Officer, Daraz Bangladesh etc.