Graves of polythene
Ineffective ban getting country buried under heap of non-degradable polythene every day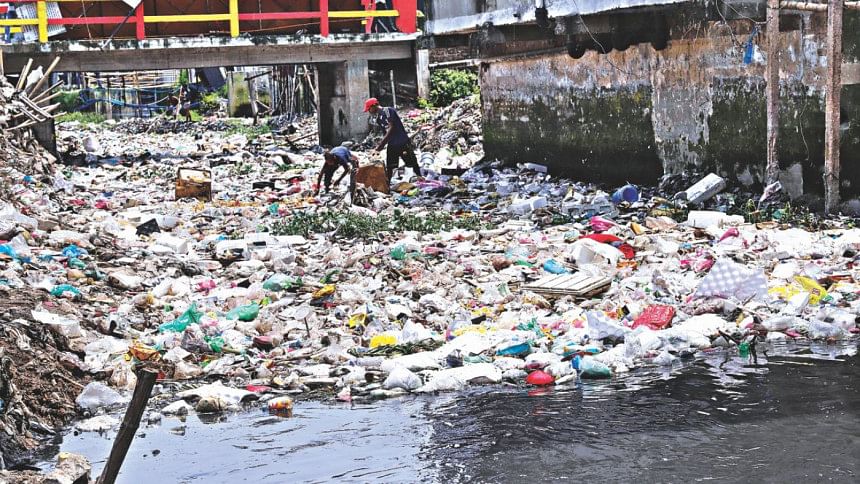 In 2002, Bangladesh became the first country in the world to ban thinner plastic bags. The unprecedented step generated a lot of positive buzz.
The ban is still on. But so is the use of polythene shopping bags.
Such bags, known as polybags, continue to flood kitchen markets across the country.
A complementary polybag is given to shoppers for whatever they buy.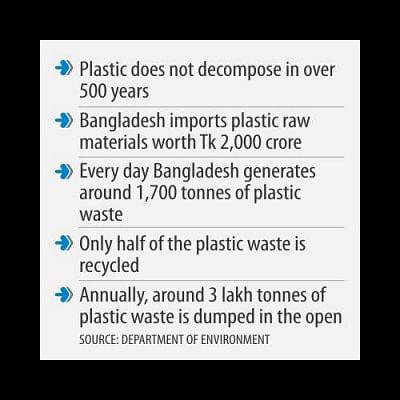 It is evident then that more than a decade after the ban, not one government agency has been able to control the production, distribution, usage and dumping of these polybags.
Worryingly, because there is no control, nobody has any authentic data on how many polybags are produced and used in the country.
The environment department says they do not have enough capacity to ensure the implementation of the ban.
"We only conduct raids in the shops and storage units [of polythene bags]. But it is hard to reach their factories and [conduct] raid because those are located in narrow lanes in the old towns and our people get assaulted when we go there to raid those factories," said Masud Iqbal Md Shameem, director, Dhaka division, Department of Environment (DoE).
"There is an exemption on [the use of] polythene bags for packaging industries. Some dishonest businessmen take this opportunity and produce polybags...," he said.
Compounding the problem has been the government's inability to provide a widely-used alternative. Thus, demand for polythene bags never reduced, he said.
Visiting kitchen markets, including in Mohammadpur, Indira Road and Karwan Bazar, it was found that synthetic bags made of discarded cement bags and net bags made of nylons threads were available in the markets.
However, the customers would have to buy those whereas traders were giving the polythene bags for free.
Zahir Mia, a vegetable trader from Mohammadpur, said they could buy polythene shopping bags from the town hall market itself.
"And the supply of those bags never fall short," said Zahir Mia.
"We provide these shopping bags to the customers because they also want it."
When asked how many polybags are produced in Bangladesh, Shameem said, the department had no data about it.
The DoE had no data as the factories were not legal, he said.
As per their data, a total of eight taskforces of the department conducted 152 raids and seized 125,05,808 kgs of polybags since 2015. They also charged Tk 147, 22,100 as fine and accused 1,308 in this connection.
However, sources in the department said, Bangladesh imported plastic raw materials worth Tk 2,000 crore and the country generated nearly 1,700 tons of plastic waste everyday of which only half was being recycled.
HISTORY OF POLYBAGS
Although the history of plastic is more than a 100 years old, in Bangladesh, plastic products, especially polythene shopping bags, were introduced widely in the early eighties. Within five years, they became a serious threat to the environment, said environment experts.
Then, Bangladesh became the first country in the world to ban such bags. But due to lack of regulation, local markets continue to be flooded with them.
According to Rule 6ka of Clause-5 under Section-9 of Bangladesh Environment Conservation Act (2010), restriction has been imposed in the production and uses of polythene shopping bags.
According to the rule, the production and sale of environmentally harmful products is restricted.
Though plastic bags are widely available, no plastic trader or entrepreneur admits their role in the business.
"I used to produce polybags till 2001. But I left that business when the government banned it. Now I only import plastic beads. I do not know who produces them," said a former president of Bangladesh Plastic Babsayee Samity under the condition of anonymity.
Experts feel that Bangladesh took a great initiative but could not continue it.