Ordinary people doing extraordinary things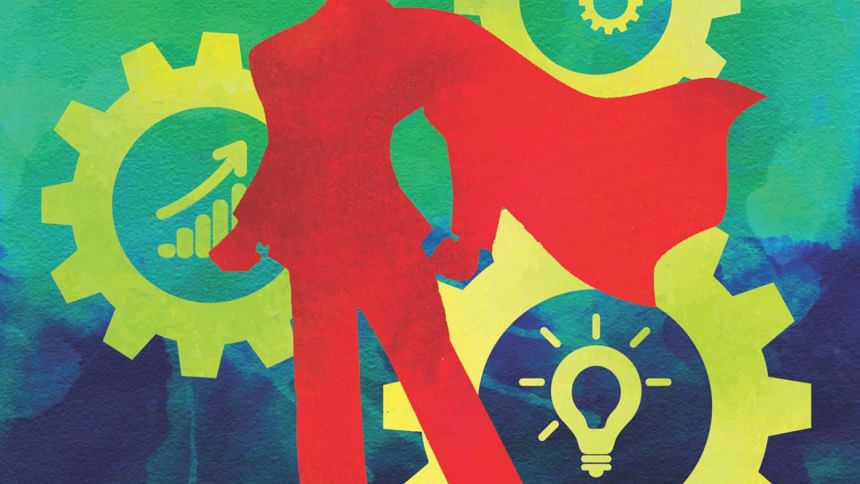 There are heroes who make their mark in the world in such dramatic ways that the world feels compelled to notice them. But there are also those rare individuals who, despite personal odds and challenges, choose to make changes in society through their creativity, resilience and overpowering urge to make the lives of others better. The Daily Star has been highlighting the stories of people in different parts of the country who in their small way are creating ripples in their community through either their selfless spirits or innovative minds, taking the nation, a step at a time, into the right direction. They are ordinary people, some facing economic hardship, others bearing physical disability, but they all have shown their extraordinary ability to make a difference in society. Here are a few of these remarkable stories, abridged from reports published in The Daily Star throughout 2016. 
---

Nazrul Islam Bringing Tea Gardens to an Unlikely District 
Inspired by the well-established lowland tea plantation in neighbouring Panchagarh and in some parts of Thakurgaon district, Nazrul Islam from Jhaljhali village in Dinajpur's Birganjupa zila has been trying his hand at cultivating tea in his hometown.
In August 2015, the 36-year-old planted 6,000 tea saplings, which he had bought from a nursery in Panchagarh for Tk 4 each, on two acres, and six months later, leaves were plucked for the first time, making up the initial harvest of almost 50 kilograms.
The volume of suitable leaves produced by the plants has been steadily increasing. In total, Islam says he has collected nearly 1,000 kilograms of leaves from his tea garden, and he sells the leaves to North Bengal Tea Factor in Panchagarh for Tk. 25 per kilogram.
While he plans to expand his groundbreaking endeavour, Islam estimates that even without expansion, after two years he will be able to earn Tk. 25,000 per month, which he earned in 2016, as the tea bushes will mature further. 
Nazrul's efforts have already inspired many; Azad Ali, a farmer from nearby Patlapur Ahrayan village, has planted tea saplings on two acres of land in early February 2016, and thus far he has harvested 300 kilograms of leaves.
Mostafizur Rahma, an official of the Agriculture Extension Department in Birganj says that Nazrul Islam is the pioneer tea grower in Dinajpur, explaining that growing tea there could be very fruitful, as the local geography and climate are favourable, especially as it is not too far from the Himalayas. Thus, through one small step of Nazrul, Dinajpur's rural economy can be transformed by tea cultivation.
Paving the way for many other local farmers to grow tea, Nazrul has successfully brought forward the potential of tea production in Dinajpur, enabling it to hopefully become the newest agricultural success of the district.
Source story: Kongkon Karmaker & Andrew Eagle
---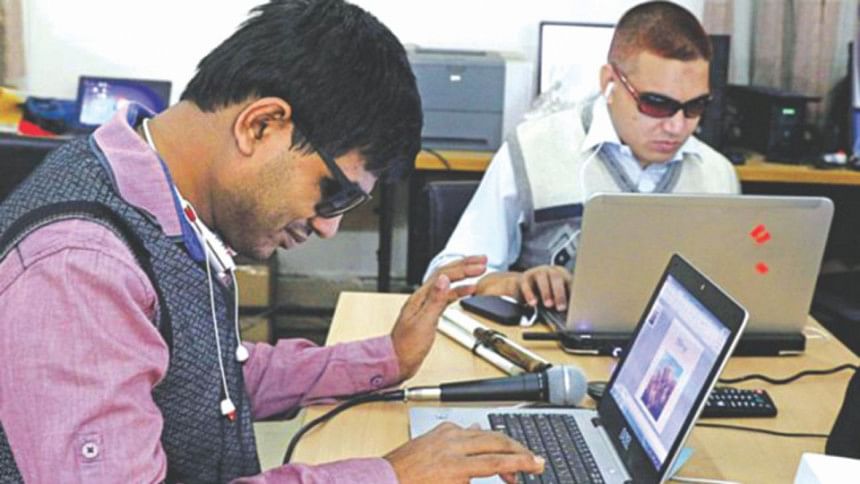 Abul Kalam Azad: Conquering Challenges
When as a child Abul Kalam Azad lost his eyesight from a severe attack of typhoid, he would not accept that he had to give up his passion for reading. Reading in Braille was not enough, as it was a strenuous method that did not offer a range of literary materials. He then started looking for alternatives, initially keeping an eye for recitation of Bangla books but he found none. Eventually, he decided to develop a website which would include Bangla audio books especially for the visually impaired. 

He started work on the site in November 2014, and by the end of January 2015 he almost single-handedly finished designing gyanbikash.com, where he has so far uploaded 50 audio books - including novels by Rabindranath Tagore, Manik Bandopadhyay, Sunil Gangopadhyay, Humayun Ahmed, Syed Shamsul Haque, and many others - for the visually impaired. Work to upload more books is underway. 

Apart from offering audio books, Azad has also created a rich online library of Bangla books under diverse categories such as history, the Liberation War, novels, poetry, science fiction, horror, and travel, which can be accessed by all and sundry. All of these books are available in PDF format and can be read online or downloaded for free. 

Azad, who graduated in English from Dhaka University, and currently works as a teacher at a school in Laxmipur, is the sole breadwinner of his family, which consists of his aging parents. But this hasn't stopped him from bearing all the expenses of building the site.

His future plans include further developing the site into a grand institution, where books will be printed in Braille alongside audio versions, so that visually impaired people can have access to them. 

He might be blind but that hasn't prevented Azad from dreaming big, as he says, "I don't know how long I will live, but I want to leave something behind for people, especially for those who cannot see."
Source story: Wasim Bin Habib & Tuhin Shubhra Adhikary
---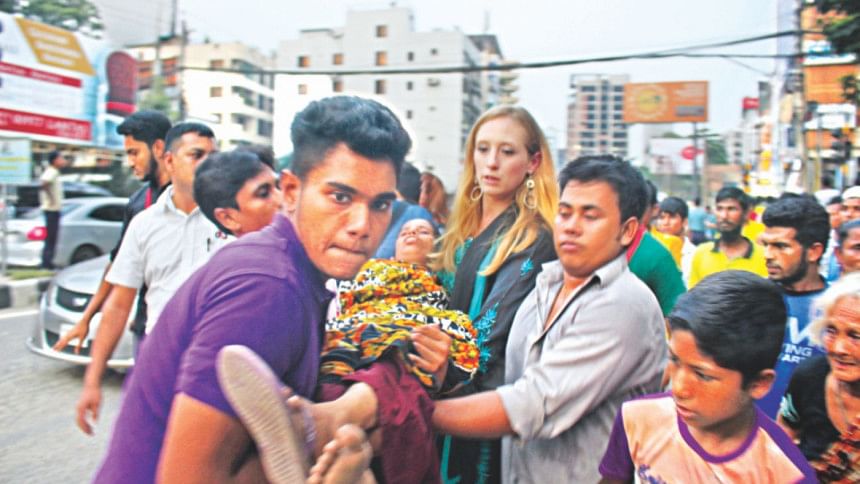 CriticaLink: Emergency Superheroes 
Overcoming the Rana Plaza tragedy that left over 1,100 people dead and hundreds of others disabled, Bangladeshi Rahat Hossain and US citizen Jennifer Farrell founded CriticaLink in 2014, a non-profit enterprise that could save lives in emergencies, while also developing a mobile app to alert the nearest volunteer first responders who can rush to the emergency spot to save lives.
Till date, CriticaLink has trained over 3,000 people on emergency medical services, and around 380 of them are registered with and certified by the organisation. Farrell claims that they have treated around 600 patients in 2016 alone.
Farrell, who spent four years as a volunteer emergency medical technician at Duke University, USA, and trained first responders in South Africa, came to Bangladesh in 2012 to train doctors and young volunteers on emergency medical service for two months. Currently a senior Doctor of Medicine candidate at the Tulane University of Medicine, she says that she understood that mobile phones and Facebook worked very well in Bangladesh, which is how she realised that mobile apps could be used to help people in emergency situations like building collapse or road crashes. Thus, after the Rana Plaza disaster, she returned to Bangladesh as a Fulbright Scholar to research on accidents and see how a project like CriticaLink could save lives.
That's when she met Rahat Hossain, then a BBA student of East West University, who along with his friends had actively participated in rescue operations of the Rana Plaza disaster. Hossain, engaged in volunteering since his school days, and Farrell decided to train volunteers as well as connect them through the app so that they could be dispatched immediately in emergencies, where they could offer a range of services, starting from giving first aid to transporting patients to hospitals.
Anyone can download the app on the smartphones and get registered. Users can contact the call centre of CriticaLink based in Dhaka, which is open from 8:00 am to 11:00pm, or simply report an accident. CriticaLink notifies the closest responders in case of emergencies, who are divided into eight zones: Dhanmondi, Mohammadpur, Uttara, Banani, Gulshan, Mirpur, Lalbagh and Old Dhaka. Users will also find the address and contact details of the nearest police station, fire station and hospital on the app.
CriticaLink is currently working on road accident victims, lives of many of whom could have been saved if there were dial codes like 999 or 911, as in other countries, that ensure emergency services in minutes. Rahat and Farrell add that they hope to have a dial code similar to 911, and need support from the government and telecom companies to expand their services all over the country. For now, however, CriticaLink is operating with the small amount of money it receives as fee for the first aid training to volunteers and corporate houses. The volunteers are also selected based on their desire to help, and are not provided any incentives.
Future plans of the organisation also include licensing the app and allowing others to use it in various cases, including stopping sexual harassment. Hossain and Farrell, however, believe that their work would only be complete when they are able to take the mobile app and dispatch centre anywhere in the world where people need help.
Source story: Porimol Palma
---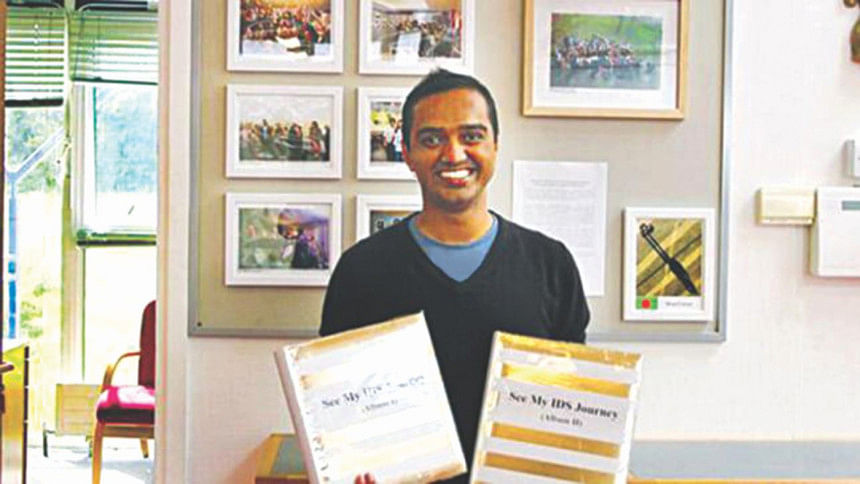 Mahmudul Hoque Of Moni Corner
Having a corner of your university's library named after you is no small feat. And Bangladeshi Mahmudul Hoque Moni achieved just that when his contributions in the community inspired the University of Sussex, where he is a Masters student of International Relations and Mass Communication and Journalism, to name a corner at the university's British Library for Development Studies after him.
There are three reasons why such a great honour was conferred upon Mahmudul Hoque Moni. Firstly, he made a short film to express the importance of the library. Secondly, in April 2016, he held a solo exhibition of photographs that he took in the UK, which also involved the contribution of some other students. He donated the 700 pounds raised at the exhibition to a charity in Sussex. Finally, he had set up a not-for-profit online community called "Say For Development", that publishes articles, opinions, reflections, photo stories and conversations related to development issues.
Two albums featuring 280 photographs, alongside a Bangladeshi flag, are also displayed at the corner. Moreover, 17 other photographs taken by Moni are exhibited at different areas of the library. 
---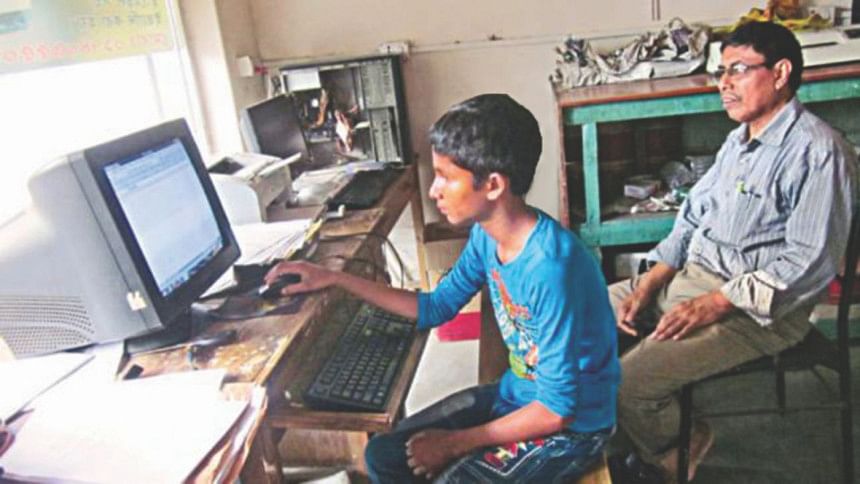 Anisur Rahman Anis A 13-year-old IT Entrepreneur 
A student of Class 7 at the Border Guard Bangladesh Public School and College, Anisur Rahman Anis is not like your regular teenager. Anis spends his free time at his small IT business that he set up.
The son of a small-scale farmer from Kurigram, Ani is being brought up by his uncle, Joynal Abedin, a computer operator in the district education office in the town, as his father could not afford his education and upbringing. From a very young age, Anis showed an interest in the computer his uncle had in his home, and when he was in Class 3, Joynal decided to train Anis in computers.
Anis first learnt MS Word and how to use the internet. Eventually he acquired skills in various other programmes, including Photoshop, Power Point and graphics design software. He was soon able to install software as well, while also being able to scan, print, and edit videos.
By the end of 2014, Joynal rented a part of a computer and variety store in Kurigram town's Paura Bazar, where he set up a computer, printer, scanner and internet access. From January 2015, Anis started to work there after class, willingly giving his income to his guardian as contribution to his own school expenses. Anis says that he sits in the shop after school until early evening but doesn't work when he has to study for exams.
Earning between Tk 200 to Tk 500 per day, Anis completes various internet and Word composition activities for local offices and individuals. Even the Senior Sub-Assistant Engineer of the local government engineering department, Nazrul Islam, calls Anis a "computer expert," who efficiently completes "any official task given to him."
Anis hopes that his computer skills will eventually help him, his father, and his guardian meet the cost of his higher education, as he wants to study computers at a higher level. With the right support and education, one can only imagine the heights this young entrepreneur will reach.
Source story: Abdul Wahed & Andrew Eagle
---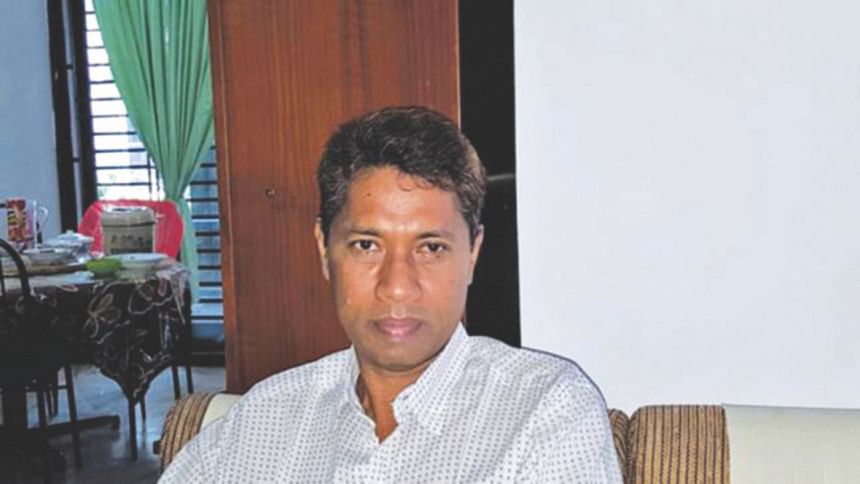 Aung Chin: Pioneering Soft-shell Crab Farmer 
Aung Chin's Irawan Trading exports soft-shell crabs to six countries, including Hong Kong, Japan, Korea, Malaysia, Taiwan and Thailand, selling about 30 tonnes of crabs in 2015, that brought in revenue of around Tk. 2.4 crore.
His soft-shell crab farm, set up on three acres of land in 2011, has gained state recognition as it won the National Fisheries Award in 2016 for its contribution in fisheries development and management.
Aung Chin's success has inspired many others to produce crabs on a commercial basis, as over 100 people have been inspired by Aung Chin to start crab farming in the region, with farm owners of Cox's Bazar exporting crabs to some 20 countries.
After completing his Masters at the Institute of Marine Sciences and Fisheries of Chittagong University in 1998, Aung Chin set his crab farm in the coastal village Monupara in 2011 with his own savings and loans from friends, which amounted to Tk. 40 lakh. He began exporting crabs in the same year with the help of the Department of Fisheries under the Ministry of Fisheries and Livestock. Thanks to the quality of his produce, Aung Chin soon started receiving more orders from several countries, and eventually he had to increase production to meet the increasing demand.
The farm employs around 40 full-time employees, while the livelihood of another 80 to 100 people also depends on it.
Chin is considered to be a pioneer of commercial crab production in Bangladesh, inspiring others to start their own business, thereby leading Bangladesh to earn Tk. 199.38 crore in foreign exchange in 2015 through the export of crabs and kuchia.
In the future, Aung Chin hopes to expand his export to Europe, Australia and the US. He has already started farming crabs on another three-acre land in Nhila Union under Teknaf Upazila, and hopes that this move will further help produce great quality goods that can shape the country's image in soft-shell crab farming in the world.
Source story: Mohammad Ali Zinnat & Enamul Huq
---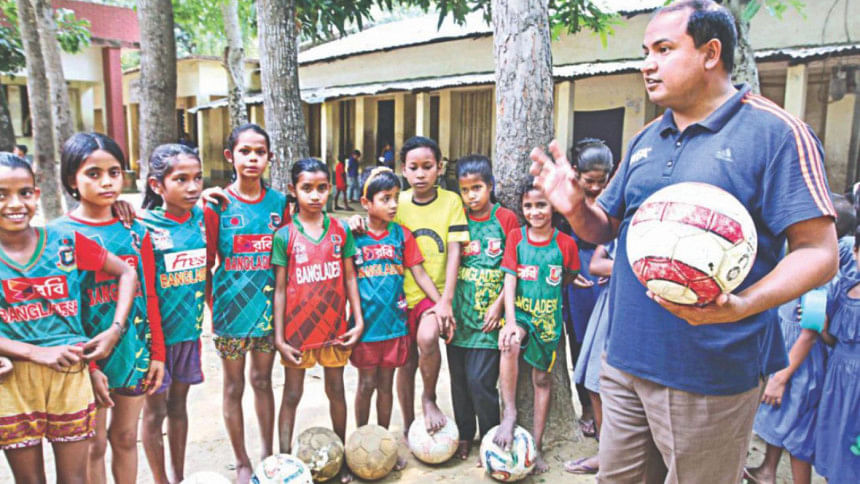 Mofiz Uddin: The Miracle Worker
Mofiz Uddin, a coach of a small primary school in remote Kalisindur village at the foot of the Garo hills is primarily responsible for the unprecedented success of Bangladesh's Under-14 Girls' Football Team. Eight members of the Bangladesh team that clinched the AFC Under-14 Girls' Regional Championship title in Dushanbe are from this village and its nearby regions. These girls were initially trained in the sport by this man who has never shown interest in being in the spotlight.
Mofiz was termed a 'mad man' by many in the areas when he first started training the wonder girls, who clinched the first international win for Bangladesh in football, at the insistence of school headmistress Minati Rani Shila. Mofiz loved to play football but he did not have any training in coaching the sport. However, he learned on the job. Convincing the parents of the girls was a challenge but the enthusiasm and eagerness of the girls to learn and excel in this sport won over everything else. Mofiz says that when he showed them football games on YouTube, they were keen to learn more and more, and practise the moves in the field.
Nazma Akhter, a player of the U-14 team, adds that Mofiz had to sell his paddy crop to support their training and playing expenses. Her father Abul Kalam, a tea shop owner, also acknowledges that Mofiz's "football story" has had a positive impact on their lives as well as the infrastructure of their small village, as with the success of the girls, they now have electricity and the roads are getting better. Politicians and influential personalities visiting them have promised further development in the area.
The 44-year-old coach who barely earns enough to run his family of four is busy training the newest batch of players. He now trains around 50 girls every day, adding that the workload is nothing compared to realising the dream of the girls of Kalsindur winning the World Cup someday.
Source story: Mirza Shakil
---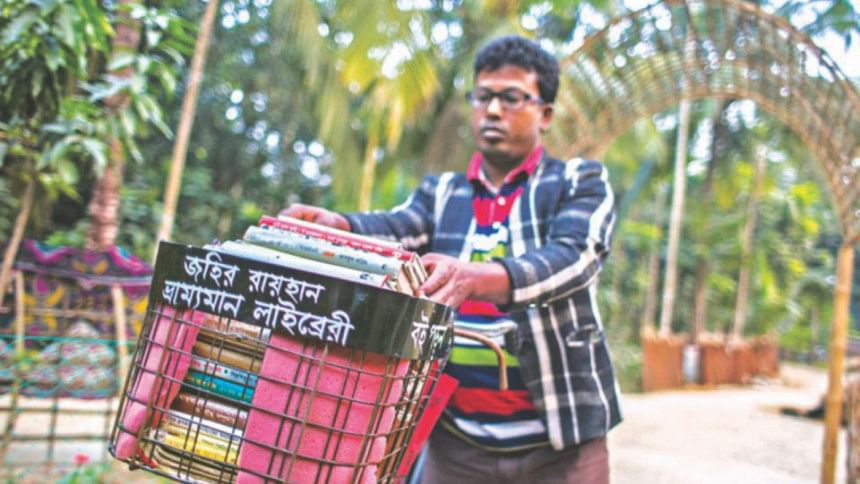 Jahir Raihan: The Planter
When one of his friends philosophised that man can only leave behind their deeds, it got Jahir Raihan thinking. He wanted to do something for his people, his community, and that's when he came up with the idea of tree plantation.
He planted some trees along a village road back in 1990, but soon became disheartened when people began to uproot them. He later resumed tree plantation albeit on a smaller scale. The change in people's attitudes delighted him, motivating him to turn his passion into compulsion in 2002. So far he has planted over 6,000 trees, including medicinal plants, in educational institutes and different government and non-government organisations in his home town of Jhenidah.
In 2010, he started a nursery on a small plot of land he owned. He then distributed saplings to his neighbours without charging a penny, spreading his love for nature to everyone around him. The nursery fetches him Tk. 40,000 a year from commercial sales. He has also built birdhouses, setting up clay pots, containing bird feed and water, on tree branches.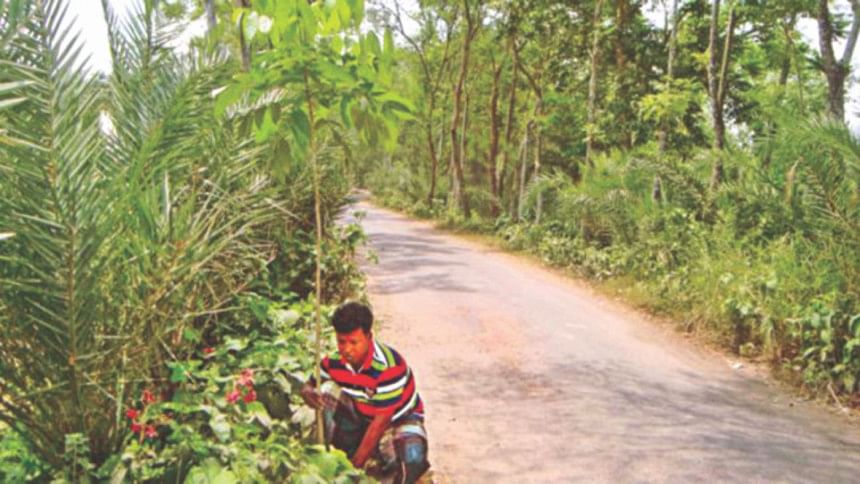 Raihan has also set up a mobile library on his bicycle. With a basket under the handle, he goes to the houses of students in his village every other day, carrying books of fiction, history, etc. He loans a book for 15 days, after which he visits the kids with new books. He now has around 50 readers who borrow books from him regularly.
His deeds of kindness do not end here. Raihan also cares for students who cannot continue their education because of financial or familial reasons, paying their fees and buying stationery for them. He has thus far supported seven students up to the higher secondary level. In October 2015, Raihan also took on the responsibility of Halima, a Class Nine student of Nagarbathan Secondary School.
Loved for his simplicity, commitment and kindness, Jahir Raihan is a testament that intention, perseverance and willingness are all you need to do good in the world.
Source story: Wasim Bin Habib & Tuhin Shubhra Adhikary
---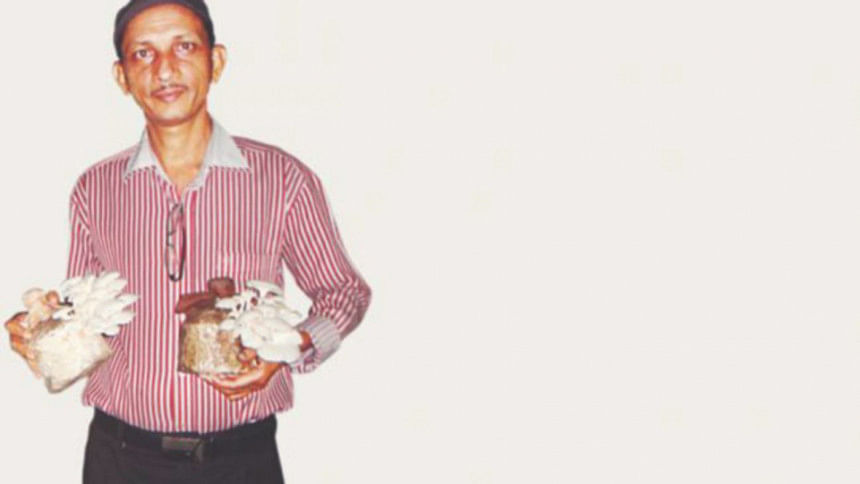 Mamunur Rashid Joarder: Surmounting Physical Challenges to Become a Pioneer 
For the physically challenged Mamunur Rashid Joarder, 45, from Mandartala village in Jhenidah, mushrooms are far more than a delicious source of nutrition. They are his livelihood. And over the years, through his mushroom cultivation, Joarder has inspired many others to follow his lead and invest in this potentially lucrative business.
Mamun, who suffers from myelomalacia, a disorder involving a softening of the spinal cord, was motivated to consider mushroom farming when his doctor advised him to include mushrooms in his diet. He then realised that he could seek health benefits from mushrooms while also saving others from many diseases by making mushrooms widely available in the country. Thus in 2002, Mamun started his own mushroom farm. He completed initial training in mushroom farming at a youth development centre in Jhenidah, and received laboratory, industrial and post-harvest training later in Savar.
His farm produces East Asian lingzhi and Japanese shiitake mushrooms alongside common mushrooms. Even though working on the farm is hard labour for him, Mamun says that it leaves him satisfied, as he sells around 300 kgs of mushrooms per month for up to Tk. 70,000, leaving him with a neat profit of around Tk. 30,000.
Mamun is considered to be the pride of his Upazila and is credited to be a pioneer in mushroom cultivation in Bangladesh. In fact, in recognition of his achievements, Mamun received a national award from Prime Minister Sheikh Hasina in 2016. And yet, he has far bigger dreams. Mamun wants to produce mushrooms for export, and build an industry that could potentially alleviate unemployment in his area. He is only held back by a lack of capital but hopes that favourable loan facilities and government assistance could help him realise his ambition.
Source story: Azibor Rahman & Andrew Eagle  
---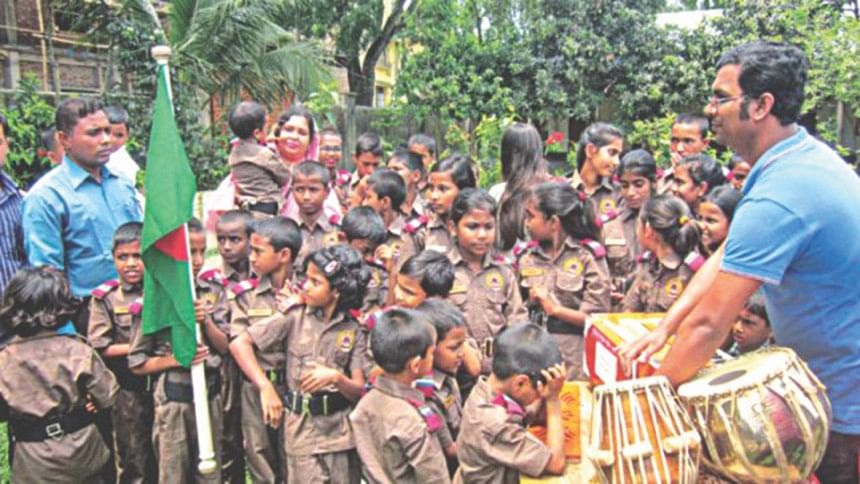 Bilkis Banu: Foster Mother to 55 Children 
Back in the late 90s, Bilkis Banu used to look after five orphans in her house in Kurigram's Nageshwari Upazila. On a winter day in 1999, a mentally challenged woman visited her with her one-and-a-half-year-old daughter whom she was incapable of taking care of. And so one day Bilkis asked the woman to let her adopt the baby and Jharna agreed. That night, when Bilkis was sleeping with the little child, whom she would later name Pritilata, close to her, Bilkis had a vision of Mother Teresa - the missionary who had dedicated her life to help the poorest of the poor, especially orphans and abandoned children - in her dream. The next morning Bilkis decided that she would follow the footsteps of the venerated nun, and along with her husband built the orphanage Golap Kha Shishu Sadan.
Pritilata, now a student of Class IX, lives in the Sadan, built on an acre of land near Nageshwari Degree College where Bilkis' husband Rabiul Islam is an Assistant Professor of Economics. Two one-storey tin-roofed buildings house 21 girls and 34 boys of different ages. Of the 55 children, four are toddlers and the rest study at different primary and secondary schools in the area.
Alongside providing for their education, Bilkis ensures that the children are given religious and moral lessons in the orphanage. They also take part in physical exercise and perform in cultural events held within the compound of the orphanage. Children who are in high school are also given training in ICT. Moreover, Bilkis has employed 10 teachers who provide tuition on different subjects to the students, and six non-teaching personnel for administrative and maintenance jobs. Bilkis moved into the orphanage with her husband and two children in 2013 to ensure that it is run smoothly.
The orphanage, which is self-funded by Bilkis and her husband, includes a playground, garden, prayer house, rest house, separate sleeping quarters for boys and girls, classrooms, a dining room, office rooms and toilets. Apart from the income generated from Pritilata Supermarket owned by the family, rent from a girl's hostel near the college and other rented property are also used to run the orphanage.
A local patron occasionally donates to the Sadan while the UNO Abu Hayat Muhammad Rahmatullah once donated solar panels, but the shortage of outside donations does not bother her. Rather, Bilkis, who could only study up to HSC level, solely hopes to provide maximum opportunities to the children she calls her own so that they can complete their education and be brought up as good human beings.
Source story: Abdul Wahed
---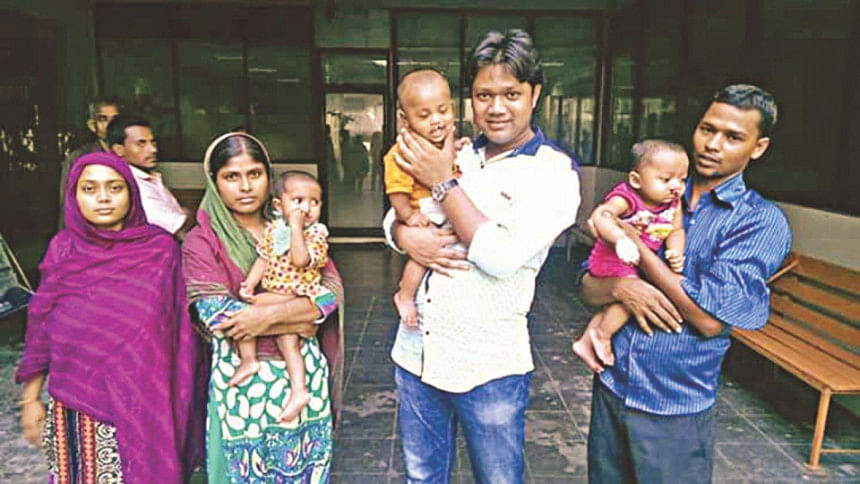 Kamar Uddin Arman Bringing Smiles to Those Born with Cleft Lips
It is no wonder that stand-up comedian Kamar Uddin Arman believes in the power of smiles. The journey to bring smiles to people's faces started six years ago for him. Now, he has given that journey a whole new meaning. As a volunteer who helps people born with cleft lips get free treatment by connecting them to various non-government organisations, his mission continues.
Arman has become a household name in Bangladesh since his success in June when he clinched 2nd runner-up position in the 9th season of Mirakkel Akkel Challenger of the Indian television channel Zee Bangla. Using his fame, he now goes around making people aware of the free treatment for cleft lips, a birth defect common among children in Bangladesh.
Not only that, his network of volunteers has spread throughout the country. His fans, mostly the youth, are involved in his awareness campaign. Even his own performances have incorporated his campaign. He says: "In my shows, no matter where it is organised, I start my performance talking about cleft lips to raise awareness among people. I then request those in the audience to form groups and collect information of patients in their districts."
His fame from Mirakkel has helped Arman get quick response from people. He now leads a network of volunteers to ensure better treatment of those born with the defect.
Inspired by the guidance of Lion Mukhlesur Rahman Foundation's (LMRF) chief Nader Khan, who first engaged him in this work six years ago, Arman's commitment has been constant.
Arman even runs a Facebook page "CureCleft" as an information centre for patients. Volunteers collect patient information and post them on the page, and from there they are connected to various organisations.
What Arman is doing through his campaign is a laudable and humane thing, especially considering that many parents are not aware that the treatment which costs around Tk 20,000, is provided for free.
Source story: Prabir Barua Chowdhury
---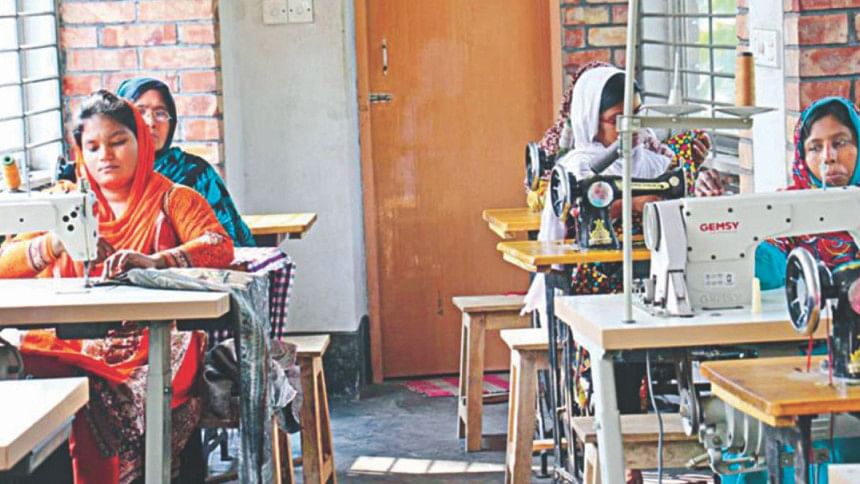 Sanwar Hossain: Man with a Vision
Even without the ability to see with his eyes, Sanwar Hossain is a man with a vision only a few could ever dream up, let alone transform into reality. Ever since the ferry ghat where he was selling chocolates as a street hawker closed down in 2001, and after failing to get employment anywhere because of being visually-impaired, Hossain decided to become the master of his own destiny.
In 2004, with just 21 members, he opened an organisation called Protibandhi Punorbashon and Manobadhikar Samity. The organisation works for the rehabilitation and development of people with all sorts of disabilities, by providing them with motivation for work along with training on sewing, computers, dairy farming, shopkeeping and other skills.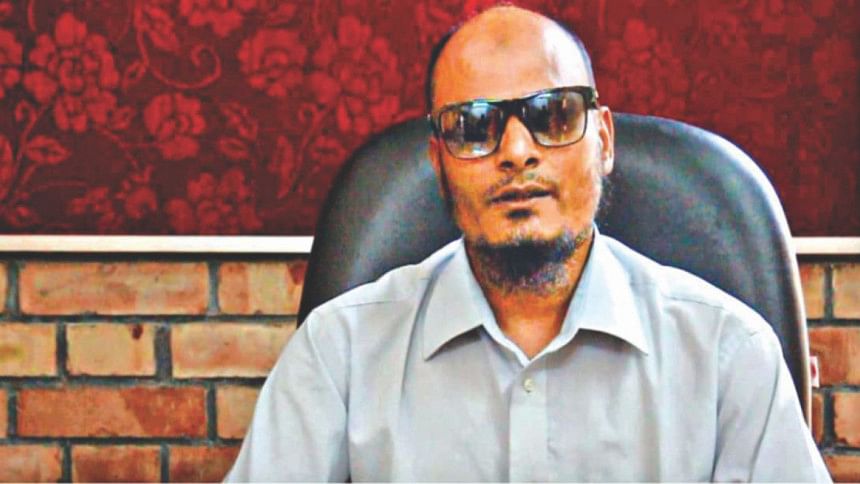 So far, 629 physically challenged people in Ishwardi have received training for self-employment and other support from the organisation and are now all generating their own income. About 50-60 physically challenged students too have received help for their education and training from Hossain's organisation.
It has recently opened a small sewing training centre with a mini garment factory to accommodate the physically challenged workers on its premises. But, as ever, Hossain still continues to dream bigger.
Source story: Ahmed Humayun Kabir Topu
---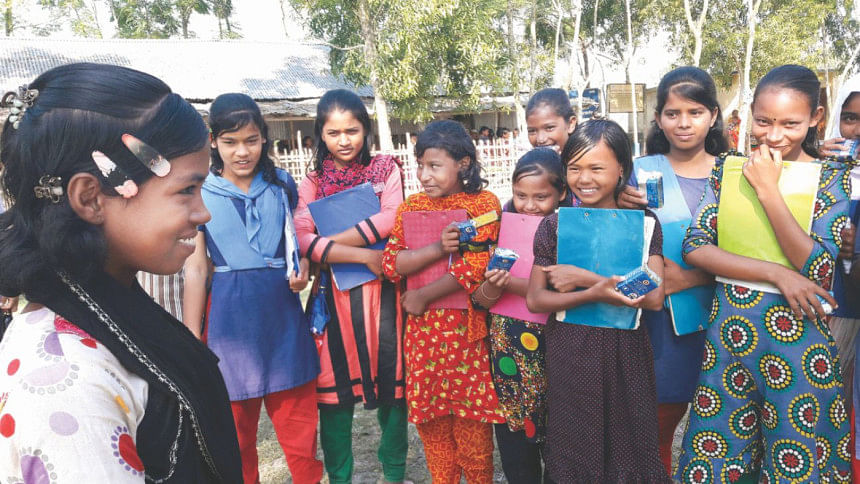 Himu Akhter: Inspiring Girls, Promoting Education
Class-five schoolgirl Himu Akhter isn't shy to make her voice heard. The student of Purbo Dawabari Madhyapara Government Primary School in a char area of Lalmonirhat's Teesta River is determined that students of schools in remote areas need not accept less than full educational facilities.
In many ways, Himu is just an ordinary school-goer. Like many classmates, she sets off each morning to walk the three kilometres across sandy land before catching a boat across the Teesta River to reach campus. Her family struggles: whereas five years ago they owned 20 bighas of land, river erosion has been responsible for reducing that to four.
But what distinguishes the ten-year-old is her active and vocal commitment to achieving a properly equipped school.
"Char-area schools are always neglected," she says. "We miss out on good teachers, basic provisions like chairs and tables, sporting equipment, infrastructure, even gardens at our campuses."
Over the last five months Himu has been instrumental in changing the situation. She has already succeeded in securing hygienic toilets, a tube well, a garden and more benches for her school.
According to assistant teacher Afroza Khatun, Himu together with fellow students have brought about a lot of change. "Due to their efforts we have become very careful to ensure dedicated teaching in our classrooms, and the school's infrastructure is improving day by day," the assistant teacher says.
Himu's activism stems from a week-long taskforce seminar she attended along with fourteen other students, held by NGO SKS in March 2016 under their Safe School Project. The training aims to motivate students to work towards achieving their rights in schools.
"We sit for weekly meetings with our teachers," Himu explains, "to discuss how students' rights will be realised and how the education atmosphere can be improved."
Now students of other schools in the area are building awareness of their rights too, following Himu Akhter's lead.
With her sister Shimu Akhter currently studying in class four, and two younger brothers due to attend the same school, Himu has additional reason to wish for the school's development. But beyond that, Himu is driven by a dream that all students in the shoal areas can enjoy rights and facilities equal to those of their mainland counterparts.
Source story: S Dilip Roy & Andrew Eagle