Pahela Boishakh in Atlanta:how expatriates celebrate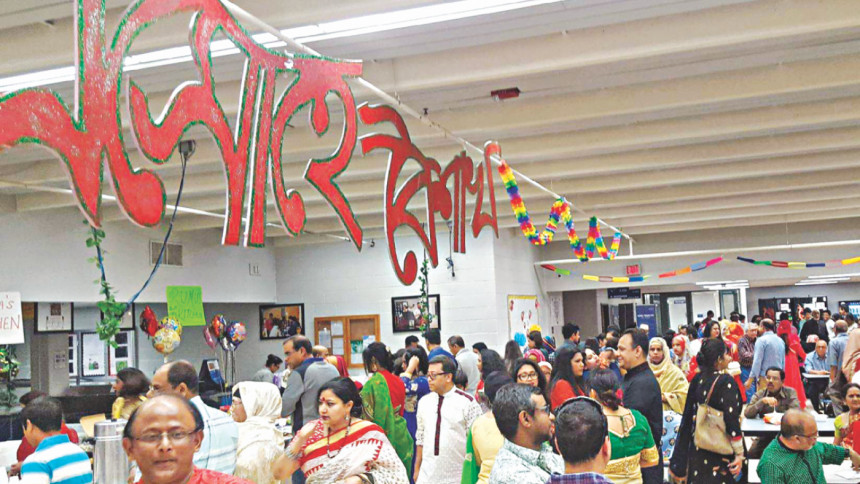 Here in Atlanta, in the land of fried chicken and grits, Pahela Baishakh is celebrated with great fanfare. As the chill of winter gives way to the gentle sunny mornings of spring, Bangladeshi organisations gird their loins to celebrate the Bengali new year.
There are usually a few melas or fairs and the odd pitha utsab or traditional cake festival in Atlanta. Attendance is heavy, easily a few thousand, if not more.
This is no small matter. Atlanta is hardly a centre of Bengali culture, so Bangladeshis can take some pride.  The fact that such large-scale events are possible at all can be largely attributed to the deep attachment to the old country that continues to endure for first-generation immigrants, no matter how many decades one spends in another country.
There is another aspect of the celebration of Pahela Boishakh that heartens me – like Ekushey February, this is one public event, marked universally in Bangladesh, that celebrates Bengali culture in a wholly inclusive way. (Purists may wince when I call Ekushey a celebration of Bengali culture, but I stand by it. In Bangladesh the whole month of February has expanded way beyond what is supposed to be a day of mourning for our language martyrs – and I think it is wholly appropriate that we joyously celebrate our language and culture during that month. What better way to pay homage to those who laid down their lives for our language?)
Over the last few decades, I think Pahela Baishakh has taken on a similar significance. In my childhood, it was not such a big, public celebration. Few city dwellers have much use for the Bengali calendar anyway. Some businesses would treat customers with sweets as they opened new ledgers. Chhayanaut was a pioneer when it began its annual welcome of the Bengali new year with its wondrous dawn concerts.
It is in the past few decades that the event has become a widespread, joyous, even defiant celebration of a plural Bengali identity. More than a cultural event, it has distinct socio-political overtones. If one recalls the 2001 bomb attacks on Chhayanaut's Pahela Boishakh concert, or the 1999 attack in Jessore at a Udichi concert, the idea of a humane, plural Bengali identity always had its bigoted detractors.What's so heartwarming is how thoroughly and utterly their sectarian prejudices have been rejected by the broader public. Bangladeshi Muslims, on the whole, take their faith pretty seriously, but most also consider language and culture a core part of their identity.
I would like to believe that this lofty notion has rubbed off on expatriates.
In Atlanta, a Pahela Boishakh event will have a number of kiosks, with those selling apparel and food predominating. The go-to place of large Bangladeshi events is Berkmar High School, a high school in Lilburn, a small town not far from Atlanta.
The cavernous high school lunch area presents a huge space for people to assemble.There is a large auditorium next to it for cultural events. Organisers usually have day-long programmes.
All events are free and open to the public. The celebrations usually include a boisterous procession with colourful banners, trying to recreate the charm of the art institute processions in Dhaka.
If the reason for multiple events is less than praiseworthy (bitter inter-organisational rivalries play an outsize role), you have to give credit to organisers for hosting these events at all, each of which comes with a hefty tab of several thousands of dollars.
This is possible because of the socio-economic structure of the Bangladeshi community. Bangladeshis in Atlanta are a diverse mix—some are professional, a lot of others are in minimum wage jobs. Along the way, some have evolved into entrepreneurs—owning gas stations or real estate businesses. Some of these people are willing to financially support big events like these, and that makes it possible to host these huge public events.
The events have a festive buzz—for the women, particularly, it is a time to dress up in traditional finery. As attendees chat away on the lunch tables, cultural performances are hosted in the auditorium next door. People share gossip as they tuck in perennial Bangladeshi favourites – samosas, chatpati, biriyani, muri, washed down with gallons of sweet, milky tea.
Given the lifestyle in the U.S., it's not easy to host an event of this scale. Life in the U.S. is a slog during the weekdays. Weekends can be just as hectic—socialising, piled up household chores. To wrest time out of that and work on the logistics of an event of this scale is no mean feat.
Now I don't want to sound too Pollyannaish.These events have their due share of shortcomings that plague expatriate Bangladeshi events—lax management, internecine bickering, poor management, cultural skills that leave a lot to be desired.
Having said that, these events, warts and all, are a genuine, plural platform that bring together Bangladeshis under the rubric of language and culture.
The events invariably run way, way beyond schedule—time management is not a strong suit for Bangladeshis. At the end of it all, though, people return home with a warm, fuzzy feeling. The drudgery of the weekday grind may be ahead, but at least for a few moments, however fleeting, attendees basked in the warm glow of an ambiance of the old country.
For first-generation immigrants, you never quite leave home. A Cuban immigrant put it particularly well. After living in the U.S. for many decades, she said: "I speak English, but I still dream in Spanish."
The writer is a contributing editor for Siliconeer, a monthly periodical for South Asians in the United States.