Murthy's magic recipe for software boom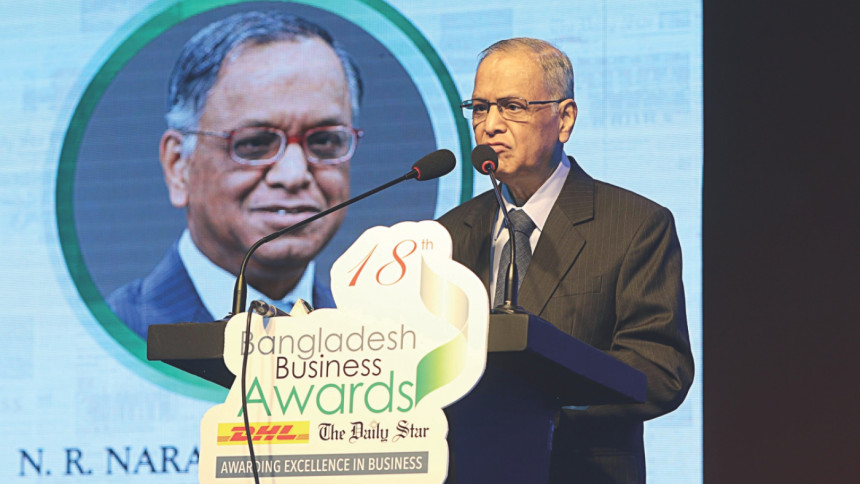 Bangladesh can become a formidable player in global software services market if it focuses on business process outsourcing, said Narayana Murthy, founder of Infosys. 
"This model would succeed as long as the opportunity for outsourcing of software development and maintenance remained," he said in his keynote speech -- 'Building a vibrant software services industry in Bangladesh' -- at the Bangladesh Business Awards on July 5.
No automation effort can eliminate this opportunity since the requirement definition, analysis, design and some programming and installation will always be handled by human minds, perhaps aided by machines.
Widely known as the father of India's IT sector, Murthy sparked the outsourcing revolution in the neighbouring country with his founding of Infosys in 1981 with six other software engineers.
The movement has brought billions into the local economy and transformed India into the world's back office. He proved India could compete with the world by taking on work that had previously been done in much richer countries.
Given its huge population and large educated workforce, the export of services based on remote application development and maintenance (ADM) and business process outsourcing would be viable for Bangladesh for a long time.
"The opportunity for outsourcing would remain as long as the Bangladeshi software services companies introduce new IT service areas through innovation."
But that will require good quality software engineers with high learning skills.
Therefore, one strategy would be to assess the competence of the BPM professionals and train them in analysis, design and programming skills.
The Bangladeshi software services companies must invest resources to continue to explore new opportunities in services by coming up with new ideas and build on what they have already done.
Bangladesh must provide easy access to the latest hardware and software technologies from advanced countries.
It may introduce economic reforms to abolish industrial licensing, rationalise taxes, create a strong thrust on exports, reduce import tariffs, simplify foreign exchange regulation, introduce free pricing of initial public offerings, encourage foreign participation in capital markets and create a regulatory framework that permits employee stock option plans, he added.