Business Person Of The Year
Fortune favours the brave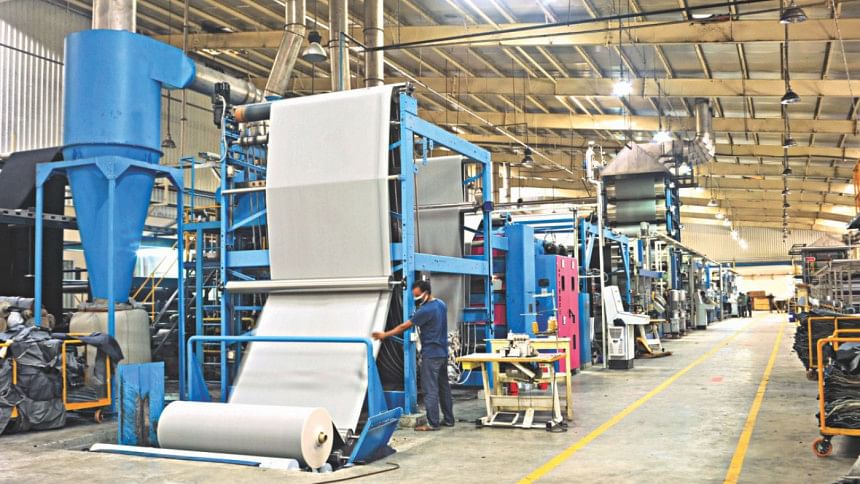 Kutubuddin Ahmed always had the burning desire to become a businessman, even though he studied mechanical engineering at Bangladesh University of Engineering and Technology and started his career by joining Janata Bank.
But he cherished a belief -- entrepreneurship was his predestination. In 1983, he resigned from the bank while at a high position, and went to his near and dear ones for seed money to start a business but in vain.
Yet, it could not lessen the strength of his convictions. He took a loan from a bank -- putting his father's home as collateral.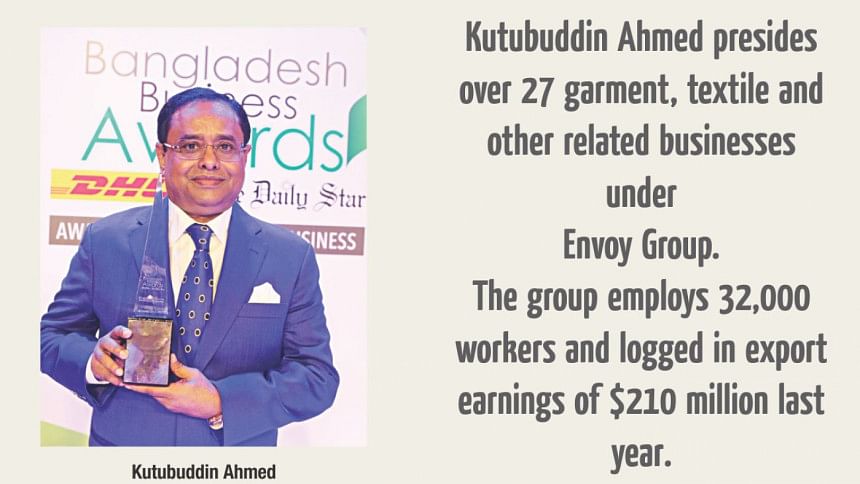 In 1984, together with Abdus Salam Murshedy, then a famous footballer of Mohammedan Sporting Club, and capital of Tk 10 lakh, Ahmed started his garment business, which is today known as Envoy Group.
At the beginning, the small factory at the capital's Khilgaon area relied solely on sub-contracting orders from other garment factories.
The orders, though, were not substantial. For long spells, the 46 sewing machines and 200 workers would be sitting idle.
"Those days were really very bad for us," said Ahmed, chairman of Envoy Group.
It was difficult to manage even Tk 1 lakh to pay the salaries of the workers. "We paid them by borrowing money from banks."
But, fortune favours the bold, as the Latin proverb says, and the two brave entrepreneurs' watershed was just around the corner.
One day, an Indian national named Akbar Lakhani walked into the small factory, who turned out to be an agent of international retailers.
On the spot he placed a work order for 6,500 trousers for a Swedish retailer, in what turned out to be the turning point for Envoy Group.
"Lakhani appeared before me as an angel, the ones they speak of in fairy tales," Ahmed said.
By working round-the-clock, Envoy Group could ship the orders timely -- and Lakhani was very impressed with the attitude of Ahmed.
Lakhani placed more work orders and that too in bulk quantity.
Ahmed grew further in Lakhani's estimation when he showed up at the latter's hotel suite with commission in hand -- a rare gesture for a garment maker then.
After that, Lakhani started treating Ahmed as his son and continued to place as much work orders with Envoy Group as he could.
In the following 16 months, Envoy Group logged in profits of Tk 1crore, with which they bought two garment factories and paid off all bank loans.
Today, Ahmed presides over 27 garment, textile and other related businesses under Envoy Group. The group employs 32,000 workers and logged in export earnings of $210 million last year.
One of its factories, Envoy Denim received the Leadership in Energy and Environmental Design's platinum certification -- the first Bangladeshi exporter to get the recognition from US-based Green Building Council in the denim category.
Envoy Denim also received the national export trophy in the gold category for three consecutive years: fiscals 2009-10, 2011-12 and 2012-13.
The engineer turned businessman is also the chairman of the country's leading real estate company, Sheltech, where he has a 50 percent stake. He also has stakes in Hong Kong-based Epic Group, a garment manufacturer and exporter.
Ahmed recently set up a tiles factory in Bhola for Tk 400 crore, with an additional Tk 300 crore of investment on the cards.
He will soon start a composite textile mill and has designs to expand the Sheltech operation massively to meet the growing demand for housing in Dhaka.
Ahmed is a former president of the Metropolitan Chamber of Commerce and Industry and the Bangladesh Garment Manufacturers and Exporters Association. He is currently a member of the International Chamber of Commerce, Bangladesh.
He is also a member of BGMEA University of Fashion and Technology Trust and a chairman of the advisory board of Prothom Alo, a leading Bengali newspaper.
His other passion, sports, did not fall by the wayside as he pursued his business ambitions.
He served as the secretary-general of the Bangladesh Olympic Association and the Bangladesh Badminton Federation and is a former president of the Mohammedan Sporting Club, Dhaka.
A commercially important person and a national export trophy winner for several times, Ahmed is a well-known figure for his philanthropic activities as well.
Among many, he has helped establish an intensive care unit for paediatric patients at the burn unit at the Dhaka Medical College Hospital. He runs several clinics where the poor are treated and provided with medicines free of cost.
He has established a technical institute at Narsingdi to produce skilled workforce. At the institute, unskilled workers are imparted training on sewing and computer operation so that they can enter to the job market with confidence.