Education
Avoiding a "lost generation" of rohingya children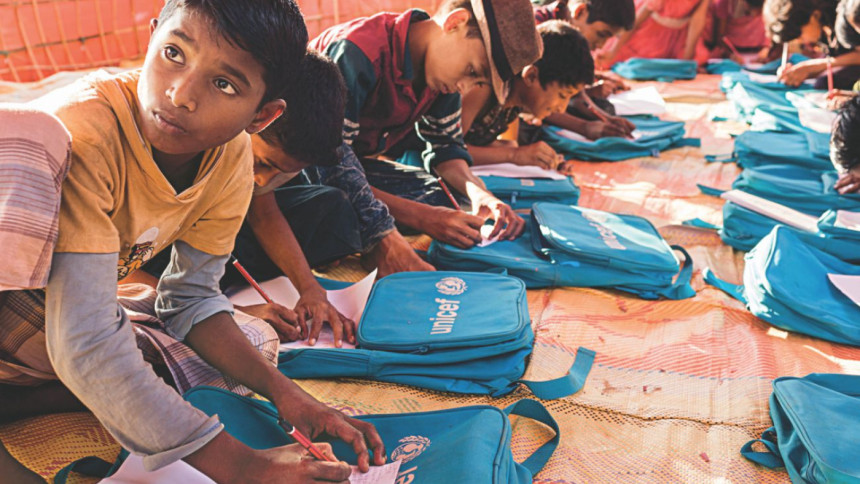 Chakmarkul camp, Cox's Bazar: The stump where 13-year-old Mohamed Faisal's left arm once was will forever be a reminder of his terrifying escape from Myanmar – an experience that nearly cost him his life. As he and others from his village ran through a forest near the border, he was struck by a bullet which shattered his arm and left it hanging by a thread.
A year on, the wound has healed and Mohamed rarely feels pain. He would like to get a prosthetic arm, but he says that can wait for now. Instead, he has a more pressing issue to raise.
"I see the schools here where the younger children go, but there is nothing for boys like me," says Mohamed. "I feel very unhappy that I am unable to study here."
It's a frequent complaint among Rohingya adolescents around the camps – boys and girls alike. And with reason.
From the very beginning of the refugee crisis, the importance of getting around 381,000 newly-arrived children into school was a huge challenge for UNICEF and its education partners. Priority was given to providing learning for children under the age of 14. Hundreds of learning centres were rapidly set up – even if many were in less than ideal settings, given the restrictions on space.
By July 2018, almost 140,000 Rohingya children had been enrolled in non-formal education of some kind. Approximately 1,200 learning centres were operating, with plans to expand further. Well over 3,000 learning instructors (a mix of Bangladeshi and Myanmarese) had been trained.
But the constraints facing UNICEF and its education partners as they rolled out this complex enterprise were inescapable. Without an agreed and approved curriculum, children were taught with a variety of materials available to partners. So enthusiastic were the children to learn that classrooms were often over-crowded. In addition, water, sanitation and hygiene (WASH) facilities were in short supply.
"We succeeded in mushrooming the learning centres at a rapid pace, in order to meet the refugees' demand for education," says acting UNICEF Chief of Education, Bibek Sharma Poudyal. "Now we need to improve the quality of the learning they are offered, and expand it to provide for the requirements of adolescents."
Critical to this shift is a strategy now under discussion known as the Learning Competency Framework and Approach (LCFA), which maps out how Rohingya school- age children can acquire relevant education in a protective environment. It proposes the expansion of the current contact time for each child from two hours of daily teaching to four.  Classes will eventually be provided up to grade8 level, employing English, Burmese and local dialects used by the Rohingya as the languages of instruction.
A full range of learning and teaching materials will need to be developed.
A detailed assessment to place Rohingya children at their correct learning level is planned, but initial studies show that the vast majority of children under the age of 14 are at pre- school level, or - at best - the first step of primary.
"We are dealing with a refugee population which has been denied education over a long period of time," says Education Sector Coordinator Risto Ihalainen.