RMG sector towards a thriving future
Before you start some work, always ask yourself three questions—why am I doing it, what the results might be and will I be successful? Only when you think deeply and find satisfactory answers to these questions, go ahead." – Chanakya, ancient Indian teacher, philosopher, economist, jurist and royal advisor (350 BCE - 275 BCE)
When Bangladesh won its long awaited independence in 1971, most of the economic and physical assets of the newborn nation had been ravaged. According to Saud A. Choudhry and Syed Abul Basher (2002), even the most modest assumptions place the direct and indirect cost estimates of the war at USD 9.53 billion and USD 14.08 billion respectively. But the objective of an independent Bangladesh was very clear—to achieve sustainable development by ensuring improved living standards of all its people, irrespective of ethnicity, race and religion. With the passage of time, Bangladesh came to be recognised as a miraculous country, a model for least developed countries globally.
Whereas in 1972, the World Bank approximated the gross domestic product (GDP) of Bangladesh at USD 6.29 billion, in 2014, the GDP stood at USD 173.82 billion, growing by almost 27 times in a matter of four decades. Bangladesh's exports industry alone comprised USD 31.2 billion in FY 2014-15, 81.69% of which was made up by ready-made garments. On its own, the knitwear sector encompasses 39.83% of total exports—a staggering USD 12.43 billion. Owing to the emergence of strong backward linkages within the country, the knitwear industry is adding up to 75% value, which opens up enormous potential for foreign and domestic investors to spend in the areas of spinning, weaving, sewing, packaging, and accessories manufacturing. In the last five consecutive fiscal years, knitwear constituted 7.2% of the national GDP on average, demonstrating that RMG continues to serve as a strategic and commercially beneficial sector to the country, which has had to overcome hurdles to compete in the changing international climate time and time again.
Doing business and earning foreign revenue through export is becoming harder for Bangladeshi RMG entrepreneurs not only due to disruptive internal factors that are more than enough to render the trade uncompetitive, for example, the recent price hike of gas by 15% price rise for industrial units and 100% for captive power producers. External factors are also in play, such as getting lower prices from buyers of major RMG importing countries even after meeting social compliance standards. During January-July 2015, the price of RMG products imported by USA fell by 2.45% and the price of RMG products imported by the EU fell by 1.41%, in spite of the fact that every factory has to spend BDT 50 million-200 million to upgrade infrastructural, fire safety, and electrical safety facilities to meet international standards. Such a large investment is risky if these internal and external issues are not sorted out as soon as possible.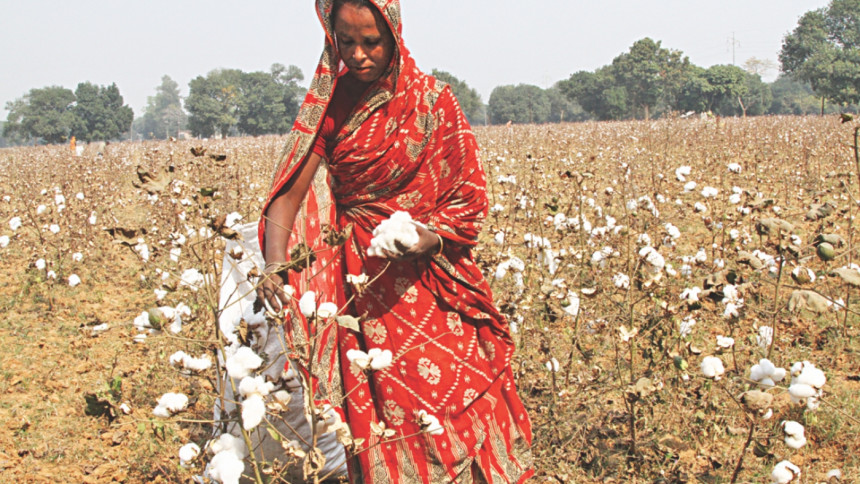 In addition, the Regional Trade Agreements, originally perceived as favourable for countries like Bangladesh, have turned out to be quite the opposite. According to the World Trade Organisation (WTO), as of 7th April 2015, 612 RTA notifications have been received by WTO and GATT in total, of which 406 are currently in force. However, Bangladesh has not been able to form RTAs with its major RMG trade partners, and thus, the sector is losing its edge due to artificially created matters.
It is of the utmost importance to possess timely and reliable information about international buyers and tariff/non-tariff barriers imposed by different countries or customs unions in order to conduct RMG business both nationally and internationally, and to adopt with the current market scenario. If we cannot accomplish this, RMG export earnings may not grow to USD 50 billion by 2021, as expected by the present government under Vision 2021.
First of all, different policies must be in place for the knitwear and woven sectors of the RMG industry as their characteristics are completely different. Whereas the former is adding up to 75% value within the country, the latter is only making up to 30-35%. If the related bodies and ministries implement a single policy, then it is not going help the sectors reach their optimal points of earning.
It is also not enough to send trade missions to different countries and participate in expos. We need to strategically combine the efforts of the public and private sectors to open up warehouses in any of the countries in the Commonwealth of Independent States; the Gulf Co-operation Council; Turkey, which is the corridor between Asia and Europe; and also India, in order to capture one of the largest growing markets. If properly implemented, lead time for RMG activities will decline sharply and new markets for knitwear and woven products will open up.
Bangladesh must also work on its brand image. We must move away from solely being suppliers to branded retailers, and focus on establishing our fashion industry as a brand in itself. While no world-renowned brand won the hearts of consumers in a day, with time, strategic planning and assistance of leading global fashion houses, institutes for fashion design could be set up here in Bangladesh and be linked to world fashion weeks.
As a disaster-prone nation, if any RMG business comes up with a business continuity plan, the government should provide cash incentives to ensure disaster resilience and sustainability of the business. A little forethought could help Bangladesh avoid the disaster that Nepal faced after the earthquake, with economic losses making up to 27-30% of the nation's GDP.
The Ministries of Commerce, Industries, Foreign Affairs, Planning and Finance should also collaborate to accelerate the signing of free trade agreements and regional trade agreements, as this area has been stagnant. Various studies conducted by researchers and the European Union show that trade agreements vastly enhance economic growth.
There also needs to be a sustainable power and energy supply government policy so that domestic RMG investors (including Small and Medium Enterprises) receive uninterrupted power and energy instead of incurring losses. As the Honourable Commerce Minister Tofail Ahmed put, "If local businessmen do not reap any benefits here, why would foreign investors come?"
Finally, a regulatory authority should be established so that RMG-SMEs can export in clusters instead of as individuals. The authority would monitor, advise, and guide them through the unknown business environment and towards sustainability.
As an optimist, this writer believes that if these suggestions are seriously considered and implemented by the relevant government bodies and private stakeholders, then by 2021 or even earlier, Bangladesh will definitely achieve its USD 50 billion export earnings target.
The writer is Senior Assistant Secretary, Research and Development Cell, Bangladesh Knitwear Manufacturers and Exporters Association (BKMEA). He can be reached at: enamul.hafiz.sust@gmail.com or iart11@bkmea.com