SUMMER WITH MAYASIR
Mayasir is one of the leading fashion houses in the country, established in late 2001 by Maheen Khan. The outlet carries clothing lines for men, women and children as well as diverse collections in jewellery and accessories. Mayasir's exclusivity lies in its use of local materials and promotion of heritage weaves across all its collections.
Their women's line this summer consists of saris in different materials such as silk, georgette, cotton and jamdani in varied and elegant colours. The saris boast an extensive use of embroidery for embellishment and prices range from Tk.2000-25000. The shalwar kameez sets, kurtis and skirts fall within the Tk.1000-8000 price range and are mostly available in breathable cottons perfect for the high levels of heat and humidity this season. Kurtis can be teamed with vibrant silk dupattas for added visual interest and Mayasir has a huge collection that you can choose from.
Although catering mostly to women, Mayasir also promises to leave their male clients spoiled for choice. Their men's collection caters to both casual and occasion wear, with subtle but sophisticated panjabis for the former and dressier versions with heavy embroidery for the latter. Panjabis are priced reasonably, making Mayasir a frontrunner for menswear this summer.
For children, the shop has a unique collection of miniature shalwar kameez sets for budding fashionistas aged between 1 to 2 years and another line of kameezes and skirts for their older counterparts aged between 3 and 14. Their collection of accessories includes silver and gold plated jewellery sets, women's shoes, jewellery boxes as well as handmade toys for children which are perfect gifts for young ones.
Mayasir currently has four branches located in Uttara, Gulshan, Banani and Dhanmondi and each outlet provides a one-stop solution for those seeking to incorporate 'deshi' motifs and ensembles into their wardrobes. With its exclusive collections, variety of choices and affordable prices, Mayasir is the perfect balance between trendy and traditional, and the heat-friendly fabrics that feature heavily in their outfits make it the to-go place to ensure you have a fashionable summer.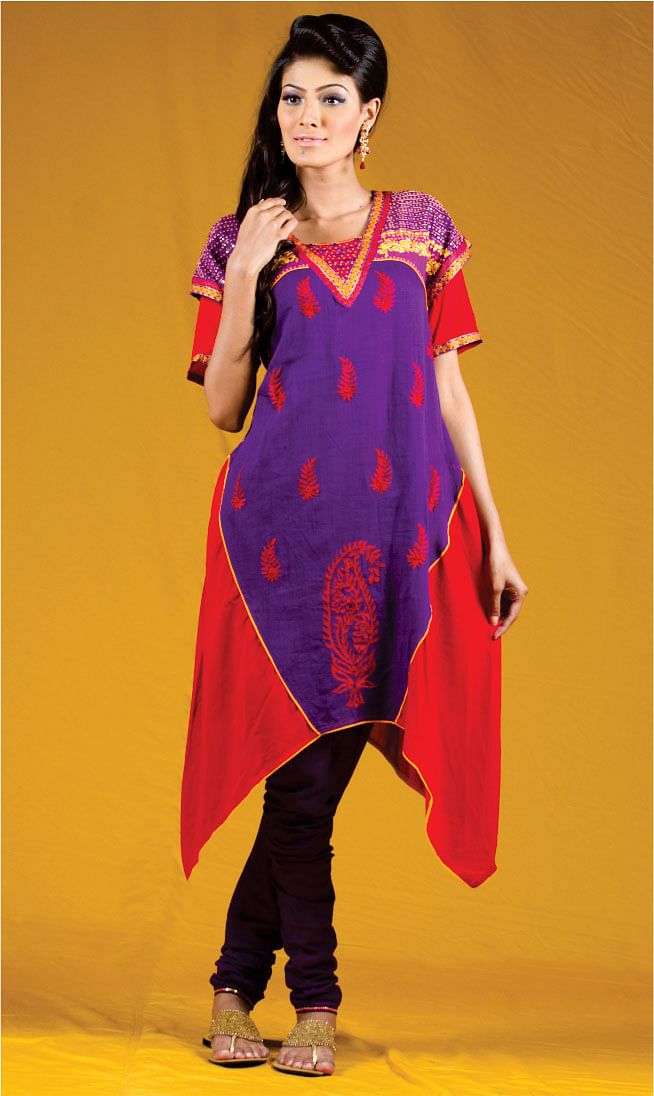 Photo: Sazzad Ibne Sayed
Model: Riba and Meghla
Make-up and hairstyle: Farzana Shakil
Wardrobe: Mayasir
Styling: Azra Mahmood