Workshops on Hygiene, HIV, STD and more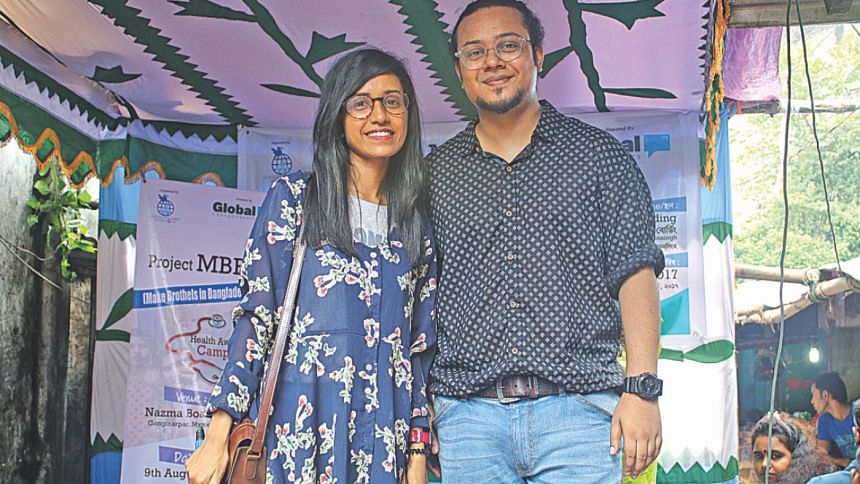 In the heart of Mymensingh, there exists a dingy confined hallway, with a little scope to even see the sky properly. The place is called Nazma Boarding Brothel. Among the twenty brothel-villages that are legal in the country, Nazma Boarding is one of them.
The ugly truth is that a lot of sex-workers inside the brothel have little to no knowledge about HIV and STDs whereas they are most vulnerable to these diseases. To help this disregarded group of people in the society, Awareness 360, a non-profit youth organisation, held a health awareness campaign on 9 August 2017 at Nazma Boarding Brothel. Shomy Hasan Chowdhury and Rijve Arefin were the co-ordinators of the project called Make Brothels in Bangladesh Safe and it was funded by Global Changemakers.
The first session of the workshop included awareness on hygiene. The road that led to the workshop stage from the entrance of the brothel was filled with garbage. Rijve Arefin explained the importance of maintaining hygiene and not to throw garbage on the road.
In the second session, Shomy Hasan Chowdhury talked about menstrual hygiene. The sex-workers were encouraged to talk about menstruation, a natural part of the female body. They were assured that there was no need to feel ashamed of a natural process. Also, they were provided with free sanitary napkins and instructed not to throw them out in the open after using.
Next, information regarding HIV, STDs were provided to the sex-workers. The risks of having unprotected sex, the importance of using condoms and symptoms of STDs and HIV were demonstrated to them. They were informed further about the risks of using unclean and used syringe and made aware of the fact that conceiving a child while having HIV would transmit the disease to the unborn child as well.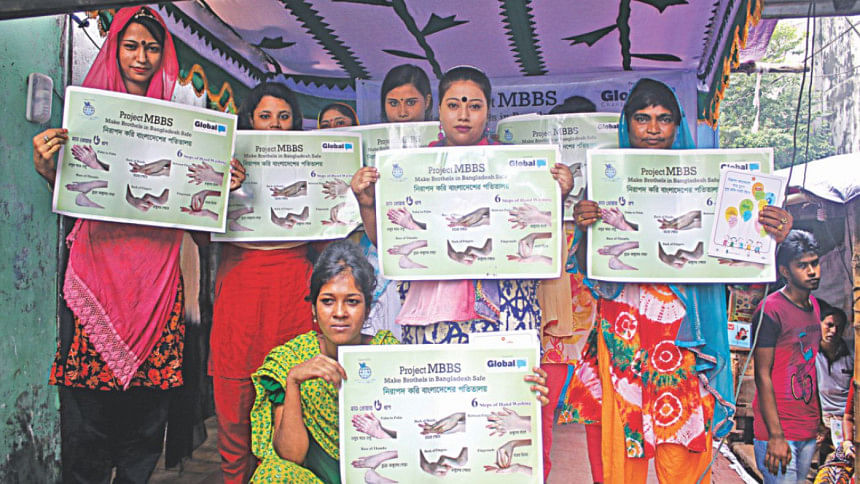 The special guest at the workshop, Former National Advisor, Food Safety Program of FAO-UN and Senior Assistant Director of Department of Fisheries, Hasan Ahmmed Chowdhury, spoke about food protection. Nutrition is very important in fighting against disease. Hence, he advised them to eat healthy, keep the kitchen clean and eat in a clean place. He also told them to boil their water and dishes and be aware in order to prevent any unwanted illness.
Along with these, pamphlets and posters were distributed that included six steps of washing hands properly.
In the process, the organisers had to make sure the sex-workers did not get bored. Few performances from the sex-workers were also encouraged to make sure they had a good time. They sang and danced and enjoyed themselves.
To organise a workshop inside a brothel was very challenging. One of the coordinators, Shomy Hasan Chowdhury says, "We found a local contact in Nazma Boarding Brothel and through him, we talked to their committee members. Convincing them was pretty tough. Arranging the whole programme, travelling to Mymensingh from Dhaka multiple times were even tougher. We needed to get permission from the District Commissioner of Mymensingh because without his consent we would not be able to get Police Protection. After struggling through a rigorous process we managed both."
It was a day long workshop and we had to come back to our regular lives, while they were still trapped in that cramped brothel. Many stories were left to be heard for another day. Therefore, more of such workshops are needed to be organised and attention to be paid.