Positive Bangladesh hosts Dhaka Youth Fest 2019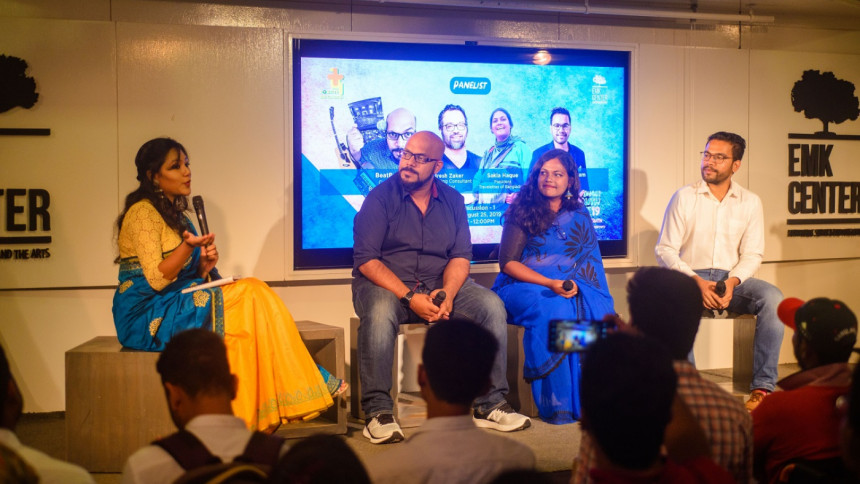 Team Positive Bangladesh organised Dhaka Youth Fest 2019, powered by EMK Centre, recently, to observe International Youth Day (August 12). The event was planned keeping the aspect of transforming education in mind. It was similar to the 'Ways to Engage' school workshops and 'Inspire to Engage' interactive sessions previously arranged by Positive Bangladesh. The event provided youths with an opportunity to explore their interests and network with one another in the process.
There were panel discussions and open mic sessions throughout the event. The first panel comprised of Moktadir Dewan (Co-Founder, Beatbox Bangladesh), Dr. SakiaHaque (President, Travelettes of Bangladesh), Shazeeb M Khairul Islam (MD, YY Goshti) and actor Iresh Zaker.
The panellists spoke about pursuing their passions and the challenges they had to overcome.
The second round of discussion featured Karishma Sanu Sovvota (Singer), Swagata Mazumder (Co-Founder, Street-Dancers Bangladesh) and Nasreen Mitu (Cartoonist).
 "While following the trend of choosing particular careers over others, we often sacrifice our passion and dreams. We need to maintain a balance between our careers and our interests and do things that make us happy," said Nasreen Mitu.
The third discussion had Simu Naser (Satirist), Sadat Hossain (Writer), and Arthy Ahmed (Dancer).
 "It is important that we have an educated audience for our art forms. We cannot accomplish that without introducing extra-curricular activities in our mainstream academic curriculums," asserted Arthy Ahmed. "In the process of chasing grades and degrees, we are ignoring children's needs to nurture their passions."
The last discussion had Ashfaque Nipun (Writer and Director), Rakibul Hasan (Photographer), and Sakib Bin Rashid (Online Educator).
 "Before starting any projects, take a moment to recognise your privileges. You don't always go places because you deserve it.  Sometimes you are just privileged enough to do so," said Sakib Bin Rashid. "Think of those who deserve the opportunity, but never get it. Always try to help those who are not in privileged positions."
Sousan Suha, a member of Positive Bangladesh, hosted the event. Positive Bangladesh hopes to organise another fest later this year, preferably in another part of the country.