My Money, My Responsibility
On December 13, 2017, the Finale of "Budget Olympiad 2017" took place at Muzaffar Ahmed Chowdhury Auditorium, University of Dhaka. Democratic Budget Movement (DBM) in collaboration with ActionAid Bangladesh (AAB) and United Nations Youth and Students Association of Bangladesh (UNYSAB), organised the first olympiad of its kind in Bangladesh. The initiative aims to start a chain of conversation amongst the youth of our country about budget, the mechanics related to it and how it reflects the financial planning and development of our country.
The judging panel included Professor Dr Kazi Maruful Islam, Department of Development Studies, Dhaka University; Dr Nazrul Islam, Associate Professor, Dhaka School of Economics; Ashiq Iqbal, Deputy Director, Save the Children; Asgar Ali Sabri, Assistant Chief, DBM; Nuzhat Jabeen, Manager, Just and Democratic Governance, AAB; and Layla Tasmia, Associate Programme Officer, Campaign, AAB. The Chief Guest of the Finale was M A Mannan MP, Honourable State Minister, Ministry of Finance, Government of the People's Republic of Bangladesh. Dr Pratima Pal Majumder, President, Democratic Budget Movement; and Farah Kabir, Country Director, ActionAid Bangladesh, were present as special guests.
Budget Olympiad 2017 successfully encouraged 3,000 students to participate from 35 different universities and colleges all across the country. The syllabus included details on National Budget, its structure, budget management, rules and regulations pertaining to budget, tax, VAT, etc. A booklet was provided to help the participants with preparation.
After registration, the participants had to qualify through preliminary and regional stage olympiads held in Chittagong, Rajshahi, Khulna and Dhaka. 62 youths qualified to take part in the Finale, who were then evaluated based on their performances on a written test and a group presentation.
Mishuk Rai from Chittagong University was declared as the Champion, while Ehsun Newaj and Al Mumin Khan (both from Khulna University) became the First Runner-Up and Second Runner-Up respectively. The winner was awarded with BDT 15,000 and the runners-up with BDT 10,000 as one- year fellowships, to carry out campaigns on budgetary issues. They also received crests and certificates.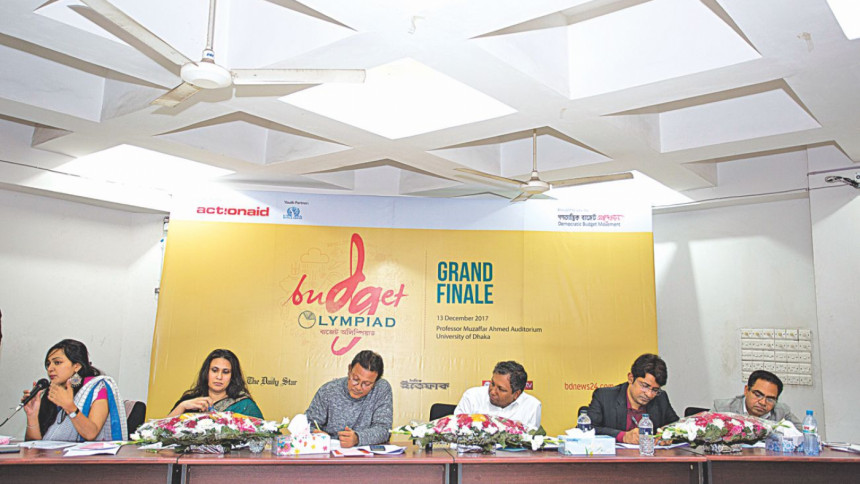 "Budget is an important financial document of a country. So, it is important for the citizen to know in details about it. The youths should be aware of how budget can help eliminate poverty, how people take part in its formulation and how it can protect or hamper our interest. We want the young generation to know, understand and speak about budget," says Professor Dr M M Akash, prominent economist and President of the Budget Olympiad Organising Committee.
Democratic Budget Movement hopes to erase the indifference that prevails amongst our youths about budget. The initiative deserves appreciation, as it strives to create "young budget debaters" in Bangladesh. When one has adequate knowledge about budget, he or she can contribute in making a difference to the society.