Spotlight
Dhaka Lit Fest: The Gathering of Literary Minds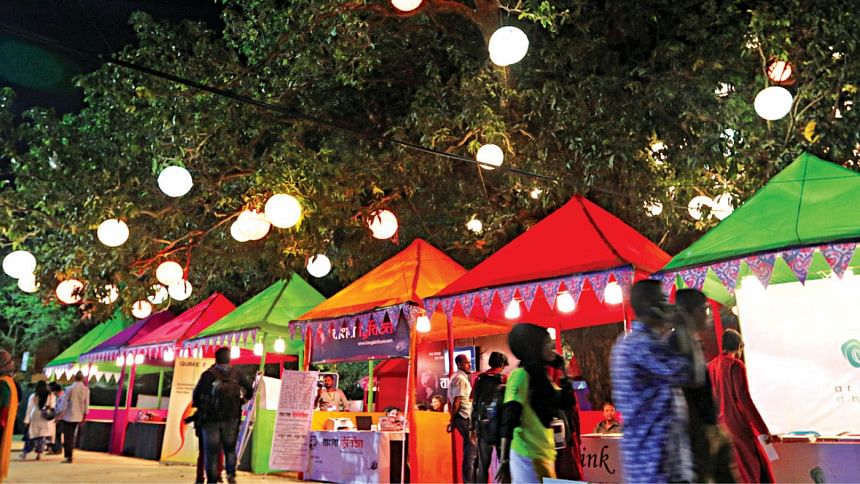 Photos: Kazi Tahsin Agaz Apurbo
There were words floating through the air. The beauty of words, the poetry in sentences, the effect they have on people, were all discussed. Some of the brightest minds from the world over gathered together in a place of history- Bangla Academy, to inspire and motivate those all around to love and respect the might of literature. Dhaka Literary Festival or Dhaka Lit Fest (DLF), a three day event, was launched from November 19, 2015 to November 21, 2015, produced by Jatrik with Dhaka Tribune as the title sponsor, City Bank as platinum sponsor, the Ministry of Cultural Affairs as the special partner.
Eminent guests from the country and abroad graced the occasion, some of them world renowned – the first Bangladeshi woman to climb Mount Everest Nishat Majumder, Indian writer, blogger and columnist Shobha De, London based independent filmmaker Leslee Udwin, award-winning author of five novels Marcel Theroux, co-founder of Kali for Women and Zubaan Urvashi Butalia, founder of the Women of the World festival Jude Kelly, among many others.
The event was split into three days, with countless inspiring sessions on topics ranging from life in cultural spaces, conversation between the sexes, and literature for children to violence against women, the power of poetry and mother tongues. There was also a space for the children to practice storytelling, origami art and writing through workshops and engaging games.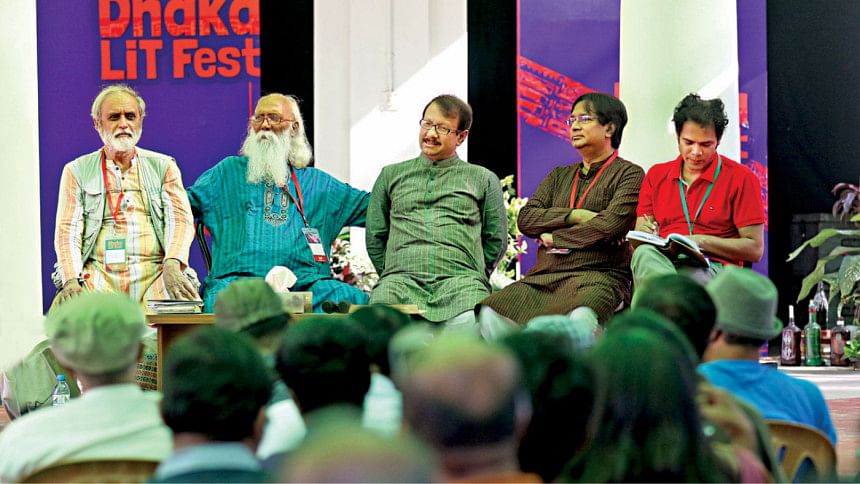 Bookshops and publishing houses were scattered all around the venue for the book lovers- Bookworm, UPL, Bengal Publications, The Daily Star books. The books published were April by Andrew Eagle and Tulip Chowdhury, Calligraphy of Wet Leaves by Neeman Sobhan, Yours Etcetera by Ikhtisad Ahmed, A Temporary Sojourn and Other Stories by Nasreen Jahan and a series- Library of Bangladesh- by both Syed Shamsul Haq and Syed Manzoorul Islam. Nesar Nadim published the first ever English horror novel written by a Bangladeshi called Demons, published by The Daily Star books. "I was very afraid, as a writer, to attend the event. But hats off to them for the stellar security they have provided us with. The atmosphere is great, and I've already sold 30-40 copies of my book!" says Nesar.
The days had brilliant performance art pieces scattered throughout, as you would begin one day with the soulful cooling tunes of Armeen Musa, and end another with powerful and chilling dance recitals by Lubna Mariam's famous dance troupe- Shadhona.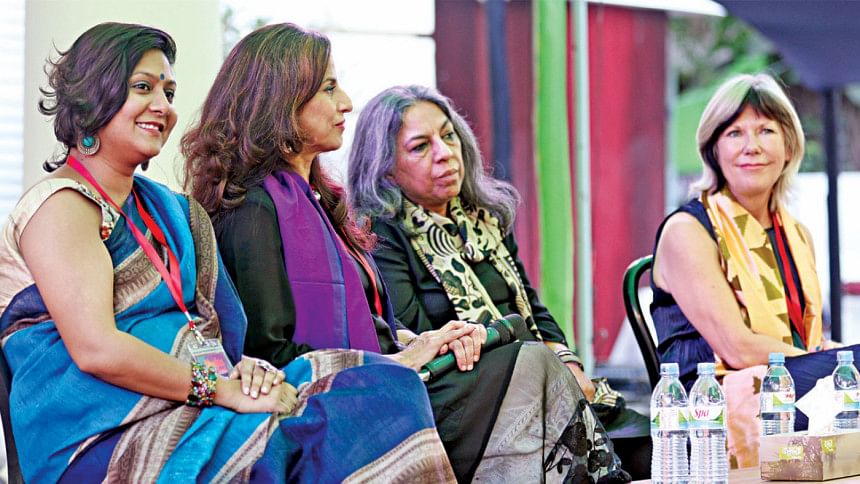 Even after the horrific killings in the past months, and the threat looming over writers and intellectuals, Dhaka Lit Fest fought valiantly against the terror and hosted the event with courage. "We had an incredible response - which would have been great if conditions were normal, but given the security alerts, the hartal, threat on writers, the turn out was amazing," says Sadaf Saaz, director and producer of Dhaka Lit Fest. "Dhaka audiences definitely turned up in huge numbers reaffirming our love of literature, and commitment to a life of debates and ideas. The sessions were very well attended, and the quality of audience participation has gone up yet another notch. Over the three days, we recorded over 10,000 people attending the festival."
The Hay Festival, a literature festival that was held for four years prior to this year's Lit Fest, had some common grounds, content and intent. "We collaborated from the start with the Hay-on-Wye Festival of Literature and the Arts from Wales, and we are grateful to Peter Florence who remains a good friend, and even sent participants to DLF at their own expense," says Ahsan Akbar, co-director of the Dhaka Lit Fest. "As we strike out in a new direction to brand Dhaka and Bangladeshi culture and writing more directly, we are very happy to have the support of past principals like Hay and The Daily Star. But what should be noted here that our festival wasn't "Hay-on-Wye"; it was Hay Festival Dhaka," he continues "All the work related to putting on the festival - from fundraising, branding, production and logistics was handled by a team in Dhaka led by Sadaf. Programming was always done by the four of us; namely, Sadaf Saaz, Tahmima Anam, K Anis Ahmed and myself. Our friend Tahmima chose not to remain with the festival for personal reasons, but apart from her it's the same team," he says. "We felt it important to acknowledge both our past record as the team that has staged this international literary festival and also highlight the new direction we are taking, putting Dhaka squarely on the map."
During the Dhaka Lit Fest, feminism was discussed widely and with due importance. Eminent feminists from all across the globe came to discuss woman empowerment, violence against women and the meaning of feminism. In one of the sessions, a panel including Bangladeshi women's rights activist Shireen Huq, actor Sara Zaker and English film director Leslee Udwin, violence against women was discussed as the screening of Leslee's film India's Daughter kicked off the third day of the event. "The issue of women's rights and role remains a central issue for all societies," says Sadaf. "We feel deeply that no society can achieve real development unless it can also ensure equal rights and dignity across gender and other forms of societal divides. We felt also especially concerned by what appears to be a new rise in violence against women. Be it in Bangladesh or India, or elsewhere in the world, that is truly repugnant," she continues, "anytime that happens anywhere it diminishes all our humanity. And we cannot hope to get to a more desirable place if we aren't even willing to talk about it. We have to learn how to talk about issues that make us uncomfortable, and on which we may be sharply divided. Still, we have to talk - and we have to learn to listen."
The DLF also hosted a lot of Bangla talks where Bengali literature was discussed, along with the importance of translation. "DLF actually hosts more panel discussions to do with Bangla literature than any other event that takes place in Bangladesh. So, we don't think a mere increase in numbers will help us achieve the desired impact. What we plan to do however is to curate the Bangla programme in a manner that will stimulate a new generation of both readers and writers," says K. Anis Ahmed, another co-director of Dhaka Lit Fest. "Our Sahitya Jokhon Shobar panel, led by the eminent Imdadul Haq Milon, addressed the issue of Bangla literature not being exciting enough for people. We have had such discussions in the past in a vein of complaint about sales figures. You will hear that again come Ekushey; but DLF is creating a space to address that from an intellectual and creative perspective. Many other panels, such as Nogor Amar Hridoy-e or Facebook ErJugeySahitya, also mark the intent to probe our notions of literature and its relevance to a broader public in ways that are unprecedented."
The March to Independence was a session that launched eminent economist and freedom fighter, Rehman Sobhan's memoir- Untranquil Recollections: The Years of Fulfillment, which covers the birth of the nationalist movement, how it developed in the freedom struggle, and eventually the Liberation war. Joining him in the panel was jurist, statesmen, politician and freedom fighter Kamal Hossain, while the editor and publisher of The Daily Star, Mahfuz Anam, also a freedom fighter, was the moderator of the session.
Many other distinguished personalities were to join the auspicious event but had to cancel due to personal reasons but also for security concerns. "As with every year, a number of guests could not make it at the last minute due to health reasons or a personal crisis. For example, VS Naipaul, who is 83 years old, was simply not feeling in good enough health to make such a long trip. Asma Jahangir got tied up in a critical case at the very last moment. But a solid dozen explicitly named security as the reason for staying away. Interestingly, all 12 were either American or British. It's unfortunate that there was such a hard travel alert on Bangladesh, which understandably affected the decision of some authors from those countries. Many brave souls from both those places and altogether from 14 countries did come though," says Anis.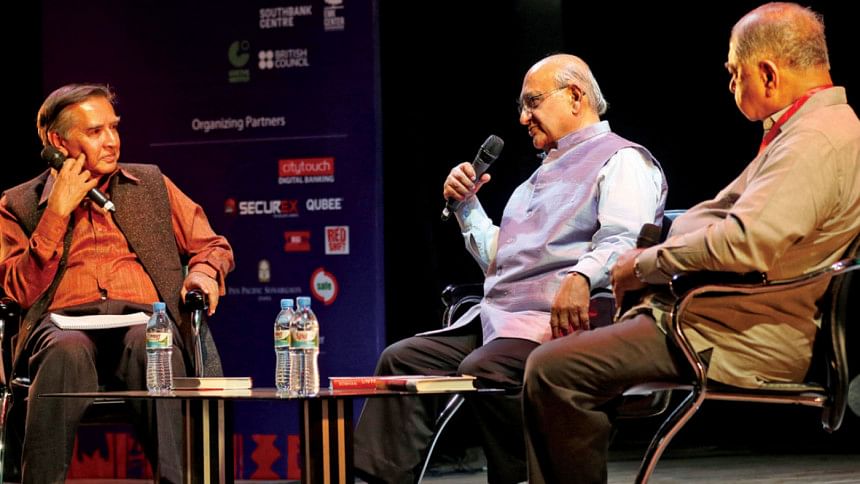 Though DLF and Hay Festival catered to similar crowds, DLF plans on expanding in different ways. "We certainly do plan on getting bigger, but for us "bigger" is not about numbers. DLF will remain about the same size, but it will continue to evolve in qualitative ways. We will take a more thematic approach to our programme next year. We will increase the diversity of disciplines we address," says Ahsan.
Sadaf spoke of facing enormous challenges this time. "The threat - and actual incidents - of attacks on writers and publishers was on everyone's minds. More than music or other festivals, a festival of ideas seemed vulnerable to the wrong kind of attention," she says. Anis says that from the moment they first put up the programme to the event a month later, they faced 19 cancellations. "To still be able to put together a programme as exciting as the one we had, we really owe it to all the brave souls who ignored travel advisories or the pleas of their friends or literary agents. We also owe a lot to the government, who came forward with support on every front; especially security like it wasn't just a private initiative, but a national one." Adding to what his co-directors mentioned, Ahsan thinks this year they faced unprecedented challenges and after overcoming all of them, his feeling is one of triumph. "It is a victory for Bangladesh, where we have no room for violence of any kind. In my brief at the opening ceremony, I mentioned all our speakers – from home and abroad – who joined us this year as our "heroes". It is with everyone's support - all our speakers, sponsors, partners and audiences – I feel I can now reach out to the world of writers and their agents with a stronger case for coming to Dhaka Lit Fest next year."
"I am in awe of the courage of those who initiated this gathering of the literary minds. Ideas are important and they need to be discussed," says Leslee Udwin, who believes that for every country, one of the most important things to do in order to progress is bringing together creative minds. And with that initiative exactly, the Dhaka Literary Festival is one that will truly help Bangladesh secure a permanent spot on the global stage.