Restorying Partition: Mahammad Appu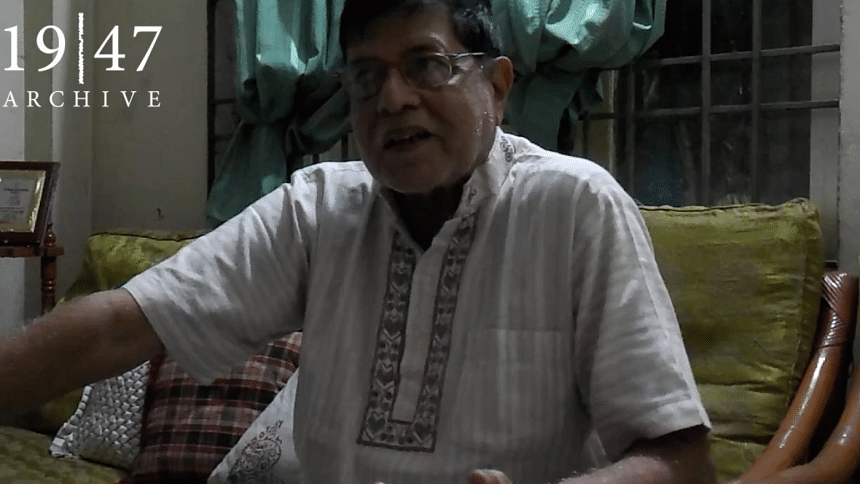 Currently Residing: Comilla, Bangladesh

Age in 1947: Not available

Migrated from: Lucknow, Uttar Pradesh, India

Migrated to: Comilla, Bangladesh
A special train was arranged for Mr Appu's family and all of the workers in his father's factory to migrate from Lucknow.
Mahammad Hasem Appu was born in 1941 to an Urdu-speaking family from Lucknow, Uttar Pradesh. It's believed that they have a direct connection with Wajid Ali Shah, the fifth King of Oudh. Mr Appu lived in Lucknow until he was seven years old. He remembers that his family celebrated the Nowroj festival, which was originally a Zoroastrian festival.
Mr Appu's family migrated from Lucknow in 1948. They chose to migrate east instead of west because his aunt and her husband came to Comilla, Bengal as railway officers, and they had a home there. A special train was arranged to bring them to Kolkata first and from there to East Pakistan. They sold their house and their factory machines. The workers in his father's factory and their families came along with them on the train. They took another train from Kolkata to Comilla, but when they reached Comilla, they found that all the machines from the factory were missing from the train.
They first stayed in railway quarters in Comilla and then rented a house. They had the chance to get a piece of land in the refugee colony but his father refused, not wanting to be separated from the locals. They later built their own house. Mr Appu and his sisters began attending local schools. Mr Appu also completed his college in Comilla. From the early days of his college life, he developed an interest in theatre. His father was adamant that his children learned Bengali, and Mr Appu is fluent in Bengali today.
Today, Mahammad Hasem Appu is one of the most prominent theatre personalities in Bangladesh. In 1971, his entire family moved to Pakistan, while he stayed in Bangladesh. Today, he resides Comilla, Bangladesh.
Interviewer: Deborshi Chakraborty

Camera Person: Deborshi Chakraborty

Archivist: Shubnum Gill; Yvonne Eadon

Story Donor/Sponsor: Nayeem Qureshi

Photo and content sourced with permission from The 1947 Partition Archive (www.1947PartitionArchive.org)
---
See

States of being divided

for the full list of articles on this special issue of the Star Weekend.