Keep only the good cops, please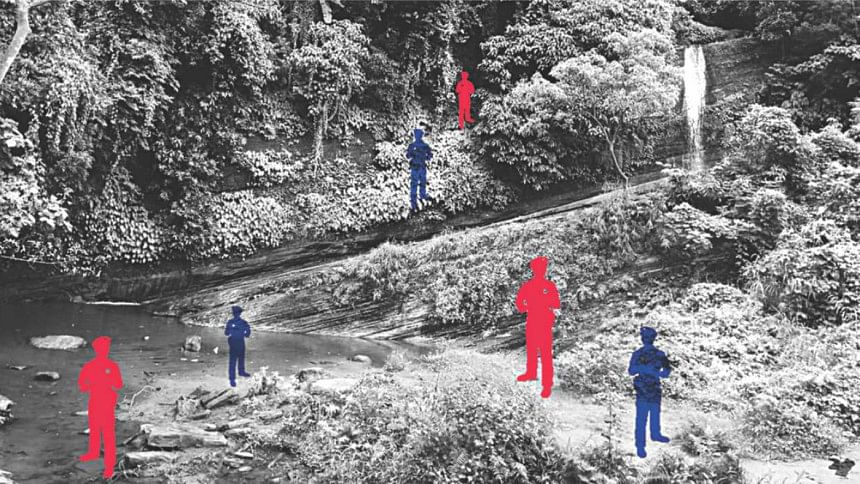 The recent transfer of a police official to the Chittagong Hill Tracts (CHT) on February 23 shocked the people of CHT, and those on the plain lands who are aware of the sensitive situation in the region. 
The transfer of a government official is a normal procedure that takes place regularly, so why was this particular one so shocking? It is because the police officer in question was allegedly involved in burning down the homes of Santals, an indigenous group, in November, 2016, in Gaibandha, Bangladesh. Many of the Santals whose homes were destroyed are still living under the open skies without basic facilities, like access to food, sanitation, and housing.   
This was not just a gross act of human rights violation – it was a direct attack on the lives and livelihoods of indigenous people by a member of the law enforcement agency. It was covered widely by the media and is being monitored closely by national and international rights organisations.
This was, unfortunately, not the only incident in which we have heard about police involvement in crimes.  Media has time and again uncovered such stories –   from the report on police extorting money from small egg sellers published last November to big time narcotics smuggling. Not to mention their dubious involvement in extra judicial deaths termed as "death by crossfire." In January, 2016, a few cases also surfaced of women filing reports saying that police officials had sexually harassed them under the guise of "searching for drugs" (Prothom Alo: January 20, 2016; Kaler Kantho, January 31, 2016). 
When such practices have become a trend, it is indeed a matter of great concern for citizens. These matters should be dealt with immediately by the Police Headquarters, the Home Ministry and the government. 
What is equally and more concerning is that an overwhelming number of corrupt officials who are ruining the image of other members of the force are not facing any serious consequences for their deeds.
In 2016, in a live conversation on social media, Dhaka Metropolitan Police (DMP) Commissioner Asaduzzaman Mia admitted that police are involved in extortions."I am not saying police do not extort money," he said, but then, as a way of justifying the wrongdoing, he added, "People from other professions also do this."
He then noted that the police high-ups conduct regular monitoring so that members do not extort money and that "stern action would be taken if allegations against any official are found to be true." However, have the findings of any such monitoring ever been made public? And, what actions do the authorities take when an investigation is going on? 
From January to August 2016, 61 officials were suspended from their jobs. Only five among them were forced to retire, according to the DMP (Dhaka Tribune, November 22, 2016). One media report also reveals that during the same period 8,736 officials – from constables to sub-inspectors – faced light punishments and 363 were handed down major punishments (besides suspension). It was also reported that sources in the DMP admitted that the number of allegations of criminal activities against police members is much higher than the data suggests. For instance, there are no statistics on how many complaints were actually received. These statistics would likely be much higher if people felt safe to report these crimes without fear of harassment or intimidation for filing allegations against the police. 
On February 28,  the Home Minister Asaduzzaman Khan Kamal said in the parliament that 66,014 police have faced punishment for various reasons over the last five years. It is the Home Ministry which has the sole authority to punish ASPs and other upper level officials. The police authority can only make recommendations to the ministry to punish these higher ranked officials. 
According to the police ordinance, the types of actions that the authorities can take against an accused police official include reprimand and suspension (please note that only being accused is enough). Sterner punishments could be forced retirement, demotion, cancellation of increment and cancellation of rank badge. For petty crimes, punishments such as salary deductions, reprimand or a warning can be given.
Now my question is this: are there any crimes committed by the police which can be classed as "petty"? After all, why do we need the police? It is so they can maintain the rule of law and people can live their lives in peace, isn't it? We expect teachers to be knowledgeable, doctors to know how to treat patients, and in the same way, we expect the police to enforce, not break, laws. If law enforcers are breaking the law, we expect the authorities to take actions against them rather than worry about tarnishing the institution's reputation. 
Should a member of the police force who is under investigation or has been found guilty for a crime be on duty? How can we, the citizens, trust that that individual will not abuse his/her power again?
In the case of the official in CHT, it is not the first time a government official has been transferred there as "punishment".  Although no government documents identify CHT as the "penal colony" for bad officials, it has nonetheless become exactly that, with ministers even suggesting so.
In 2016, the media reported that, in an anti-tobacco day programme, Mohammed Nasim, Minister of Health and Family Welfare, said that doctors found smoking in hospitals would be transferred to Bandarban, a district of CHT. In April 2016, a government official was transferred to Khagrachari, another district of CHT, as an apparent punishment for his involvement in using bamboo rather than iron rods during the construction of a government building. Fortunately, the district authority refused to have him in Khagrachari. 
So, is CHT – a place which is much more at risk than other parts of Bangladesh of witnessing communal attacks and clashes – the dumping zone for government officials? The same officials who are supposed to act impartially and efficiently if any such incident occurs? 
The CHT community was shocked that a police official, with photos all over the media showing him setting fire to indigenous homes, could be transferred to another area dominated by indigenous people. Most importantly – he is being sent to an area where communal attacks often take place.
Citizens and civil society and rights organisations should demand an explanation as to why officials, particularly those found guilty of crimes, are still active. We can also urge the government to not allow police officials under investigation to remain on duty and ask the responsible authorities to do their job and be dignified so that people can have faith in them. 
Finally, the ministry can set an example by only keeping the good cops… because who needs the bad cops anyway?  
The writer is a rights activist, feminist and researcher working on minority rights, peace and security. You can follow her in twitter @SathiChakma.