this just in
THE WEEK IN RE(AR)VIEW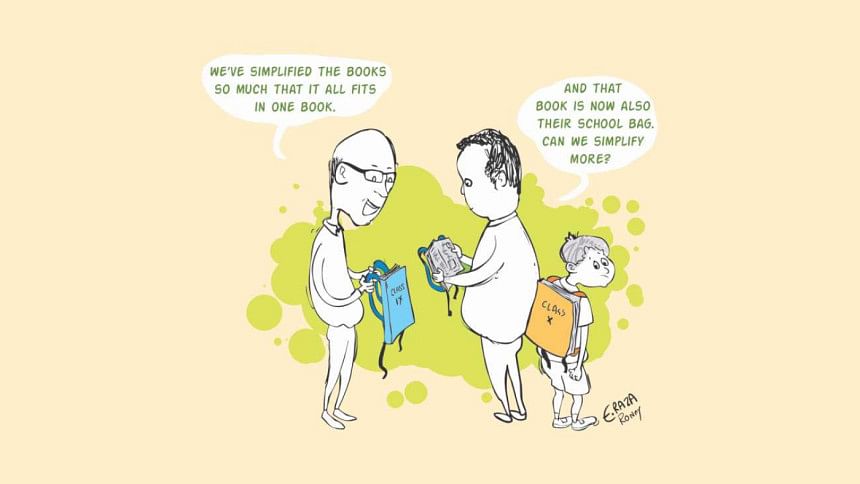 No drama in drama centre

Shakib Khan, one of the biggest movie stars of present-day Bangladesh, alleged that many FDC directors spend time "chatting instead of doing work". The directors were furious. Amidst a cacophony of thunder claps, high intensity music, and dancing women, they banned Shakib indefinitely on April 29. But then a day later, he apologised with a background of heartrending soul music and crying, dancing women. And poof, he's unbanned! I expected more drama, but for that we need to look at the education board.
Ban on coaching

Parents spend so much money and time on coaching centres these days, they might as well leave their children there. Originally, the Ministry of Education was set on "legalising" coaching – after all, the revenues are terrific. The backlash came from many directions. They then performed a brilliant 180-degree about-face manoeuvre fit to shame the best military demonstration. Now coaching is deemed ban-worthy, along with guidebooks and notebooks, according to Education Minister Nurul Islam Nahid. 
Also, plans are under way to modify 12 textbooks of class nine and ten in order to make them easier for students to learn. The subjects are Bangla Literature, English for Today, Bangladesh and Global Studies, Bangladesh and World Civilisation, Mathematics, Higher Mathematics, General Science, Physics, Chemistry, Biology, Economics, and Accounting. At this rate, students will be given picture books. 
Abandoned tin shed, renewed education

But here's a ray of hope amidst the chaos. Parents in Gaibandha's Harijan community took upon themselves to provide education for their children – one free of discrimination and prejudice. The Harijan commonly work as sweepers and their children often drop out due to a combination of harassment and lack of funds. They set up their own school in an abandoned tin shed beside Bonarapara railway station in Shaghataupazila. Called 'Our School', it was begun in 2014 by Rajesh Basfore, who is also the sole teacher. 27 students are currently enrolled.
Rising floods and rising prices

Torrential rains continue with flash floods making life miserable for people in the outlying districts. According to the Relief and Rehabilitation Department of Sunamganj, the Vulnerable Group Feeding (VGF) programme will cover 150,000 families in the district. Each household is to get 30 kg of rice and BDT 500 per month. However, district administration is yet to finalise the list of the families, never mind actually distributing. To top it off, early this week a boat with 360 bags of rice meant as relief for haor people capsised in the Surma River as a nor'wester lashed Sadarupazila in Sunamganj this morning.
Prices of all varieties of rice crept up as a result. Coarse variety went up 13 percent to BDT 42-45 per kg from BDT 37 to 40 a month ago. Time for a change in diet to grass. But then we city folk will die since we detest any greenery. 
US-North Korea playing battleship

The rest of the world is currently pondering over the possibility of a nuclear spat as Trump and Kim Jong-Un exchange otherwise hilarious dialogue. US president called the North Korean leader a "smart cookie" while the latter retaliated by saying he will turn US submarines into "underwater ghosts". Couldn't they just settle their differences by hurling insults on Facebook like normal adults?