Air Pollution
I deserve the blue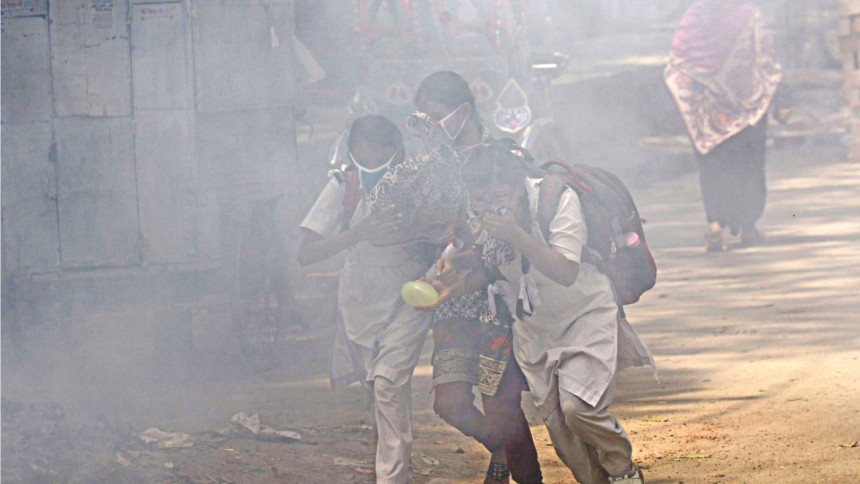 When 13-year-old Rafiul Islam Rabby was having trouble breathing, his mother Rabeya Begum didn't take it very seriously—not initially, at least. A week after, she noticed her son was coughing and wheezing throughout the night, unable to sleep. This time, Rabeya Begum took her son to the hospital. 
The doctor diagnosed that Rabby had developed asthma. "I was wondering how he could have developed asthma; there's no family history of it," says Rabeya. "But when the doctor asked me where he spends most of his time during the day, I suddenly realised what had happened to my son. Every day, he would inhale construction dust on his way to school from Shewrapara to Taltola. When he came back from school, he would play with my neighbours' kids in an open space at the back of our building, adjacent to an automobile repair shop," she shares.
A 2016 survey shows that 22 percent of children between the ages of 1-10 living in Dhaka have abnormal lung function; this figure is 24 percent for ages 11-20. 
The data was found after testing over 500 people across age groups, gender, and localities, where 410 of them were students of different schools, mostly from the Farmgate area of the city. 
The survey titled Impacts of Air Pollution on Future Generations conducted by Bangladesh University Urban Lab was conducted at the request of Bangladesh Poribesh Andolon (BAPA) and under the direct supervision of the late National Professor Dr MR Khan, eminent paediatrician, and National Professor Brig (Retd) Abdul Malik, Founder of National Heart Foundation, measures function of the lungs using spirometers. 
Dr Jotsna Ara Begum, Associate Professor of Paediatric Respiratory Medicine (Pulmonology) at Dhaka Shishu Hospital, informs us that children are more susceptible to the effects of air pollution and are at higher risk of respiratory diseases like pneumonia, bronchitis, asthma, Chronic Obstructive Pulmonary Disease, lung cancer and heart diseases, compared to young adults. "The lungs, brain, hearts and immune systems of children are immature and are in the process of developing. If they inhale particulate matter composed of various substances such as black carbon and mineral dust, the development process can be hampered to a great extent," she says. 
Additionally, babies and children breathe faster than adults, taking in more air relative to their body weight. "Babies sometimes breathe through their mouths, which is why they cannot filter the air they inhale. As such, the particulate matter from polluted air enters their bodies directly, and eventually results in allergic problems along with respiratory diseases," she adds.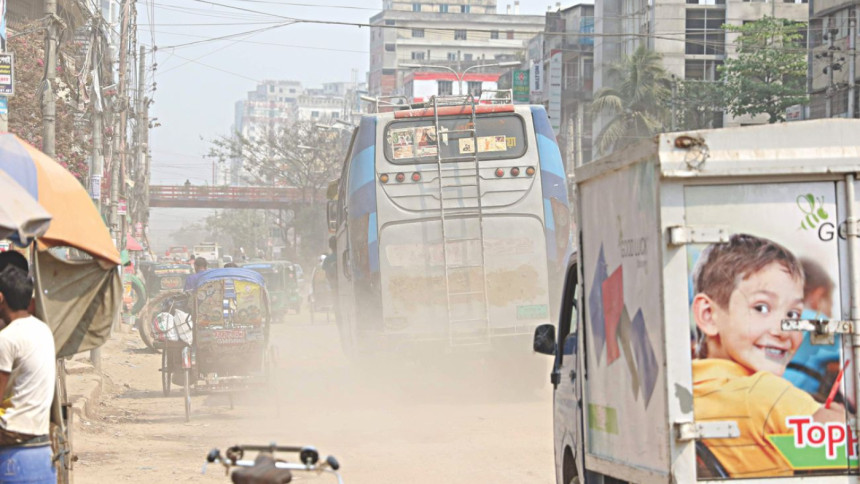 In fact, if a mother is exposed to toxic pollutants, the tiny particles can harm her developing foetus, which might cause miscarriages, early deliveries, and low birth weight. 
Though the rate of respiratory diseases usually increases in winter, the number of children affected during monsoon is significant. "Recent data from the Dhaka Shishu Hospital shows that, every day, among the total admitted children, 25-30 percent get admitted to the Paediatric Pulmonology department. The number of asthma patients is also on the rise, compared to the past," says Dr Begum. 
Apart from the admitted patients, a large number of parents come to the hospital with their children for diagnosis of respiratory problems. 
A 2016 UNICEF report highlights that "around 300 million children currently live in areas, where outdoor air pollution exceeds international guidelines by at least six times. In total, around two billion children live in areas that exceed the World Health Organisation's annual limit. The problem is most severe in South Asia, which has the highest number of children—620 million." 
If we analyse the Air Quality Index (AQI) data —which measures how clean or polluted the air is—of Dhaka, we find that last winter, the AQI was as high as 361 which is regarded as 'extremely unhealthy' by Bangladesh National Ambient Air Quality Standards (NAAQS).  
Md Shamsul Hoque, Professor of Department of the Civil Engineering of BUET, believes that mismanagement of public transport and lack of regulations are two major causes of air pollution in the city. "Back in the day, we had open space on both sides of the roads and dust got dispersed properly. Currently, we have no open spaces and the buildings are built one after another, leaving no space for the dust to disperse; rather the dust accumulates," says Hoque. "RAJUK has a lot to do in this regard. If we look at countries with good urban planning practices, they keep gaps between buildings, so that polluted air can disperse well. However, here in our city, buildings are being built without proper planning and specification," he adds.
Uncovered construction materials, excessive electrical workshops, different types of wastes (industrial, solid, medical and electronic) have been increasing the amount of these tiny particles rapidly, making Dhaka's air more polluted. 
To protect our children as well as ourselves from air pollution, drastic action is required. When contacted, Quazi Sarwar Imtiaz Hashmi, Additional Director, Department of Environment (DoE) informs that the DoE is currently focusing on the "Clean Air and Sustainable Environment" project (CASE) project, in collaboration with the World Bank. CASE is working to catalyse the adaptation of Sustainable Environment Initiatives in key polluting sectors—urban transport and brick making. "We have already established 11 Continuous Air Quality Monitoring Stations countrywide that monitor major air pollutants and generate real-time air quality data," he adds. 
However, Hashmi admits that the government's initiative is not sufficient to deal with the massive air pollution of Dhaka city as the number of vehicles, especially private cars, is on a rapid rise. "It's also very difficult to control the situation if citizens are not willing to obey laws and rules," says Hashmi. 
Advocate and policy analyst, Syed Mahbubul Alam, who is also the secretary of Centre for Laws and Policy Affairs, argues that though there are laws to keep air pollution in check—such as Bangladesh Environmental Conservation Act 1995, Smoking and Tobacco Products Act 2013; Building Construction Rules 2008; Smoke-Nuisance Act 1905; and Motor Vehicles Ordinance 1983—in reality, none of them are implemented properly. "There is always a lack of co-ordination, monitoring and technical expertise in implementing them," he says. "And that's the reason behind our continuous failure to prevent air pollution," he concludes. 
Our continuous failure to keep our air free from pollution has already started to affect our future generations. Excessive air pollution may create considerable damage to our environment as well as us in the decades to come. Therefore, it is necessary to make a change today, before it is no longer within our capacity to manage.