an apple a day
Five five-minute stress busters
We asked people in different walks of life what they do to deal with stress. Albeit the common ones, we collected a few interesting, effective and quick remedies. And hence, the Star Weekend presents to you – five five-minute stress busters.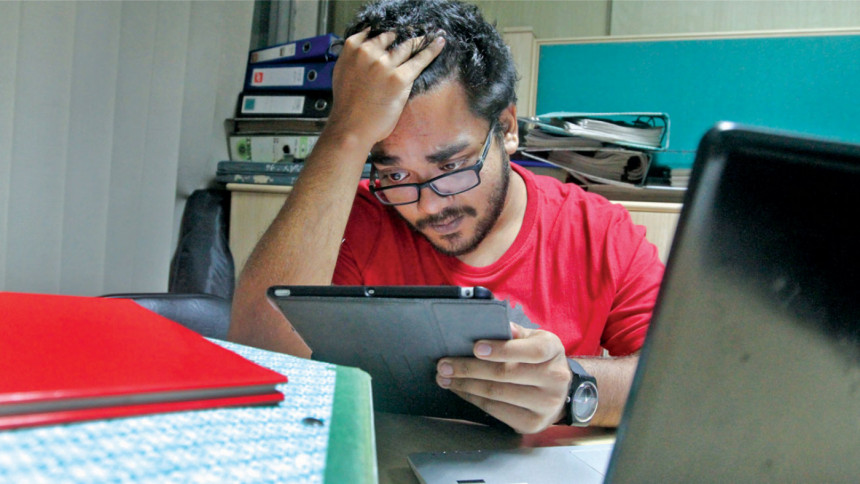 Photo: Kazi Tahsin Agaz Apurbo
Tax for stress
Pradeep Kumar is a manager in a multinational company. His job entails a lot of office hours, dealing with office politics, deadlines, etc. He applies a simple trick for relieving stress: the joy of giving.
His colleagues do not know that his desk's middle drawer – which he always keeps locked – has a jar where he puts changes or coins every time he is worried about something. He empties the jar and donates the money once a month. "I fine myself for worrying!" Kumar smirked.
Charity work is a very satisfying deed that makes you feel good.
Inspiration from the divine
Like any final-year university student, Lopa Barua has an immense load of assignments, presentations, quizzes and exams. When things become overbearing, she reads quotes by Buddha. She finds solace in his beautiful sayings. "Buddha's philosophy on life and suffering and his compassion towards all always remind me of the bigger picture. How silly we are worrying about trivial things!" Lopa explains.  
Read a Holy Scripture. Words from the divine lift up your mood and provide inspiration for life. And let's not forget that praying has a therapeutic effect.
The joy of being grateful
Asgar Ahmed is a thirty-year old entrepreneur. Although a business owner for more than five years, he still hasn't developed a taste for risks and uncertainties that are part and parcel of his career.
He says that he stays sane by writing down things he is grateful for. "I started my gratitude journal when a relative gave me money to start business," Ahmed says. "That was the first entry on the journal. Soon, I began counting my blessings, in health to career to personal life. Whenever I feel miserable, I open the book and read previous entries or make a new one."
So, maintain a gratitude journal, a virtual one or a physical diary.
Never underestimate the power of baby-talk
When on his way to the court or before attending a crucial meeting with a client, Barrister Rashed Khan calls up his three-year old daughter. Having a 'deep' conversation with an adult is too mainstream for him! "My kid cracks me up," he says. "And the innocence and simplicity of a child's soul can put your life in the right perspective."
The next time you tear your hair with all the life's problems, call up your child. You are likely to find the conversation very healing.
Play
Meanwhile, Nusrat Jahan - a housewife and mother of three – watches her children being always active and full of life. She believes that one of the reasons kids are so cheerful is because of all the fun activities they take part in. "Nowadays, when I'm worried or anxious, I turn to the basketball hoop in my backyard. Even simply going nuts with a balloon or playing with a ball can be so elating," she tells.
When you are worried, drop everything and play a little and feel the difference. It's fantastic what a mere five minutes can do to reduce stress!
Names of some people have been changed.