After The Accident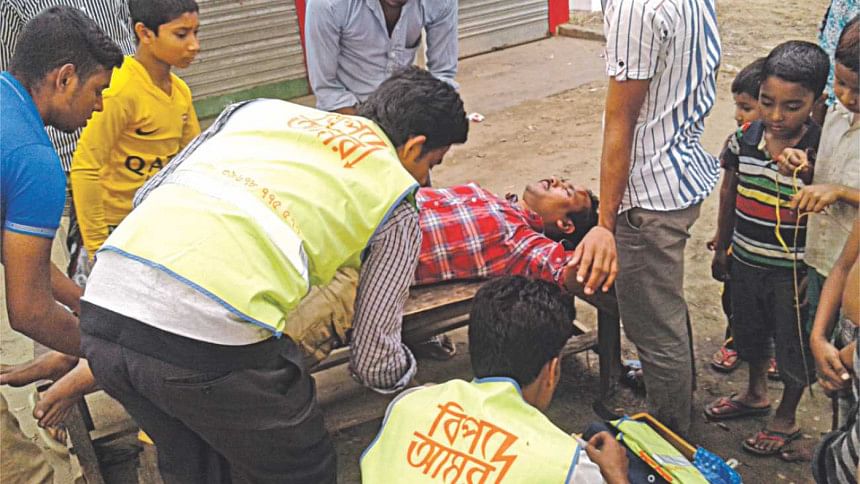 48-year-old service holder Oshim Kumar Saha had a terrible motorbike accident in 2015; at a 'black spot' near Iliasganj Bazaar of Daudkandi in Dhaka-Chittagong highway (a black spot is a place that has a record of large numbers of crashes). 
"When I lost control over the bike, I only remember thinking about where it was going or how I could stop the brakes. Within the next minute, I fell unconscious and hit a tree," recalled Oshim.
"It all happened in a split second, and when I opened my eyes, I found myself on a hospital bed," he said, "Later I came to know that I was at a nearby health complex." Oshim was very eager to know who brought him to the hospital instantly. 
"Immediately after the crash, an eyewitness called an emergency number that was developed in our area by Traumalink," he said. Traumalink is a volunteer-based organisation working in the Daudkandi black spot of Dhaka-Chittagong highway to ensure emergency first aid for road traffic injuries. 
"When the operator collected information from him on where the crash occurred, volunteers who live close to the scene received a text message about the accident. And based on that message, two volunteers rushed to the crash scene with their first aid boxes within five minutes and tried to stop my bleeding," said Oshim. 
"After that I was immediately sent to the health complex with their help" he stated.
 Even the doctors later informed Oshim that if his bleeding had not stopped immediately after the accident, it would have been difficult for them to save his life. 
Oshim was undoubtedly lucky and he is one of the fortunate few. Most road accident victims, however, have a much worse experience.

***

Every day, many traffic injury victims either die or become permanently paralysed due to significant delays in treatment or lack of emergency medication by trained personnel. As a matter of fact, bystanders who hurriedly move the victims to take them to the hospital don't know how to handle a trauma patient, causing added harm to victims. 
According to a 2012 report by the World Health Organisation (WHO), every year, on average 21,000 people die on Bangladesh's roads and 80 percent of trauma patients die before reaching the hospital. A joint study by the Accident Research Institute (ARI) of BUET and the Centre for Injury Prevention and Research, Bangladesh (CIPRB) states, "In Bangladesh, 65 percent of road fatalities occur on the spot and 35 percent within one to two hours. With the needed medical services, most of these victims could have survived and the severity of the injuries could have also been reduced."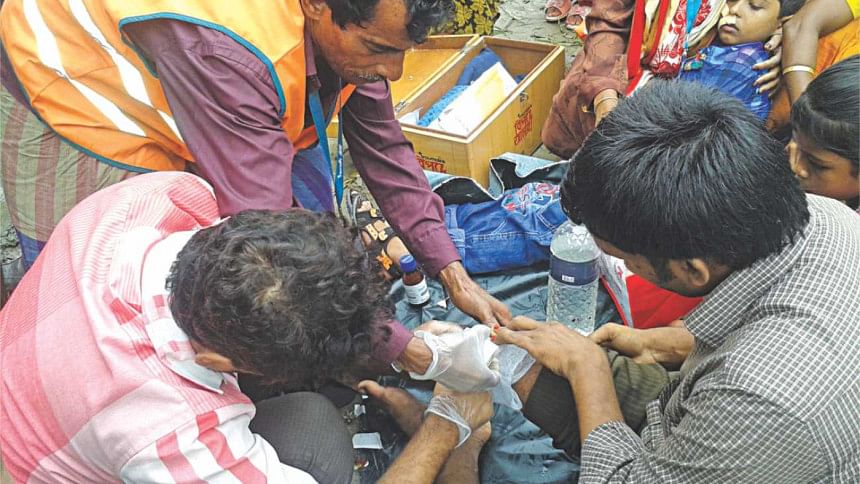 Transportation consultant and road safety expert Dr Md Shamsul Haque, who is also the ex-Director of ARI, BUET, informs that if a road crash victim is taken to the hospital within the first one hour following the traumatic injury – the 'golden one hour' – the chances of survival are higher. 
"In developed countries, we see the pervasive use of surveillance camera in the highways in order to detect road crash scenes for swift response," says Haque. "Also, when a bystander calls 911 (an emergency telephone number that is used in the United States, Canada, and Mexico among other countries), he/she is connected to an emergency dispatch who immediately knows his/her exact location, and can therefore dispense the appropriate emergency resources as per the victim's exact necessities," he adds.
However, in Bangladesh, there is neither any national emergency hotline system, nor any affordable or effective emergency response service available. Especially in the highways, where 70 percent of total fatalities occur, even when victims can find a private ambulance, it is often unaffordable and the staff don't have any medical equipment or training, according to a collaborative report by the Civil Engineering Department and ARI of BUET.
Although there are a few non-profit organisations working on this issue that have received support from members of the community, local police, highway police, and fire brigade, the greatest challenge these organisations are facing is securing financial support to continue to expand their operations.
"Because of the enormous scope of this problem, we feel a great sense of urgency in bringing these first aid services to all Bangladeshis. And, we can only expand as quickly as our access to funding allows," says Jon Moussally MD, the co-founder and president of Traumalink Bangladesh Ltd. He is also an Attending Emergency Physician at the Massachusetts General Hospital and North Shore Medical Centre. 
Starting in November 2014, Traumalink has covered an area of 20 km as their pilot project, established a 24/7 hotline number in that area, recruited more than 100 volunteers and given them a two-day first aid training. After more than 250 crash responses, the volunteers have not missed a single call and their response times have been exceptional. Their average time for responses is around five minutes within receiving the message, said the operations director of Traumalink, Esha Chowdhury. 
We contacted some of the volunteers to get to know more about them and they all either lived or worked near the highway within the target location. All the volunteers belong to the immediate community – we talked to Noyon, a man with a tailoring shop on the road, Parvin who is a housewife, living near at the highway and Hasina and her husband, who have farm land close by. This organisation found its success by training the community to tackle crisis situations. 
"We are now working on expanding our operations on the Dhaka-Chittagong Highway east towards Comilla. We are also beginning a new project in Manikganj, on the Dhaka-Aricha Highway," said Moussally.
Services like these however face a number of problems when trying to do good. Rahat Hossain, programme director of CriticaLink, another non-profit organisation that developed a mobile app for alerting the nearest volunteer first- responders, talks about the problems. 
"The hospital authorities are not willing to obey the law while admitting road accident victims," said Hossain. He was referring to the law that states that hospitals must admit and treat any and all accident victims being brought in. 
"Most of the time they give us general excuses, such as, there are no doctors available, or the hospital doesn't have necessary facilities. But we all know that although doctors may not be available, the hospitals at least have the resources to save a life!" said Hossain. 
The initiatives that Moussally and Hossain have undertaken are nothing short of commendable. But their work cannot advance very far without broader initiative. The government has a crucial role to play here. Experts suggest that the public and private sector should jointly develop a national emergency hotline, and ensure the provision of emergency medical care. Different stakeholders must also come together to create awareness among the general people so that they, too, can take effective steps to save road accident victims.