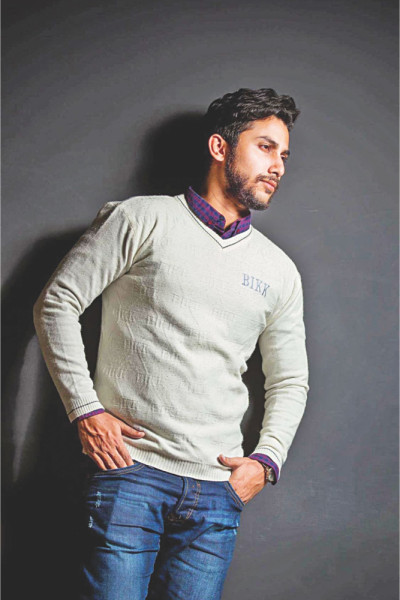 Shoumik Ahmed – a young actor – has captured the hearts of many in Bangladesh, thanks to his vibrant personality on TV and social media alike. Other than being a TV actor, this master of trades is part of the ingenious group GaanFriends, a channel on YouTube promoting music and comedy at the same time. Recently, Shoumik shot to fame, after he was featured on this year's hit video – Local Bus. He takes out a minute to speak to the Star Weekend.
What was the first scene that you ever shot for a TV visual?

The first ever scene I shot for a TV series called Radio Chocolate. My co-artist in that scene was the famous Mosharraf Karim. It is still one of the most memorable events for me!
What are the three things that you would take with you if banished to an isolated island for a month?

A DVD copy of Bear Grylls on Survival; a camera and a huge supply of tea -- something that I can't live without. 
Name three directors you would like to work with at least once?

Mostofa Sarowar Farooki, James Cameron and Quentin Tarantino.       
What is your motto in life?

I am always into living a simpler life and enjoying it to the fullest. But I also want to keep my dreams big and goals bigger. 
What do you think is your one super power?

Patience (and persistence!).                            
Why do your friends refer to you as the Local Bus?

Because -- as the song goes -- bondhu tui  Local Bus!
What would be your strange Local Bus memory in Dhaka?

I usually take the bus and visit the market near Dhaka College to do my shopping. This is one of my regular activities. However, just the other day, while retuning home on the bus, I was mobbed by people for selfies -- all sweating and carrying my shopping bags! That should be a very strange Local Bus scene for sure!
Who is/ are your inspiration/s?

Tahsan Khan, Zohad and maybe my biggest inspiration -- my dad, Brigadier Jaglul Ahmed. 
Any message for those who are trying to do what you do?

They should be patient, work hard and keep trying unless it's working out for them! Don't lose hope because if you do, someone else will take your place!
— Elita Karim

Photo: Courtesy