1 Minute Please
Samina Husain Prema is a prominent Manipuri dancer, choreographer and teacher. Starting her journey in the world of dance at a considerably young age, Prema is regarded one of the leading Manipuri dancers of this generation. She has had the privilege of being tutored and mentored by some pioneering dancers- beginning her journey with Shantibala Sinha, followed by Tamanna Rahman, Sharmila Bannerjee, Belayet Hossain Khan, and as off 1993, Srimati Kalavati Devi. Prema's strength lies in her sense of aesthetics in her choreography and the sheer grace with which she moves. This week, the Star Weekend reveals some interesting facts about Prema.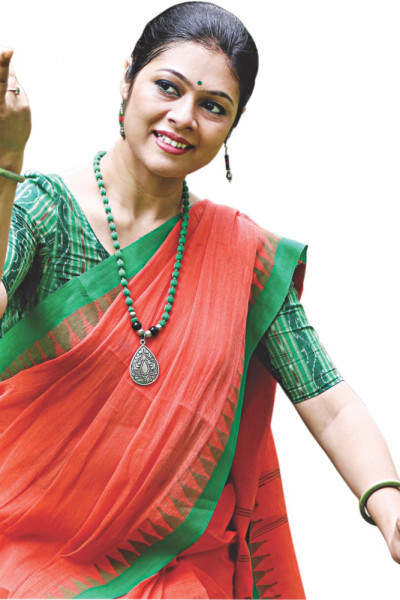 When was your first performance? 

It is very difficult to remember the exact date but I remember being very young. I was perhaps in grade 6-7 when I first got on stage. And when I was in grade 8, I took my first tour. I began dancing mainly to classical Manipuri items, but there were other songs too that I had danced to. 
If there is any dancer you would want to share a stage with, who would it be? 

Well, fortunately, I have already experienced that! I have performed with Srimati Kalavati Devi and her group plenty of times, and it has always been the most beautiful experience. One performance that will always be with me is when I performed Bhanushingher Padabali with Srimati Kalavati Devi playing Radha, and I played Krishna. To have played a main character opposite her-- that really meant a lot to me!
If you had to pick another dance form, apart from Manipuri, which would it be?

I don't know whether it is the influence of Madhavi Mudgal and Ramli Ibrahim or not (both of whose performances had brought tears to my eyes), but I definitely have a soft spot of Odissi. 
When Prema is not dancing, she is? 

I love singing. My family has a legacy of singers, and I feel lighter when I sing. I also always wanted to write. Not that I think I'm a great writer, but I feel like I have a lot of things to write about. 
Who is your biggest inspiration? 

My nanu (maternal grandmother). She was the one to always make sure I grew up to be a graceful woman, and she also made sure I stuck to and loved my dance. My mother, Rokeya Minakshi Husain and aunt, Jibina Sanchita Haque, are right up there with her on the list! 
What is your advice to up and coming dancers? 

Most people want to know and learn everything. I would advice them to learn one thing fully and passionately, and then maybe delve into others. But remember to always nurture the one that represents you. 


— Naziba Basher

Photo: Sheikh Mehedi Morshed