A Classic Wedding
Choosing the right outfit for one's wedding, in a nutshell, is complicated. Right after getting engaged the bride gets giddy with excitement over her impending wedding and puts all her plans in motion right away. Her outfit has got to be the most exquisite, most beautiful and one of a kind. Wide-eyed and bushy-tailed, she begins the search with her entourage in tow. Little does she know what awaits her! While it is expected to be the most thrilling experience, sometimes it is really not so rosy.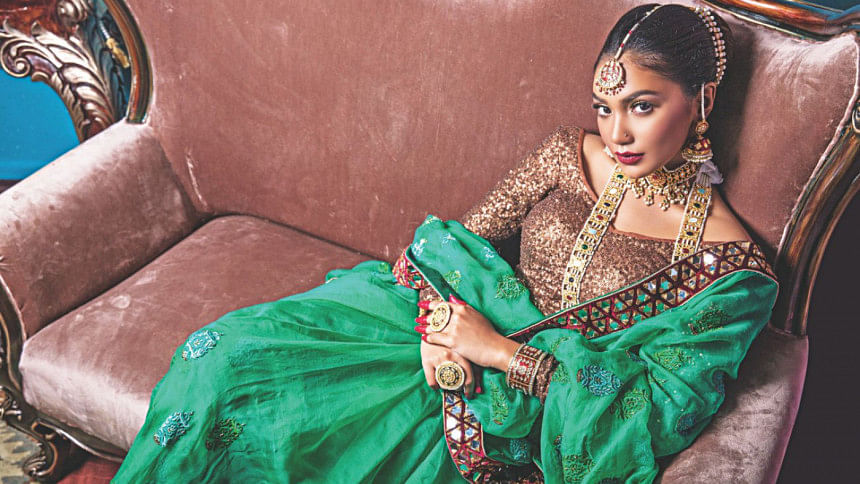 Star Wedding Twenty17 presents to you its special wedding portfolio with stunning looks and dazzling trousseau. With romance building up in the air for the wedding season; passionate poetry and remarkable photography only adds fuel to the fire. 

Indulge in our bequest to provide you with the best of the season.

Hope you have a great time browsing!
Model: Azra Mahmood  

Wardrobe: Manik Banarasi

Jewellery: Aaraz

Makeup and styling: Farzana Shakil
---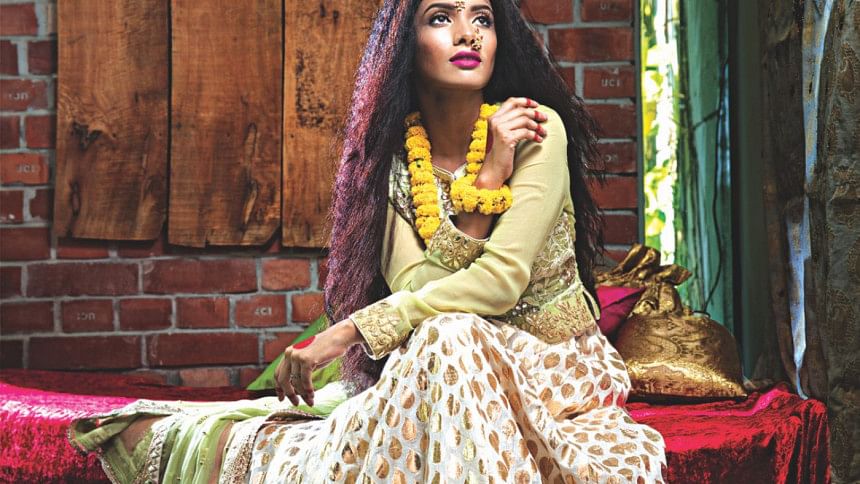 There is nothing more beautiful in the world than the eyes of the woman, so true in love.

Her smile gives up the secret of her admirer, as her puerile whispers give up the riddles of her heart;

There is nothing more beautiful in the world than the longing of the woman, so true in love.
MMC
Model: Shrabosti

Wardrobe: Sarah Karim

Jewellery: Sparkle
---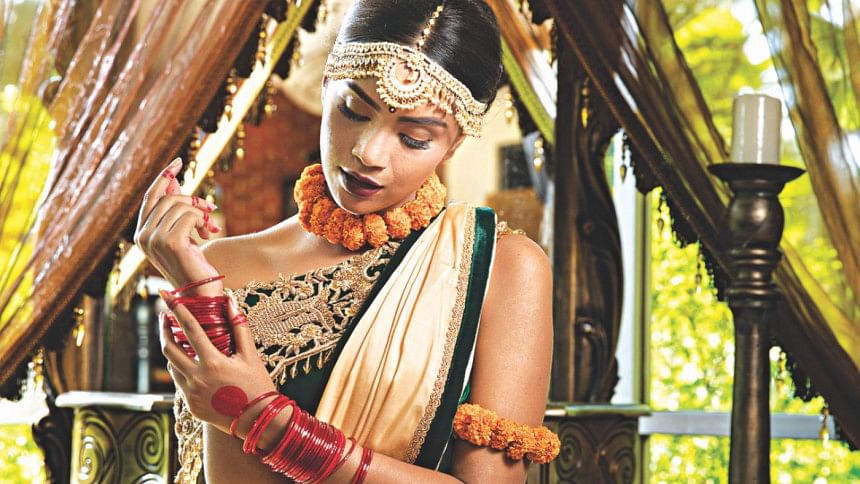 I hadn't been looking, but suddenly I was;

And my eyes were drawn to your face.

And despite countless people and distractions galore

There was only you and I, in that place
M S Moem
Model: Mysha

Wardrobe: Sarah Karim

Jewellery: Sparkle
---
I am a unique woman, 

Contemplating life as it comes;

I do not believe in a gifted life,

Neither in troubled pasts;

Or an anxious future,

I am a strong woman; 

Living my dreams, 

In harmony.
MMC
Model: Sadia

Wardrobe: Sarah Karim

Jewellery: Sparkle
---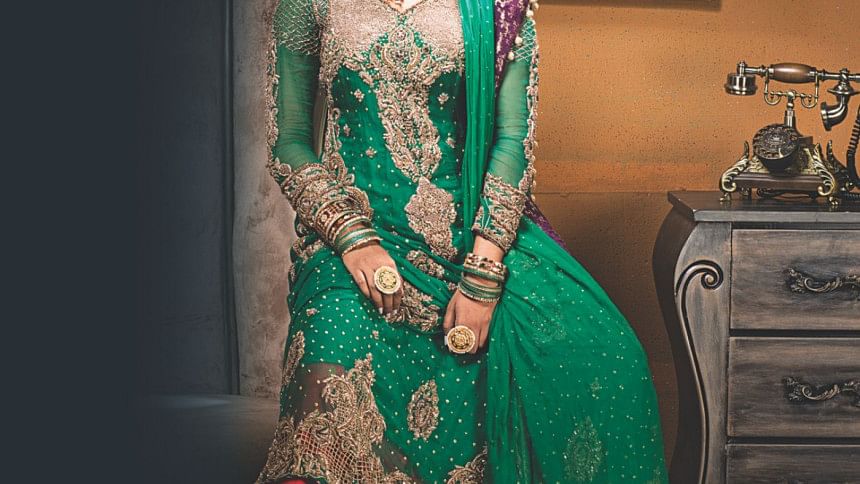 Where is the lover strong enough;

To stand with her in the storm?

Where, the lighthouse heart,

Beaming love's steadfast light,

Unshaken by the raging waves?

Timid men desire a mere wading pool,

For they would drown in such great depth as hers.
J M Green
Model: Azra Mahmood

Wardrobe: Rukhsana Esrar Runi

Jewellery: Aaraz
---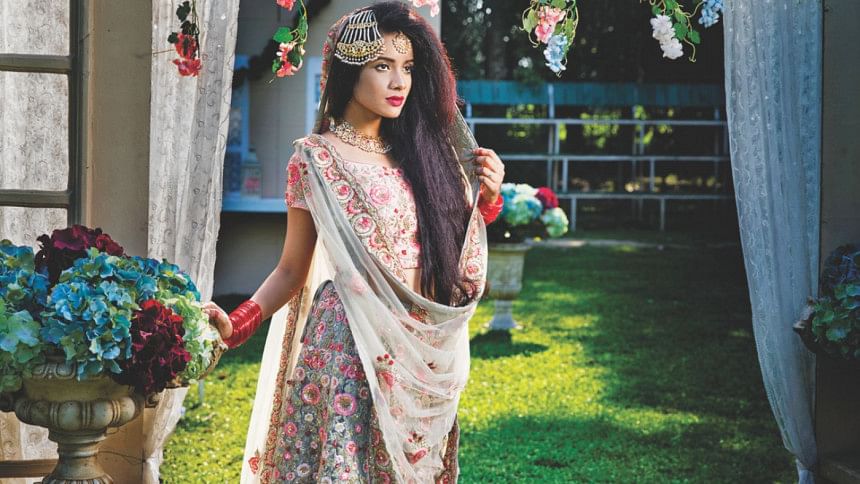 As fresh as a snowdrop in Winter; she resembles all that is beautiful in the world,

With a heart pure in boundless love, she awaits. 

Her prince charming is sure to come; offering pansies and violets in anticipation.

She awaits; with blushed cheeks and a cheerful glow,

Welcoming the unsullied bloom in the snow.
MMC
Model: Shrabosti

Wardrobe: Sarah Karim

Jewellery: Sparkle
---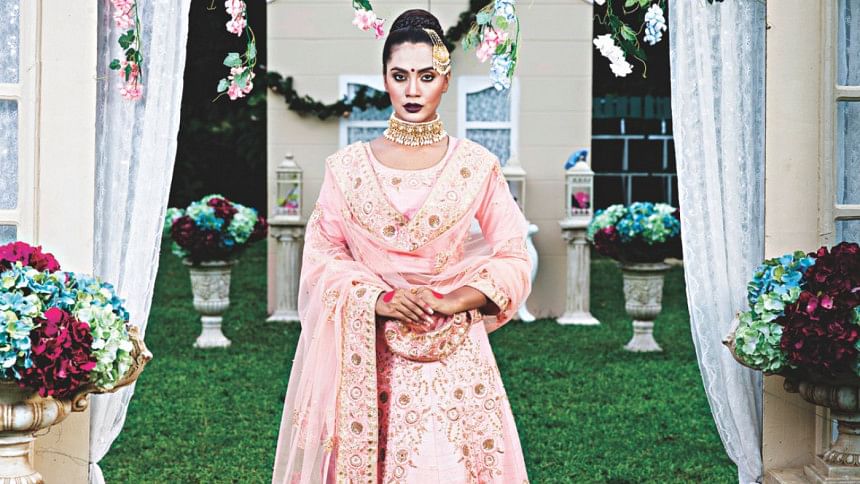 The Bridal Outfit 
Finding the perfect outfit is a process that often entails frustration, anger and in extreme cases, it unleashes the scary bridezilla hiding behind a perfectly sane person! To the uninitiated it may seem exaggerated but seasoned brides will agree unanimously that the right outfit is not only hard to find but it's also rather difficult to choose. Your head says to go for a saree but a lehenga is modern and fun. You want vermillion but the saree you have your eyes on is, well, brick red. Zari is chic but crystals are sparkling.  And add to this chaos the whole Bengali tradition where the groom's family weighs in heavily on this matter! So to make a bride's life easier and give her the perfect wedding she imagined to have all her life, Lifestyle has put together a fool-proof guide to choosing the perfect attire for your big day, minus the tears!
First things first, take a deep breath. Sit somewhere quiet, make yourself a cup of relaxing herbal tea and reflect on the kind of bridal style you like the most. As you gain some perspective, write down the details you want or save reference pictures on your phone. A Pinterest board is very helpful. Take suggestions from friends and well-meaning relatives but know in your mind what works best for you. Sure, your aunt always pictured you in a Benarasi saree but is it truly what you want? So your best friend wore a heavily embellished lehenga with five-foot long train and is pushing you to choose something similar but what about the understated yet elegant mauve Kataan you have always loved and saw yourself in on your wedding day? Learn to trust your instincts and go with them, instead of letting others choose for you. Ask yourself that ever since you were a little girl how did you envision yourself on your wedding day? Your wedding outfit should reflect who you are and let your inner sparkle shine through. After all at the end of the day you should be wearing the attire not the other way round!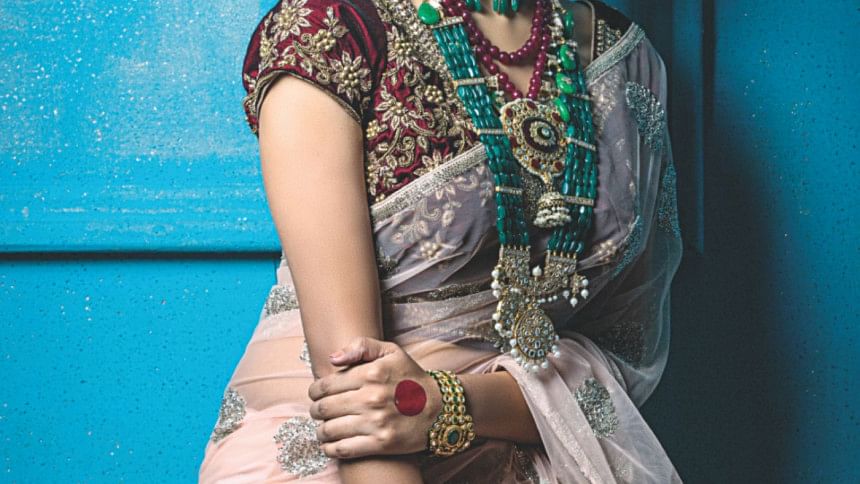 Next step would be to figure out the standing of your in-laws. It is a wise idea to have a discussion with your mother-in-law or someone responsible from the groom's family to know how they want the bride to look. In our culture the wedding outfit is mostly given from the groom's side as a token of their love and affection so respecting their opinion is a way of showing them that you care about their family. Try to be assertive; it's a tricky situation where you don't want to compromise on your vision as well as not hurting anyone's feelings.    
Phew! Having sorted all that out it is go time for you! Here's where things get trickier. There are a few things to consider here. Firstly, take a good look in the mirror. Figure out your body shape, height and skin tone. Bridal outfit is a major decision and it's crucial that you get the right one. Most Bengali brides opt for a saree for the wedding. Tall, statuesque women look best in lightweight sarees, while medium to short ladies can go for slightly heavier ones. Kataan and Benarasi is a popular choice, so is Kanjeevaram and South Indian silks. Short women should avoid wide borders as it tends to make one look stocky. It is a good idea for broad-shouldered women to avoid heavy embellishments on the chest to avoid looking wide. In terms of colors red is the color du jour but of course, rules are meant to be broken. Dusky beauties can opt for bright, rich shades like magenta, bronze or purple which will bring out the inner glow, while fair ones can go for slightly softer shades such as mauve, matte gold or lilac. Brides with medium skin tones can choose coral and fuchsia among other colors. Bridal red is as complicated as it gets. Deep, rich reds with orange undertones is most suitable for darker complexions while medium reds with pink undertones is best for beauties with the best of both worlds. Fairer maidens look best with sedate reds with blue undertones. It is very important to know these details when choosing red as the wrong shade will not yield the best results.
Brides wanting to go a different direction are spoilt for choice. A tall bride can go for a long, fitted jacket-style lehenga with a slinky skirt. This style will make the height a feature and make one look statuesque. Women of medium built and height can go for a shorter choli with a flared ghagra. Petite ladies can go for a fishtail lehenga. Another great choice is the gown-style lehenga. Pakistani Sharara is a fabulous choice and is flattering on most body types, owing to their flowing style. There are a few things to keep in mind when choosing lehenga. The fit is the most important aspect. It should hug you in the right spots and let you move freely. Make sure you do a trial fitting. Slim, petite women should avoid heavy, voluminous, ball gown style lehengas that will look overwhelming on a tiny frame. By the same token curvy women should avoid over-the-top, blinged-out styles.  Crystals look nice in moderation so try not to go overboard. 
Last tip would be to be true to who you are. Whether choosing a saree or a lehenga or something else, let your inner person shine through because it is what sets you apart from everyone else. Be you on your wedding day and dazzle the world with your fabulousness!
By Sabrina N Bhuiyan

Photo: Shahrear Kabir Heemel

Model: Sonia Yeasmin Isha, Sunerah

Wardrobe: Ercole

Jewellery: Aaraz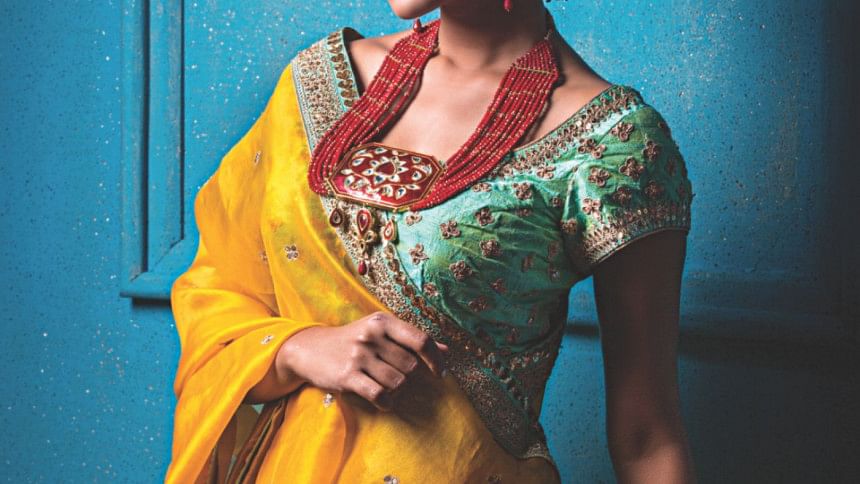 And you my wren with a crown of gold,

You my queen of the wrens!

You the queen of the wrens -

We'll be the birds of a feather,

I'll be the King of the Queen of the Wrens,

And all in a nest together.
Alfred Lord Tennyson
Model: Mysha

Wardrobe: Sarah Karim

Jewellery: Sparkle
---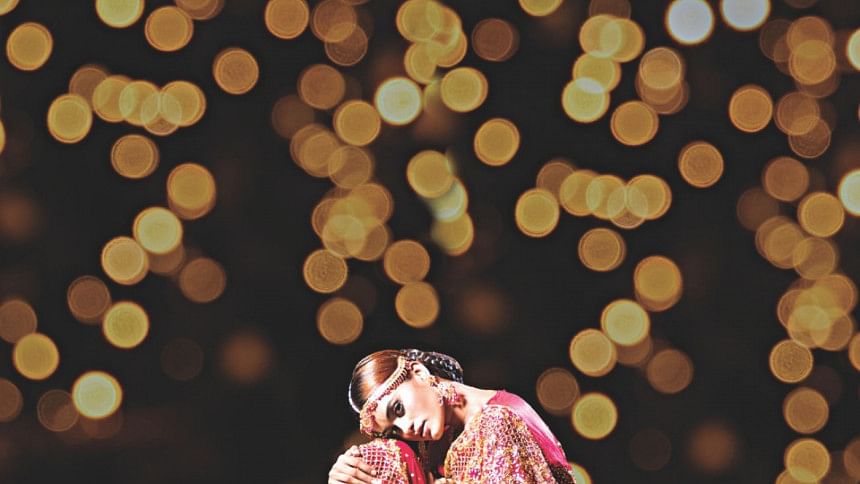 Black Book
Light, so low upon earth, 

You send a flash to the sun.

Here is the golden close of love,

All my wooing is done.

Oh all the woods and the meadows,

Stiles where we stayed to be kind,

Meadows where we met!
Alfred Lord Tennyson
Model: Arpita

Wardrobe: Sarah Karim

Jewellery: Sparkle
---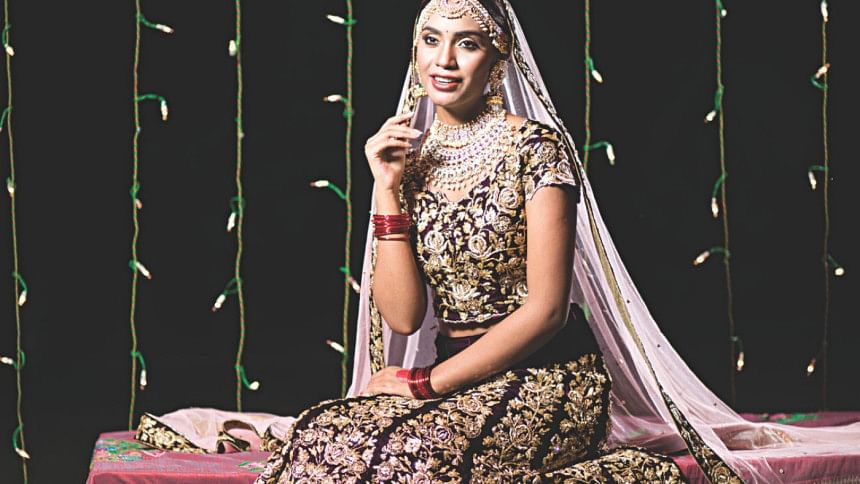 Light, so low in the vale

You flash and lighten afar,

For this is the golden morning of love,

And you are his morning star.

Flash, I am coming, I come,

By meadow and stile and wood...

Heart, are you great enough

For a love that never tires?
Alfred Lord Tennyson
Model: Mysha

Wardrobe: Sarah Karim

Jewellery: Sparkle
---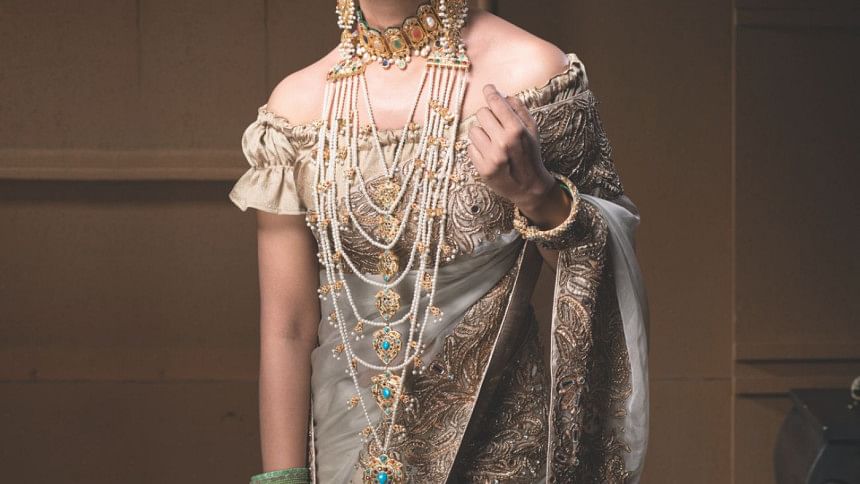 She has secrets

You know nothing of.

Her heart

In unexplored territory,

Her secret soul,

Is virginal still;

She awaits an intimacy,

More exposed than skin.
J M Green
Model: Azra Mahmood

Wardrobe: Rukhsana Esrar Runi

Jewellery: Aaraz
---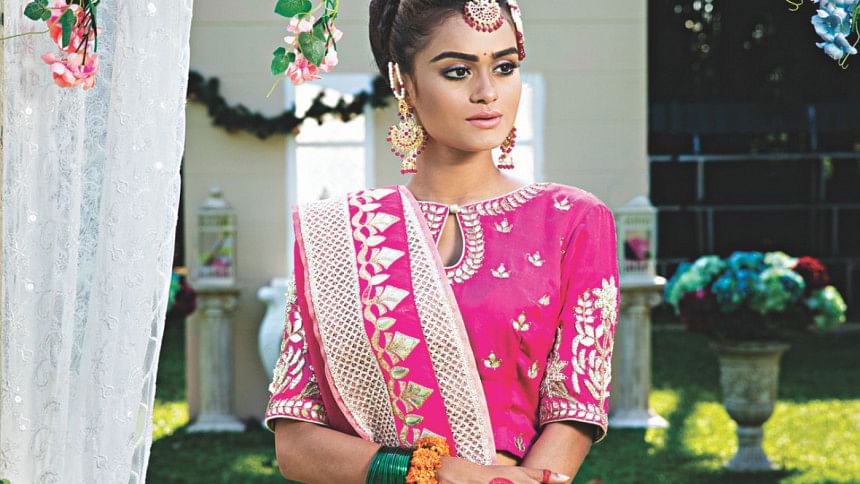 As I gaze into the blackwoods, 

I think of you;

In your black tuxedo and sturdy smile,

I blush a little;

clad in my magenta sari

Just as you like it,

I wait for you;

To fly me off to paradise. 



MMC



Model: Arpita

Wardrobe: Sarah Karim

Jewellery: Sparkle
---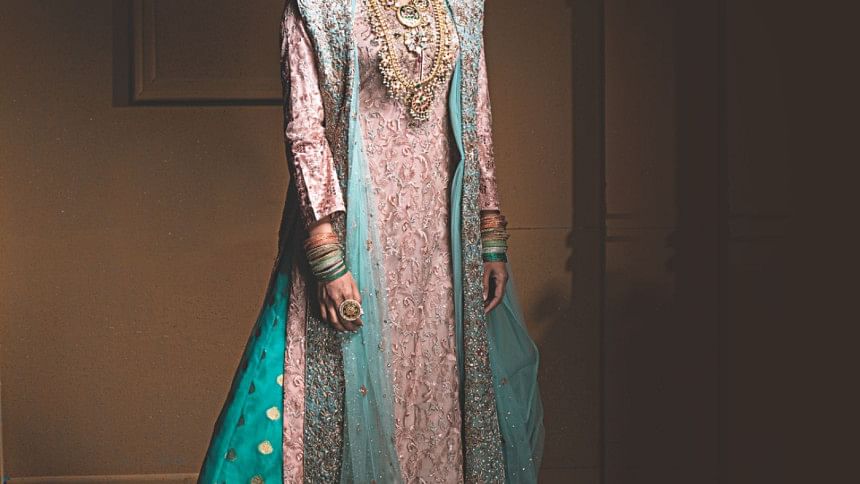 I would live in your love as the sea-grasses live in the sea,

Borne up by each wave as it passes, drawn down by each

Wave that recedes;

I would beat with your heart as it beats, I would follow your soul as it leads.
S Teasdale
Model: Sonia Yeasmin Isha

Wardrobe: Rukhsana Esrar Runi

Jewellery: Aaraz