Wedding special
Bottom's up your wedding shoe guide
It's that time of the year again – the big day is coming towards you at full throttle and there's a hundred different things that you are running after. But, have you had the time to pick out your shoes for the wedding yet?
If that has piqued your attention, then do read on! For this wedding season (and the coming ones), Apex Footwear has some tips for the soon to be newlyweds.
Wedding footwear is an integral part of the bridal trousseau and the options are endless. Stilettos embellished with rhinestones studs or beautiful metallic flowers — these are definite choices for the bride who wants to give off the runway vibe.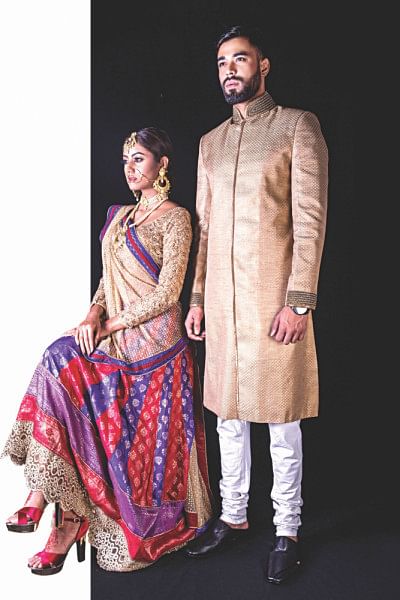 Gorgeous platform heels and block heels are for those who want to balance style with comfort. Gold heels will most definitely go with most of the bridal outfits or if subtlety is preferred, brides can choose ivory or muted gold tones or even blush gold. These can be paired beautifully with pastel coloured outfits as well. For the traditional bride, an eye-catching red is the perfect match for the quintessential red Banarasi sari.
For grooms, the footwear will vary according to their wedding day wear, be it panjabi, sherwani or a tailored suit. Leather sandals, for the elegant and chic groom who has an eye for fusing tradition with subtle high-end fashion, will complement a sherwani. On the line of sandals, a panjabi can be paired off with gladiator sandals to truly stand apart from the crowd.
For those going with a tuxedo with a black bow tie, the best possible choice is patent leather shoes. Black, formal, lace-ups add a suave outline to the overall look.
Instead of lace-ups, slip-on leather loafers are also a practical choice.  Penny loafers are a particular favourite since these can be worn for other semi-formal occasions as well.
For stylish and seriously cool wedding shoes, monk-strap shoes are the ideal choice. With a single strap or double straps, these exude charm and class to go with a well-tailored suit.
The most common wedding shoe of choice for grooms these days are wingtips. Choosing these give off a sophisticated, yet universally recognised look.
Remember, all the attention will be on you so make sure your shoes match your outfit to leave a lasting impression of perfection. That being said, wedding shoes have several functions beyond fashion. Your shoes should not just look good on your wedding day, they need to be comfortable so that you can feel your toes the next day!
Photo: Shahrear Kabir Heemel
Model: Oshin and Abdullah Al Mahfuz
Footwear: Apex Footwear Limited
Wardrobe: Warez