A TERRESTRIAL OMNIBUS: When the Mango Tree Blossomed
When the Mango Tree Blossomed: Fifty Short Stories from Bangladesh. Edited by Niaz Zaman, Nymphea Publication, 2021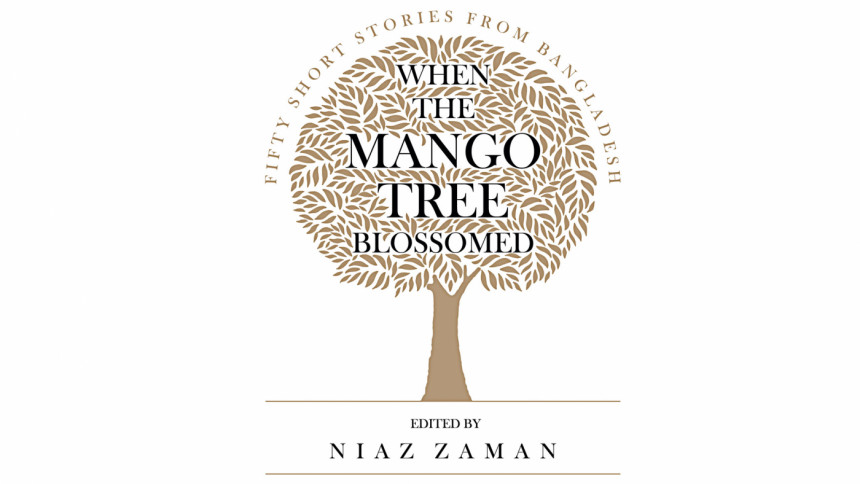 When the Mango Tree Blossomed is a voluminous compilation of, as the book's subtitle proclaims, fifty short stories from Bangladesh, edited by Niaz Zaman. Zaman, an educationist and former Dhaka University Professor in the Department of English, is a writer of short stories, a novelist, and a publisher of note. Her monumental presentation in the form of When the Mango Tree Blossomed is, as she explains in the Introduction, a contribution to the celebration of the golden jubilee of Bangladesh in 2021.
In consonance with the first fifty years of Bangladesh's existence as a sovereign independent nation-state, the book offers fifty stories crammed inside 700-plus pages, and grouped under six themes, namely, Beyond the Shade of the Mango Tree, Village Matters, Across the Seven Seas, Metropolis Moments, Vital Signs, and Other Lives, Other Loves. Thirty-three of the stories were written originally in Bangla and then translated into English, and the other seventeen were written originally in English. The editor's hope is that, "Taken together…the stories will give the reader a picture of Bangladesh." She further elaborates: "Though many of the stories are about 1971, this is not a book only about 1971, nor are all the stories located in Bangladesh.  There has been a Bangladeshi diaspora and a few stories, by diasporic writers, reflect this.  Most of the stories are, however, situated in Bangladesh."
The book leads off with an interesting story by Nazrul Islam ("21-2-2121"), who interweaves the event of 21 February 1952 with the story's protagonist Ornob's experience with time travel. The author also comes up with this trenchant observation: "Wherever any sizable number of Bengali population lives, there is sure to be a Shaheed Minar of some sort…."  Syed Manzoorul Islam ("Seventy-One") writes a story based on the events of 1971, and comes up with an observation depicting the character of the aggressors in occupied Bangladesh: "no matter what the tiger was, he was not as savage as the Pakistanis."
The first section, Beyond the Shade of the Mango Tree, contains a series of stories related to the armed conflict in 1971. Some of them are rather ordinary, while a few others should attract reader appreciation. Anwara Syed Haq's "A Story That I Heard" contains, in the context of the Liberation War, this observation about Bangladeshi villagers: "No matter how late at night it is, the ears of village folk stay alert; their eyes are like torches." Rashid Haider's "Address Uncertain" is a moving story depicting turmoil of the human soul during times of privations and conflict. Humayun Ahmed's "Jalil Saheb's Petition" depicts outcomes necessitated by force of circumstance, and comes up with a few sterling observations on human nature, like, "Those who are timid will always find something to fear," and "It's always pleasant to think about one's homeland when one is abroad."
Shaheen Akhtar's "Amirjaan Bibi's Reception" is a poignant tale of a female freedom fighter's myriad plights, including this one in terms of the print medium: "Instead of writing about her heroism, in order to increase sales, the papers would fabricate a horrific story of half-truths about an unheard-of birangona's anguish at the hands of the Pakistani army. As a result, stories of bygone times would resurface like dead fish floating in a pond." Syed Shamsul Haq's "Another One of Our Martyrs" is an absorbing tale of religious bigotry, tall tales, and tragedy set around the observance of Ekushey February. Sohana Manzoor's "The Hawk with Gold-Tipped Wings" is an interesting allegorical tale, dealing with family secrets, gossip and reality.
Niaz Zaman's "The Monster's Mother" is an arresting study of a mother and her terrorist son (the monster) who, after committing militant acts and then being killed himself, still finds the love of his mother (the eternal caring mother) even if she had only to "remember the little boy who had been her delight."  One can find here echoes of the infamous Holey Artisan Café attack in Bangladesh on July 1, 2016 that resulted in the loss of many lives.  Saleha Chowdhury's "The Disappearance of Gopal Maker" dwells on some serious thoughts on religion, much of it through the underlying humour used in a simple story.  Rizia Rahman's "Mother Fatema Weeps" is a well-constructed story primarily depicting age-old prejudices against women at work trying to make it by herself, as well as, in the process, scapegoating the NGOs in Bangladesh.  "It was because of the money of the NGOs that these eternally downtrodden women had become infected with such audacity."
Hasan Azizul Huq's "The Vulture" is an absorbing story revolving around the hunting down of a vulture by some young village boys, but containing a twist in the tale. Syed Mujtaba Ali's "Sweet and Savoury" contains bits of acerbic humour that he is known for.  For example, "My belief is that God has created the Red Sea minus the fourth basic element --- air.  If there is ever a breeze blowing on that sea, it must certainly be paranormal."  And, "The French can't differentiate between Chinese, Indians and Arabs.  The way we find the Chinese, Japanese and Burmese similar."
In Alauddin Al Azad's "The Madonna," the author provides an answer to his own query of, "How did Prodosha manage to create his masterpiece simply with coal?"  It is a riveting story.  Makbula Manzoor's "In the Urban Jungle" is a timeless tale of misery and its myriad consequences in rural communities in Bangladesh. "The Night Queen" by Jharna Das Purkayastha is ostensibly about the death of two slum children from eating rotten rich food given away by some rich people living outside the slum boundaries. The slum leader poses a timeless question that has far greater ramifications than its apparent simplicity: "Don't they consider us human beings?"
Selina Hossain's "The Conjunction of Time" begins with a conversation that has a philosophical ring to it:
"Ma, why don't you reply?  Tell me why you loved birds more than people."
With a faint smile, her mother had said, "You'll understand as you grow older."
This sad tale brings out the consequence of fate going sour on a person.
Razia Sultana Khan's "The Anklet" is a tale told through an Epilogue through to a Scene 9 and climaxing in Scene 1. This rather unusual configuration tells the tale of the lascivious behavior of male relatives preying on their often helpless female kin. An unusual tale, true, but not a wild one!
Syed Waliullah has written a profound philosophical story about a dying man in "No Enemy." This small piece concerns itself with large issues that likely would set many readers thinking about key aspects of life and living.  A dying old man "who should have been in bed waiting to die peacefully, with his near and dear ones around him, they praying and crying, and he thinking of God," instead "had as his last destination the house of the man he wanted to meet most of all.  This man was no friend. As a matter of fact, this man was his enemy." Farah Ghuznavi's "Losing Bindu" is a larger composition and is about the complexities of conjugal life and the possible negative outcomes that could result because of functions and/or dysfunctions of the protagonists and circumstances. This story should cause many readers to stop and ponder a while on life and some of its harsh realities.
Mahbub Talukdar's "A Human Being" is a story about a human being's self-introspection.  The opening few lines should arouse the curiosity of the reader regarding the story's content. "I am a human being. But am I really a human being? At this juncture of life, I ask one question again and again: If I am a human being, why isn't my life like that of other human beings? Why am I different from others?... Is there anything more powerful for human beings than crying?" A Human Being answers, or tries to, many issues associated with the queries.
When the Mango Tree Blossomed is a monumental undertaking and Niaz Zaman deserves all the plaudits for having undertaken this venture. The symmetry is a nice touch: fifty stories from Bangladeshi writers presented on the fiftieth anniversary of Bangladesh's liberation as a sovereign independent nation-state. The book's get-up is of a high class, even though the presentations are distinctly uneven. When the Mango Tree Blossomed has provided a lot of mangoes, of varied sizes and diverse qualities, ranging from bland to exquisite, but eventually, in terms of weightage, bringing a satisfied smile to the reader.
Shahid Alam is a thespian and Professor, Media and Communication department, IUB.