"Law and Order", a translation of Humayun Ahmed's 'Srinkhala'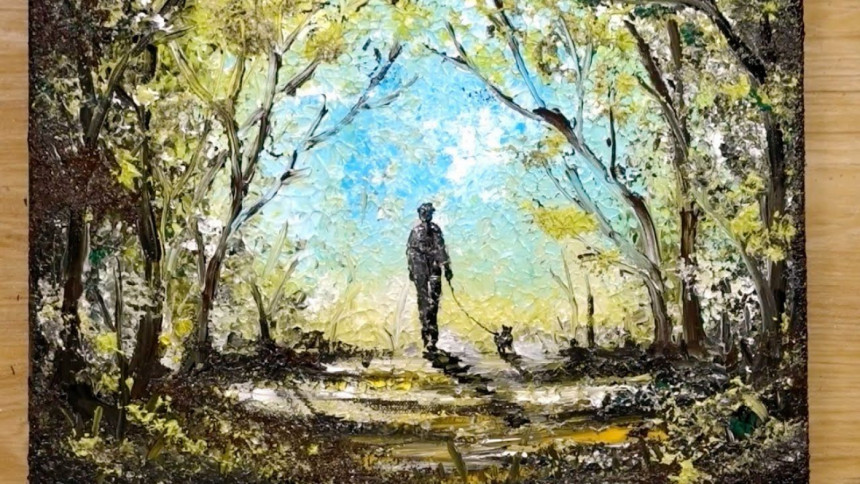 It'd been a while since Nasu was awake, unwilling to get his head out of the comfort of his bedsheet. No job, hence no rush. Besides, inside the sheet it felt warm. Cosy and peaceful. Secured as well. He had no idea how and where the piece of cloth popped up from. Was it somewhere and someone around the night? He couldn't quite remember, not that he was bound to. It's not like his life depended on it. Set in a comfortable coil, he felt like stretching out his left toes. But there was one problem, the chance of an uncovered leg. Would it be safe? The world is tough, you know. Who knows what comes about, how and when? And so before going into it, confirming if everything was in order was necessary. A soft graze should be felt. And if the furry creature yapped, then yes, everything was in order indeed.
A faint woof was followed by a series of small whines as soon as his legs came in contact with the dog. Perfectly sorted, yes. Law and order maintained. The dog did what it's supposed to do. A day of complete control was about to start. Just to make sure, he kicked the canine carefully again to which it returned a routine response. Ah, the exquisite reaction!
Nasu finally took a peek out of the wrap. A vast and clear view of a crystal blue sky welcomed him. So blue that it hurt his eyes and made him nauseous. Nasu turned aside and looked directly at what was in front of him. A street full of walkers, rickshaws, motor vehicles whooshing by. How lovely it was, to see life happen! Nasu didn't blink, not that he could. As if one small wink meant the end of the world! After all you never know what miracle you could miss in a fraction of a second.
Nasu stroke against his hips gently. A quick check to make sure he was covered. In case of an emergency, the shroud at hand would work. You cannot walk around naked nowadays. There would always be some of those who hate nude men walking. Even one occasional blow or two to the head was not uncommon. Frankly, that's how it had always been now that he remembered. 
Thankfully, a pair of pants was covering his legs. It had a piece of rope tied around the waistline instead of buckles. Tightly zipped. Well, someone did it because most definitely he was a not a master of intricate knots. Funny how he didn't like when the world he knew had any hints of looseness in it. Discipline, now that's what he liked. 
Take for instance, he used to visit girls' schools quite often — which he had to quit simply because it caused chaos — something he abhorred. Those delightful young faces looked remarkably fresh as they walked towards their school — precise, smiling and in uniforms. What a view! Even the way they talked had a rhythm to it- "Would you look at that weirdo! Oh, he is smiling. That crackhead smiles at us! How strange! Haha!"
And Nasu smiled alright. Why not enjoy when such orderly a sight happens before your eyes? But that smile cost him a lot. People began to take note of his strangeness. There would be heavy slaps and smacks like there was no tomorrow. And, oh the repulsive words that came with them, "Haramjada, if we ever find you anywhere near the school compound again, you are dead. Girls' school of all places, huh? Will scoop your eyes out the next time, twat!"
Nasu had to agree. He had to agree that he would not cause a mess. He promised to abide by their golden rule of discipline. 
It only makes sense that a mentally ill man needs to have the law laid down to him more effectively than any of us, don't you think? Anybody else could be an exempt, but not a madman who ensures that there is nothing imbalanced about this situation. Like any other man of the street, Nasu wanted a life free of troubles. Bearing witness to a world of structures, that's what he wanted — with the black dog snoring away the night by his side. What more could he want? Two meals a day was not hard to manage either. Hotel owners love lunatics for some reason. They help the business thrive. At least that's how the saying goes. Usual food units are divided with one crackhead per area. For one community clown, there would be one local restaurant. The one for Nasu went by as "New Dhaka Kebab House." Deep at night he would stand silently near the kebab house. And the owner would know instantly what he needed without him speaking, "Nasu pagla is here," screaming out to one of his waiters. Almost immediately half a big bowl (enamel) of food would be served for Nasu. The huge amount of wasted food the customers left ended up being on Nasu's plate. Seekh kebab, nan rooti, some paratha as well. Some grilled chicken when he was lucky. Nasu's dog was a grateful recipient of some of that too. Both seemed to enjoy their meal immensely as they would keep diving into it without words. The restaurant owner, however, loved to banter with his special guests. Not that Nasu was fond of it, but he replied briefly. After all, that was expected. The kind host liked to listen to him, it seems.
"How is it going, Nasu?"
"Good."
"Leaving for hometown any soon?"
"As soon as I am cured."
"Who lives there again?"
"My wife. My kids."
"Where is that village?"
"Don't remember."
"How will you go there if you don't know where it is?"
"My wife will come and take me with her." 
The businessman laughed his heart out as loudly as possible at the humorous words of the insane man. Everybody in the hotel joined him. Nasu always had a hard time figuring out exactly what triggered them into a barking fit of laughter. He was out of his mind one day and his wife decided to leave him in Dhaka on his own. That is the rule, didn't they know? It's easier said than done to care for a deranged man. He had to find home somewhere else, preferably in a city as big and wide as Dhaka. His wife did the right thing. Besides, he had no problem surviving as food and shelter were readily available. He was content.
His wife left him and when it's time, she would find him. It was as simple as it could be. What was there to laugh then? Nasu tried not to take the passing remarks seriously. But he didn't express his vexation. You see, madmen like him need to learn the value of self-discipline. They cannot give vent to unbridled emotions like regular people. 
"Is your wife pretty, Nasu?"
"I would say so."
Everybody laughed in unison. Nasu failed to understand the meaning behind it for the second time in a row. Is it illegal for a mentally unbalanced man to have a beautiful wife?
Nasu had already planned on bringing his wife to this restaurant once she came here. It would prove that he was not a liar.
"What's her name?"
"I won't say."
"Why? Don't you remember?"
"I do, but I won't mention it in front of strangers."
"What's wrong with that?"
"If I do, she will betray my trust."
A chorus of hard, roaring laughter followed before he could finish his sentence. Nasu felt the same unnamed resentment as it continued.
"Just once, Nasu. Once and that's it. If you say her name, I will give you a pack of Five-Five cigarettes." 
"As I said, NO."
Nasu looked at them wearing a sudden somber expression on his face. He might be mad, but not so mad as to reveal his family's name and thus ruin her honor before some unknown men. No problem if it was one of his children, but not his wife. Although he didn't remember any of the names of his boys, he distinctively remembered his wife's. Sarufa.
But it is also true that he didn't try very hard to remember her. Usually, he was busy strolling around the city all day long, relishing its harmonious discipline. Eventful and meaningful events happened every day. And he was always fascinated by them. For instance, he just learned a couple of days ago that when a traffic police raises his hand, rickshaws and other vehicles have to halt except bicycles. He had been living here for as long as he could remember but this little bit of knowledge came off as a pleasant surprise. How strange! The traffic system can control trucks, buses, rickshaws and automobiles of dangerous sorts but not a bicycle of simple nuts and bolts. 
But doesn't that mean an act contrary to the law? Nasu hoped in vain that his dog would understand it someday though he knew it was impossible, that dogs would never learn how beautiful balance and lawfulness can be. He felt pity for the ignorant dog. He had thought of taking his four-legged friend with him if and when he left. There might not be plenty of good food like here in the countryside, but one cannot just abandon a life like that.
That day Nasu kept walking as long as he could, as hard as he could. The glorious city and its orderly beauteousness amused him. The footpath served nicely during the night for a temporary resting place. He slept peacefully. Just sometimes it so happened that he woke up in a frantic drowse of unknown terror, desperately wondering if everything was in order. For what would seem like an eternity of confusion and crippling anxiety, he felt like screaming at the top of his lungs. And exactly then the familiar sound of the dog whining by his side confirmed him that there was nothing to be afraid of. Out of sheer relief, he would lower his voice and speak to the dog. He knew very well the dog understood nothing but gave him a chance anyways. "When my wife comes, you will leave with me. No worries. Her name is Sarufa." He would feel his ears turning red at the mere mention of her name but then decided to continue. As he spoke, he would realize the dog was staring at him wide-eyed, vacant and dumb. Why cause a commotion in his quiet existence? Nasu thought for a split second. For no reason at all.
Nishat Atiya is a Lecturer in the Department of English at the University of Dhaka.