Stiff competition for selection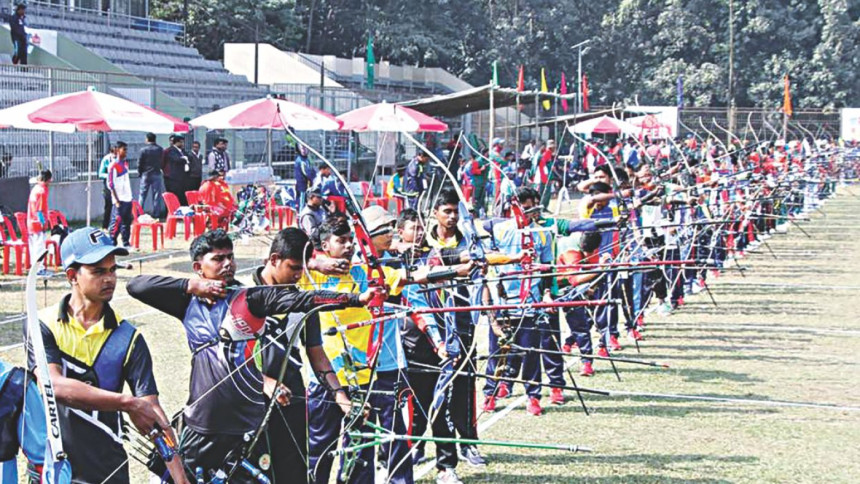 The top archers of the country reached pre-quarterfinals stage in both recurve and compound events on the opening day of the Teer 9th National Archery Championships at the Shaheed Ahsan Ullah Master Stadium in Tongi yesterday.
Ahead of long-term training for national archery teams sponsored by City Group, the championships have turned into a really competitive one, with archers fighting it hard to grab attention of the selection committee for inclusion into the national team.
The country's top recurve archer Roman Sana set a new national record yesterday, scoring 654 out of 720 points in the qualification round, surpassing his previous record by two points. However, his score was 12 points less than what he had achieved in the Asian Archery Championships held in Dhaka in November 2017.
As expected Sana, Tamimul Islam, Hakim Ahmed Rubel and Ibrahim Rezowan, all part of the national team in November's event, won their respective matches to book pre-quarterfinals berth in men's recruve bow event, which will be held today.  Roksana Akter, Susmita Banik, Bonna Akter and Bipasha Akter, who fought for the bronze medal match in the compound team event of the same championships in November, also moved to the pre-quarterfinals stage in women's compound events.     
The fight for men's recurve bow title is usually confined to within four national players, but the scenario is different this time due to the return of experienced archers Sheikh Sajib and Durul Huda, both of whom did not take part in the selection process for November's event due to exams.  However, they are back and posing threats to the national archers by having confirmed pre-quarterfinal berths.
Sana admitted that they are facing tough challenge in every stage because all archers are determined to deliver their best to draw attention of the selection committee.
"To be honest, my heart starts pumping when I take part in competitions at home even though I do not feel any pressure competing in international events because all local archers are determined to beat each other, whether it is the ranking round or the elimination round," said Sana, who became 11th out of 79 archers in the ranking round of Asian Archery Championship.
Sana believes the national archery championships are getting more competitive every day because a lot of archers are coming up and there is no way to take those competitors lightly anymore.
"You can say top 16 archers in recurve bow are very good and they have the ability to upset anyone. Archers from Army, BKSP and a few clubs are doing well at this level," Sana said. "We had previously competed against only a few good archers but this time we are fighting against some 20 good archers."
Sana, who had also qualified for the quarterfinals in men's recurve bow event in 19th Asian Archery Championship in Thailand in 2015, believes the national team will be a strong one and produce good results in near future.