Sri Lanka's rising stars dream of emulating class of 1996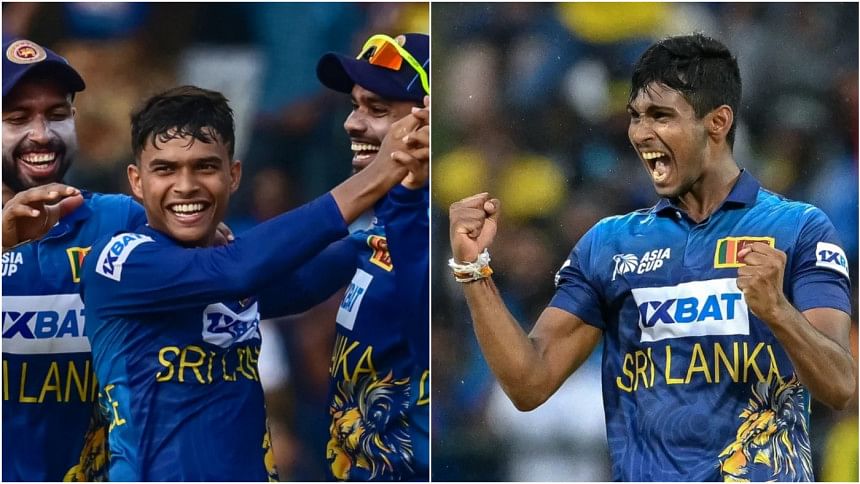 When Sri Lanka clinched a shock 1996 World Cup triumph, Dunith Wellalage and Matheesha Pathirana were not even born, but the rising stars head to India determined to repeat the victory.
Both aged 20, fast bowler Pathirana and all-rounder Wellalage are undeterred by facing childhood heroes at the tournament that opens on October 5.
"We are looking forward to bringing the World Cup back to Sri Lanka," Pathirana told AFP.
"I want to win as many matches for Sri Lanka as I can."
The island nation is still hurting from the drubbing by India in the Asia Cup final this month in which they were all out for just 50 runs.
But Wellalage is confident that with the preparations they have undergone, Sri Lanka can do well at the World Cup.
"We have players with the experience of playing around the world," he said. "We plan it match by match... I think we can give a good account of ourselves."
Wellalage produced his best performance in one-day internationals in the Asia Cup match against India in Colombo on September 12, taking 5 for 40 although India went on to win by 41 runs.
"From my childhood, the player I adored is Virat Kohli," he said.
"To take his wicket gave me a lot of satisfaction. After I got his wicket, I couldn't believe that I had done it."
'Simple plans' 
Wellalage approaches the game seemingly unruffled by the pressure on his young shoulders.
"If you handle the situations correctly, batting becomes easy," Wellalage said, who captained Sri Lanka in the U19 World Cup last year, scoring a century and claiming 17 wickets.
"When I get out to the middle, I always stick to simple plans," he said.
"If there is a senior player at the other end, I try to support him," he added.
"Otherwise, I try and rotate the strike as much as possible, reducing risky shots and try and put the pressure back on the bowling side."
Both young men credit their family for their swift rise.
Wellalage was handed his first bat aged five by his mother while his father, himself once a talented schoolboy cricketer, acted as bowler.
Pathirana's car salesman father is a diehard cricket fan, who instilled an early love of the sport.
Nicknamed "Baby Malinga" for his slingy action reminiscent of veteran bowler and compatriot Lasith Malinga, Pathirana said he perfected his unusual swing by playing baseball.
"From my childhood days I never bowled with the usual bowling action", he said.
Playing in the Indian Premier League (IPL) for Chennai Super Kings brought Pathirana under the watchful eyes of skipper MS Dhoni.
"I learnt a lot from Dhoni. When I went there, I was a kid and no one knew me, but they trained and taught me several things," he said.
"Now, I know how to perform in any T20 game, and how to balance my four overs in a match. Dhoni told me; if I keep my body away from injury, I can achieve a lot for the team and the country."
'Strength to strength' 
Still, Pathirana acknowledges he is yet to master his unique arm action and bowls more wides than he wants.
"The coaches don't put pressure on me, they say that with my action, I will improve with age," he said.
After playing for the Under-19s at the 2020 and 2022 World Cups, Pathirana was fast tracked by Sri Lanka Cricket.
"I got a break to play in the Abu Dhabi T10, after that I played in the IPL, and with the IPL experience I graduated into the Sri Lanka team," he said.
Head coach Chris Silverwood called Pathirana a hard worker with a "big future".
Others have high praise for Wellalage too.
"He is a real star in the making who can do special things", said former India cricketer-turned-commentator Dinesh Karthik.