Rashid spin holds key for Afghanistan at World Cup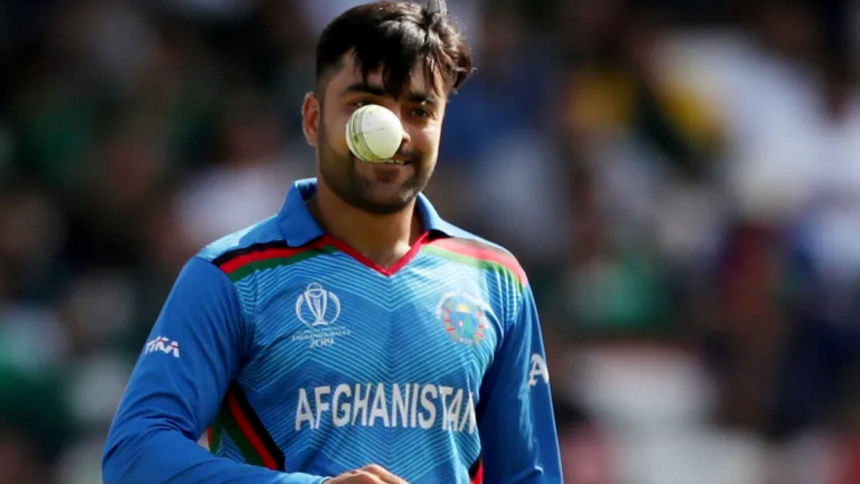 As a boy growing up in Bati Kot, an arid village in rural Afghanistan, Rashid Khan dreamt of becoming the family's first doctor.
But as one of 11 boys -- a cricket team -- in a typically extended Afghan family, he was soon put to work bowling against his brothers.
When the weather stopped them from playing outdoors, they played pick-up games in the corridors of the family home.
The narrow confines helped Khan develop his trademark whirling action that has turned him into the world's top Twenty20 bowler and one to watch at the World Cup in India this month.
"My speed, my quick wrong 'uns all developed playing at home," 25-year-old leg-spinner Rashid said in a recent interview.
"If I bowled like a normal wrist spinner it would turn slowly -- my brothers would defend easily. I had to do something different, so I developed variations."
Rashid first caught the eye of selectors as a hard-hitting batsman who could also bowl -- like his idol, former Pakistan allrounder Shahid Afridi.
"Afridi is one player who has fans all over the world," said Rashid.
"Check his record, he doesn't have many centuries, but whenever he arrived he would hit four, five, six sixes... entertain and leave."
Nawroz Mangal, Afghanistan's first international captain, spotted Rashid's talent in domestic competition.
"Pakistan great Inzamam-ul-Haq was our coach in 2015 and when he saw Rashid he was like 'What a player he is', and got him selected on the tour of Zimbabwe," recalled Mangal.
Aged just 17 Rashid took one wicket in Bulawayo on his debut but his action, guile, and economy were quickly noticed.
Two years later he was signed for the lucrative Indian Premier League, catapulting him into stardom and turning him into one of world cricket's leading franchise players.
Rashid has played in Twenty20 leagues around the world, with contracts in the Caribbean, Australia, North America and Asia.
He won the International Cricket Council's award for best player from an associate nation in 2017.
The next year Rashid became the fastest bowler to 100 ODI wickets, taking just 44 matches, before being bettered by Nepal's Sandeep Lamichhanne by two games.
For all his success, Rashid's first World Cup in 2019 was a disappointment with just six wickets on unresponsive British pitches in nine games -- all of which Afghanistan lost.
He was belted for 110 runs in nine overs by England at Old Trafford -- including 11 sixes, the most off a bowler in an ODI.
But Rashid believes the more spin-friendly Indian wickets at this World Cup will give him the stage to shine and he hopes he can inspire the next generation of Afghan cricketers.
"If you work hard and believe in yourself, you can reach wherever you want to," said Rashid, who now has 172 ODI wickets with a best return of 7-18 and a miserly average of 19.53.
"It's a good example for all those youngsters who have just started."