New Zealand ease past Netherlands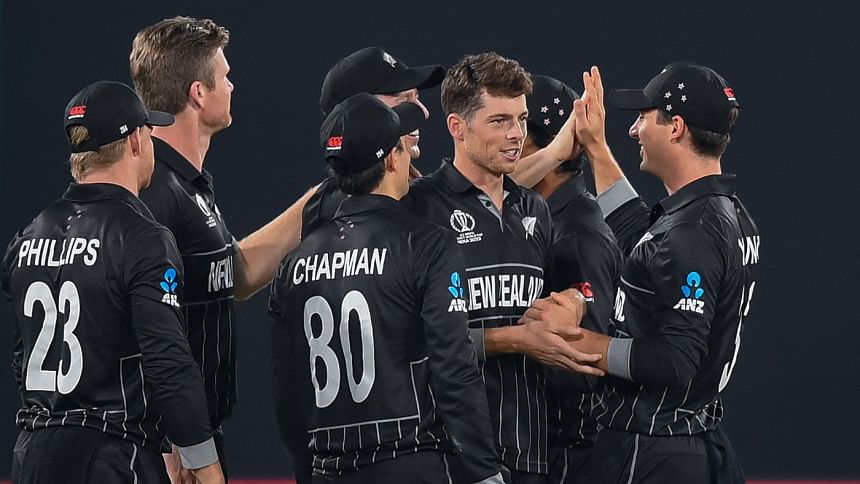 New Zealand defeated the Netherlands by 99 runs to secure a second successive win at the World Cup on Monday.
Set a target of 323, the Dutch were dismissed for 223 in 46.3 overs with Colin Ackermann making 69 and left-arm spinner Mitchell Santner claiming 5-59.
For New Zealand, who defeated champions England by nine wickets in their opener, Will Young (70), captain Tom Latham (53) and Rachin Ravindra (51) all made half centuries.
Scoreboard 
New Zealand
D. Conway c de Leede b van der Merwe  32
W. Young c de Leede b van Meekeren    70
R. Ravindra c Edwards b van der Merwe 51
D. Mitchell b van Meekeren            48
T. Latham st Edwards b Dutt           53
G. Phillips c Edwards b de Leede       4
M. Chapman c van der Merwe b Dutt      5
M. Santner not out                    36
M. Henry not out                      10
Extras: (lb3, nb2, w8)                13
Total: (for seven wkts; 50 overs)    322
Did not bat: L. Ferguson, T. Boult
Fall of wickets: 1-67 (Conway), 2-144 (Young), 3-185 (Ravindra), 4-238 (Mitchell), 5-247 (Phillips), 6-254 (Chapman), 7-293 (Latham)
Bowling: Dutt 10-2-62-2 (1w), Klein 7-1-41-0 (1w), Van Meekeren 9-0-59-2 (1nb), Van der Merwe 9-0-56-2, Ackermann 4-0-28-0, De Leede 10-0-64-1 (6w, 1nb), Singh 1-0-9-0
Netherlands
V. Singh b Henry                      12
M. O'Dowd lbw b Santner               16
C. Ackermann c Henry b Santner        69
B. de Leede c Boult b Ravindra        18
T. Nidamanuru run out                 21
S. Edwards c and b Santner            30
S. Engelbrecht c Conway b Henry       29
R. van der Merwe c Henry b Santner     1
R. Klein lbw b Santner                 8
A. Dutt b Henry                       11
P. Meekeren not out                    4
Extras (lb1, nb1, w2)                  4
Total: (all out; 46.3 overs)         223
Fall of wickets: 1-21 (Singh), 2-43 (O'Dowd), 3-67 (de Leede), 4-117 (Nidamanuru), 5-157 (Ackermann), 6-174 (Edwards), 7-180 (van der Merwe), 8-198 (Klein), 9-218 (Engelbrecht), 10-223 (Dutt)
Bowling: Boult 8-0-34-0 (1w), Henry 8.3-0-40-3, Santner 10-0-59-5, Ferguson 8-0-32-0, Ravindra 10-0-46-1 (1nb), Phillips 2-0-11-0
Result: New Zealand won by 99 runs
Toss: Netherlands
Umpires: Paul Reiffel (AUS) and Rod Tucker (AUS)
Tv umpire: Joel Wilson (WIS)
Match referee: Andy Pycroft (ZIM)