Messi magic required once again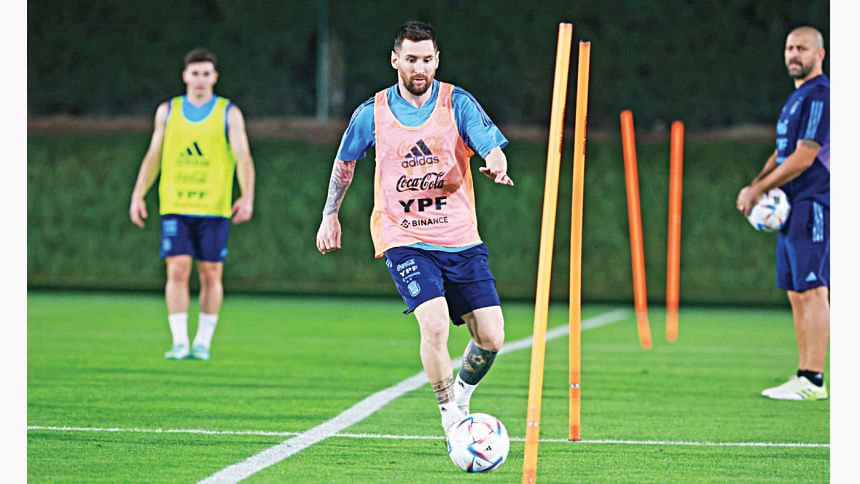 Lionel Messi has already come to Argentina's rescue at the World Cup when the star forward's wonder strike helped the Albiceleste open their account against a rigid Mexico in their previous must-win Group C game last Sunday.
Messi might just have to do something similar once again as Argentina find themselves in a similar situation as a defeat against Poland at the Stadium 974 on Wednesday could effectively end Messi and Argentina's run in Qatar.
Argentina, the two-time world champions, currently sit level on three points with Saudi Arabia, just one point behind Poland at the summit heading into their final group fixture.
A win for either side would see them qualify as group champions. However, a draw for the Albiceleste could still see them advance, but only if the game between Saudi Arabia and Mexico ends in a draw.
In that scenario, Argentina would have to be satisfied with a second-place finish in the group stage, which would likely set up a clash against reigning world champions France in the round of 16 – a tantalising rematch of the 2018 World Cup last 16.
Meanwhile, for the Poles, while a victory would seal a top spot, a draw could also be enough to finish at the summit if Saudi Arabia fail to beat Mexico. However, defeat will end their World Cup journey if Saudi Arabia claim maximum points.
Even though it took Argentina 64 minutes to break the deadlock against Mexico, Messi and Co will fancy their chances against Poland. The Poles have conceded in each of their 11 previous meetings with the two-time world champions. Their last encounter against La Albiceleste was successful, though, as they secured a 2-1 friendly win back in 2011.
Messi had admitted that the four days between their 2-1 defeat against Saudi Arabia and their 2-0 win over Mexico were 'long and difficult', but the star forward can not let emotions run rampant ahead of the Poland clash.
Argentina coach Lionel Scaloni was also in favour of not letting emotions get better of anyone during the game.
Asked about images showing his assistant Pablo Aimar on the brink of tears during the game against Mexico, coach Scaloni called for some perspective.
"You have to have some common sense, it's just a football match," he said.
"I received a message from my brother saying he was crying and it can't be like that. It's as if it were more than a football match.
"I don't share that. The players must understand it's a football match. If not, it will be like this in every match.
"It's hard to make people understand that the sun will rise tomorrow, win or lose. What matters is how you do things."